Everything You Need To Know About Bazzi, Because Even Taylor Swift Is A Fan Of His Music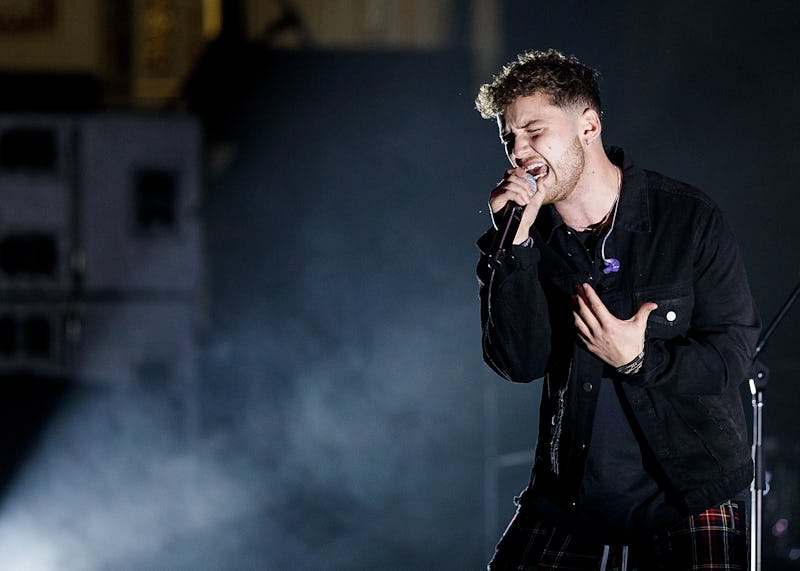 Andrew Chin/Getty Images Entertainment/Getty Images
To be known by a single name is quite an accomplishment. Think: Cher, Prince, Rihanna, Madonna, Sting, Bazzi. *Record scratch* Hold up, who is Bazzi? The 20-year-old singer-songwriter (full name: Andrew Bazzi) is in the running for Best New Artist at the 2018 MTV Video Music Awards, so let's dive into everything you need to know.
Bazzi basically embodies a viral version of the modern-day American Dream. He got his start on YouTube, gained notoriety on Vine, then — poof! — suddenly he's opening for Camila Cabello. "My mind has always been like 'You're a star! You're in it! You're killing it!'" the self-confident singer told Billboard back in April. "I credit that more than anything to my success. If you think you're something long enough, eventually you just turn into it."
While that's undoubtedly a delightful sentiment, Bazzi didn't get to where he is based on the power of thought alone. He's clearly got talent, too. The young singer first start posting covers of pop tracks (Bruno Mars, Ariana Grande, Sam Smith, etc.) to YouTube back in 2012. He took his act to Vine in 2013, and would end up amassing more than 2 million followers at the height of his popularity, Billboard reported. In recalling the beginning of his now-ascending career, Bazzi told the publication,
"I was like 'This is the best sh*t ever. You're gonna blow up! I've always been a little crazy in that sense."
And blow up he did. Bazzi released "Mine" in October 2017, and it only took a few months for the dreamy R&B track to take off. Get this, though: "Mine" basically took off because of a Snapchat filter. Yes, you read that correctly. We live in wild times, my friends. According to USA Today, the track went viral after fans started synching the track up with a Snapchat filter called "Be Mine." Suddenly, a meme — and a star — was born. "[I] thought it was super-funny and cool to see how people interpreted it," the singer told the publication.
Shortly thereafter, Bazzi decided to relocate from Michigan to Los Angeles in hopes of hitting it big in music. "I hadn't met the right people yet," he told Billboard, "but I knew I was in the right place.I know I was doing everything correct."
The singer continued,
"That's the thing: I've never had fear in my heart about it. I've never approached this from a negative perspective like, 'Man, this isn't working.' Even when I was in the worst positions and there was no light at the end of the tunnel music career-wise I still was feeling it and I still was believing."
Of course, all of that would end up paying off in the end. "Mine" started climbing the Billboard Hot 100 chart at the end of January, and by February, Taylor Swift had added "Mine" to the top of her "Songs Taylor Loves" Spotify playlist. "That was really cool," he told USA Today. "Taylor's an artist I respect a lot — she's an amazing songwriter and businesswoman."
Bazzi released his debut album Cosmic via Atlanta Records in April, and on Aug. 20, he'll be up for Best New Artist at the 2018 Video Music Awards. Think he'll take home a Moon Person trophy? Tune in then to find out.