'The Bisexual's Brian Gleeson Is Part Of This Super Talented Acting Family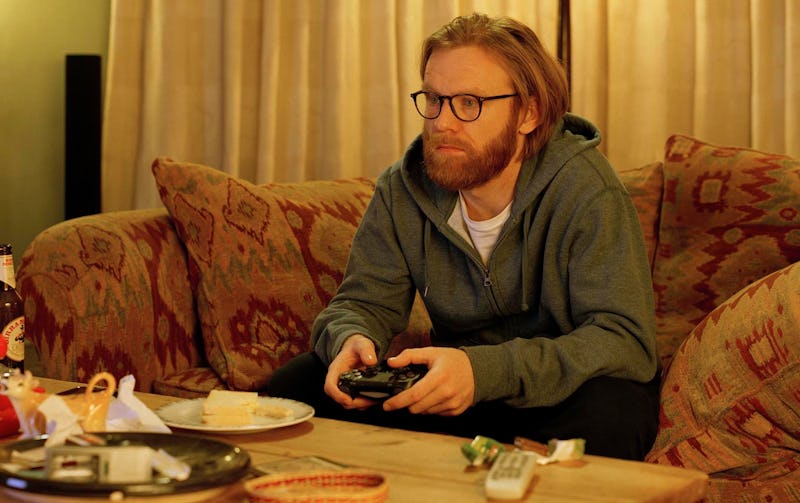 Channel 4 / The Bisexual
This autumn, a comedy star has been born. Who would have thunk that a show about a human being's sexual proclivities would have been so hilarious? Duh, everyone guys! Sex is sexy but more importantly sex is funny AF. Every great singleton needs an even better wingman, but who is Brian Gleeson? The Bisexual actor seems totally familiar. Well guys that's because he is. Dare I say acting dynasty? Is it a Baldwin? Is it a Fox? Is it Nicolas actual Cage? No guys, far better than that, it's a Gleeson.
Yes, Ireland does acting dynasties too, and ours have lovely beards, red hair, kind eyes, and a sense of humour that would charm even the Scroogiest Scrooge. And this particular Brian is pronounced in the Irish way, Breen.
Long before he was appearing on our screens, he started out as a (probably quite genetically blessed) actor, learning on the job as opposed to a fancy drama school. Speaking to The Irish Times he said
"I started quite young, and the only way you learn is by completely mucking up," he said. "I didn't go to drama school, so all the mistakes I made were quite public"
And boy oh boy did he hit the ground running. Aged 18 he starred alongside his mega famous father, Brendan Gleeson in The Tiger's Tail.
From then on, it has literally been up and up for the talented actor. Yes, he has been busy AF since then. He appeared in Irish mega hit Love/Hate back in 2010, Snow White And The Huntsman, Rebellion, and of course The Bisexual.
Now, I know I was going on about an acting dynasty but seriously guys, this is no joke. So, you might of heard of two kind of well known and respected actors, called Brendan Gleeson and Domhnall Gleeson? Yes y'all, this is one seriously lit dramatic dynasty.
Brendan Gleeson is one of Ireland's most respected actors with far too many credits to mention, but the likes of In Bruges, The Guard and Cavalry in recent years have demonstrated his redonkulous ability to oscillate between drama and comedy like it isn't even hard. News flash guys, it is hard. Also, dare I mention, Mad Eye Moody? He is actual Mad Eye Moody. Harry Potter fans UNITE.
Domhnall Gleeson, Brian's brother has also been in endless cinematic hits like About Time, Ex Machina, The Little Stranger, and flipping Harry Potter, yes guys this family basically is Harry Potter and we are talking Bill Weasley here. Swoon. Speaking to the Metro about his brother Brian, Domhnall was keen to show how proud he is of his sibling and how working with him is inspirational.
"Well, I'm a fan of my brother's acting, and it's a challenge working with him because he's very good so you have to up your game," he said. "Brian and myself are good at challenging each other when we work together".
But back to the man of the hour, Brian. He has been killing it in the best comedy of the year IMO, The Bisexual. He plays hapless writer, Gabe who becomes an unlikely wingman to new flatmate and protagonist of the show, Leila who is played by the wonderful Desireé Akhavan. The unexpected duo make for some pretty addictive viewing and shh guys guess what...it's all on 4OD right now! Meh, you had no plans for the evening anyway.