Dassy Tells Her Immigrant Story On 'SYTYCD'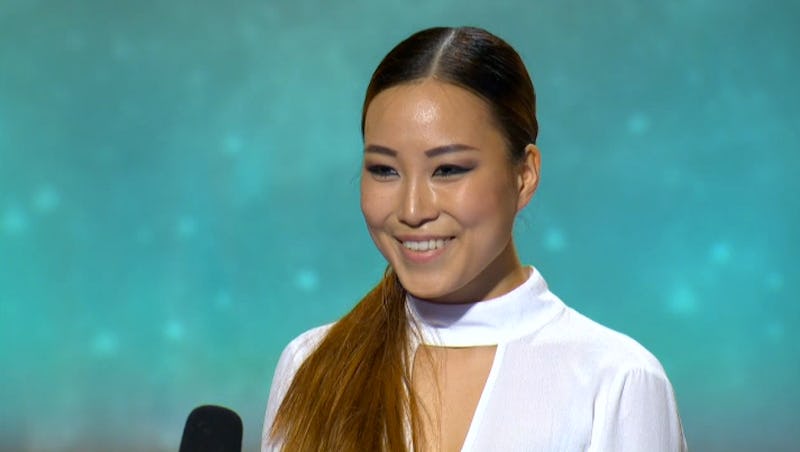 FOX
There's nothing like subverting expectations when it comes to performing and that's exactly what Inyoung "Dassy" Lee does when she takes the stage on So You Think You Can Dance. She impresses the judges with her hip-hop take on "Big Spender" and gets sent to the Academy during the June 19 episode, so who is Dassy from So You Think You Can Dance? This bubbly dancer is worth checking out while you wait to see if she'll make it to the live shows.
Dassy starts her audition with a little Bob Fosse strut that is more Broadway than hip-hop — especially since she is dancing to a song from the Fosse-directed and choreographed musical Sweet Charity. But she quickly does a 180 and shows off her popping and animation skills to cheers from the audience and judges — particularly judge Mary Murphy. But even before she takes the stage for her audition, Dassy is charming as she explains to host Cat Deeley that So You Think You Can Dance is what inspired her to move to the U.S. from South Korea and follow her dream of dancing. Although she auditions in Los Angeles, she moved to New York City in 2012 and she specifically references Dominic Sandoval and Sabra Johnson of SYTYCD Season 3 as part of the reason for her move to America.
While Nigel Lythgoe mentions that he usually is concerned that poppers may not be able to master the other styles of dance, he has enough faith in her to send her straight to the Academy. (It probably also doesn't hurt that Dassy dances to a version of "Big Spender" by Shirley Bassey since Nigel notes that he used to choreograph for the singer.) But even if Dassy doesn't make it to the Top 10 on the show that motivated her to follow her dreams, she has already found success as a dancer. Recently, she was featured in a music video for Andrew Belle's song "Down," which she choreographed and danced in with Jordan Mcloughlin.
She actively posts about her dance career on Instagram and her YouTube channel features her impressive moves. Her dance reel from 2015 shows that she has danced in a number of music videos and commercials, including one for Fitbit. Interestingly, the dance reel also reveals that she has performed a dance choreographed by Buddha Stretch, who is the father of another competitor who is featured on the June 19 episode of So You Think You Can Dance — Sade Keinu Austin. So Sade and Dassy should have something to bond over at the Academy.
Plus, Dassy's YouTube videos prove she's a pretty kickass choreographer too.
So if Dassy wins you over like she does the judges during the Los Angeles auditions, you have plenty of ways to watch her move while you wait to see if she makes it to the live shows on So You Think You Can Dance Season 14.