Emily Ratajkowski Just Got Married & The Announcement Photo Will Make You Say, "Awww"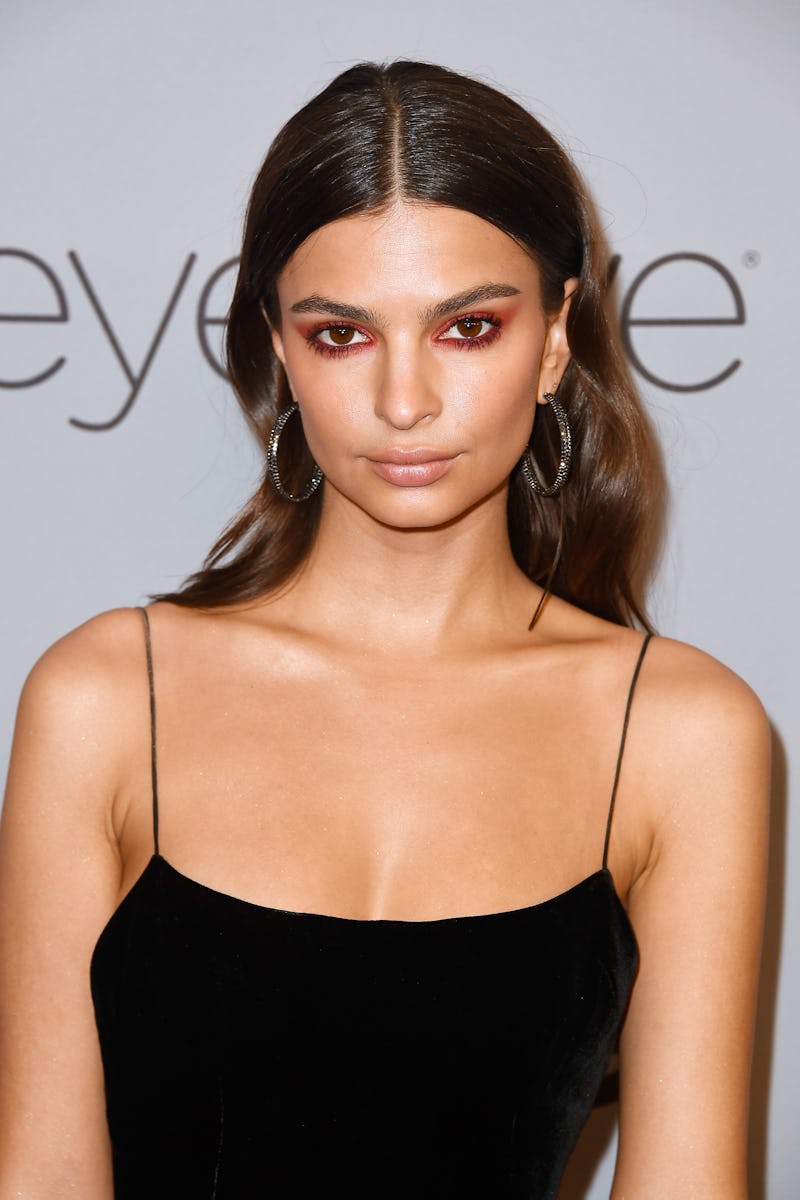 Frazer Harrison/Getty Images Entertainment/Getty Images
After just a few weeks of dating, model Emily Ratajkowski has married Sebastian Bear-McClard. According the model's Instagram page, they tied the knot in a courthouse ceremony. But who is Sebastian Bear-McClard, aside from being Ratajkowski's husband? A quick glance at his IMDb page reveals he's a Hollywood producer and actor, who has also dabbled in directing short films. Most recently, he produced 2017's Robert Pattinson film, Good Time. While it's unclear how Ratajkowski and Bear-McClard met (or exactly how long they've been dating, though Page Six reports that they were first spotted together on Valentine's Day), it seems likely that Hollywood brought them together.
In addition to modeling, Ratajkowski is also an actor whose career is on the rise in a major way. She has three new films on the horizon in 2018, and now a new marriage to celebrate too. The model shocked her fans with her wedding news through a series of Instagram story photos. She teased out the reveal, writing on one photo, "I have a surprise." Ultimately, that surprise was a brand new husband. The couple's marriage took place in New York City, and, in an adorable black-and-white photo shared on Ratajkowski's Instagram, they look happy and adorable.
It seems that, for his part, Bear-McClard prefers to keep a low profile — the man is a social media ghost — but his passion for producing shines through. In addition to Good Time, the actor has also produced Heaven Knows What and Still Life.
According to E! Online, Ratajkowski is also keen on keeping her private life out of the public eye as much as possible. The site reports that it was only recently that it became known that she had split from her boyfriend of three years, Jeff Magid. However, Ratajkowski and Magid may have been split for some time now, and simply kept the breakup to themselves. Likewise, even though they were first spotted together public ally on Valentine's Day, that doesn't necessarily mean that's when Ratajkowski and Bear-McClard began dating.
One thing is clear, Ratajkowski and Bear-McClard appear to have had a lovely, intimate ceremony. They were joined at the courthouse by a few close friends, including internet celebrity The Fat Jewish and Ratajkowski's pug. In one photo that Ratajkowski shared on her Instagram Story, she's seen leaping into Bear-McClard's arms. The joy of their day is potent, despite their relationship happening outside the realm of social media.
With any luck, the vocal Ratajkowski will be able to convince her new husband to become more of a social media presence. Even if Bear-McClard remains something of a man of mystery, he's sure to feature into Ratajkowski's social media stories in some capacity. In the meantime, it feels safe to say that he's a man who appreciates someone who always speaks their truth, because that seems to be Ratajkowski's specialty.
Ratajkowski, who first rose to mainstream fame in Robin Thicke's "Blurred Lines" video, not only supports Planned Parenthood, she's also a vocal supporter of women, period. In 2017, Ratajkowski was seated next to Melania Trump during a party, and when she reportedly heard a New York Times reporter call Trump a "hooker," she called the reporter out for slut-shaming on Twitter. Even though she doesn't appear to share the First Lady's politics, Ratajkowski isn't going to let another woman be shamed either.
The rising star has shown that she's a force to be reckoned with, so, hopefully, Bear-McClard is equally passionate. Then again, what's most important is that the couple is passionate about each other, and after seeing their first photos as husband and wife, they appear to have that particular part of matrimony already in the bag.