Harry Styles' "Only Angel" Could Be About This Ex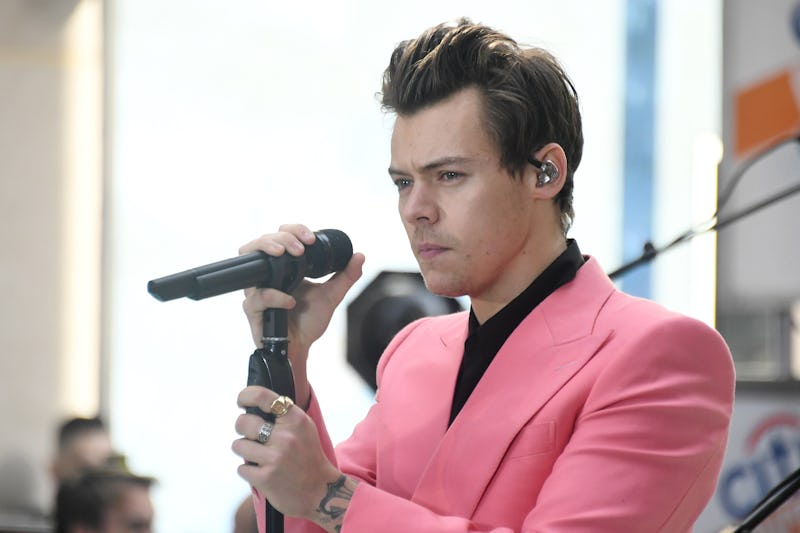 Mike Coppola/Getty Images Entertainment/Getty Images
Your boyfriend has dropped his debut album, and we get to ask the important questions. The question of who Harry Styles' "Only Angel" is about has been plaguing me in particular, and he's been tight-lipped so far. The newly-solo artist released his self-titled debut on May 12, and fans immediately flooded Twitter with speculation about the subject of the track. It's clearly a former flame, and although the singer hasn't spoken on the record (yet!) as to whom he's talking about, I think there's a clue right in the title: the word "angel."
My money is on Kendall Jenner, whom Styles dated off-and-on for a time, beginning in late 2013. As you might recall, Kendall Jenner walked in the Victoria's Secret Fashion Show in 2016, which would technically make her... yup, that's right, a Victoria's Secret Angel. Aha! I see what you did there, Harry Styles. You gave us the answer right in the title, just like another of your ex-girlfriends, Taylor Swift, did with her song "Style."
Within the song, I wouldn't so much say there are more clues that point to Jenner as there are lyrics that could definitely apply to her. For example, when I hear the "Only Angel" lyric, "Couldn't take you home to mother in a skirt that short / But I think that's what I like about it," I'm like, "Oh, Kendall Jenner wears skirts. Sometimes short ones! Could be her." Or the lines:
Told it to her brother and she told it to me
That she's gonna be an angel, just you wait and see
When it turns out she's a devil in between the sheets
And there's nothing she can do about it
It's not super specific, but, at the same time, Jenner has a brother. And she has a reputation among family members for being sweet. So, you know, there's that.
But all these details check out, and while it could, of course, still turn out that Styles is singing about someone else, sometimes the answer is right in front of your face.