This Man Is Being Floated As The Frontrunner For Anthony Kennedy's SCOTUS Seat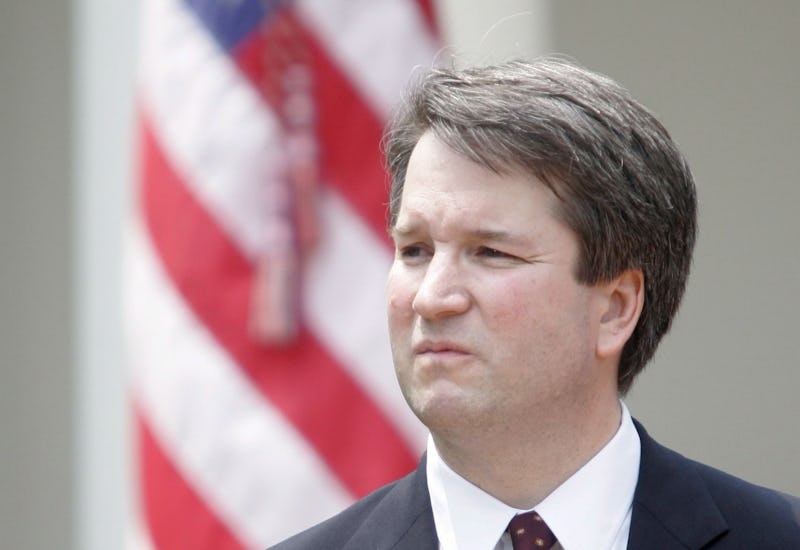 Stefan Zaklin/EPA/REX/Shutterstock
When Supreme Court Justice Anthony Kennedy announced his retirement Wednesday afternoon, all eyes turned to the people who could potentially replace him. The current frontrunner favored by many to take the Supreme Court seat is Judge Brett Kavanaugh, who is a former law clerk for the same justice who's currently stepping down.
Before clerking for Kennedy, Kavanaugh had a fellowship at the Office of the Solicitor General. He later went on to be a partner at a law firm, worked as a deputy on Kenneth Starr's Bill Clinton impeachment investigation, and then served as a government lawyer for George W. Bush when he became president in 2001.
A few years later, Kavanaugh was appointed to the U.S. Court of Appeals for the District of Columbia in 2006, where he still works today. But it was a bitter fight for him to get there. He was first nominated by Bush to the court in 2003, but it was three years before he'd actually assume the role.
As CNN reported at the time, Kavanaugh's nomination to the prestigious court was highly debated, with lawmakers pointing to certain areas of his record that seemed a little off to them. New York Sen. Chuck Schumer had said, "I have deep concerns about this nominee," as Kavanaugh's ties to Bush's White House came under fire.
In fact, The New York Times editorial board wrote a scathing op-ed against Kavanaugh's nomination to the Court of Appeals at the time, writing:
Senate Republicans have announced plans to push for a quick vote on Brett Kavanaugh, whose nomination for a powerful appeals court judgeship has languished since 2003. There are good reasons the nomination has been kept on hold. Mr. Kavanaugh was unqualified then, and he is unqualified now.
The Times referred back to Kavanaugh's position in Bush's White House and asked whether he played a role in the controversial policy that allowed the National Security Agency to spy on U.S. citizens. It also brought up his work in Starr's impeachment case against Clinton, noting that Kavanaugh made partisan remarks like calling Starr an "American hero" and saying there had been a "presidentially approved smear campaign against him."
The opinion against Kavanaugh was so intense that the White House published a press release in 2006 that stated, "Brett Kavanaugh Is Superbly Qualified For The D.C. Circuit." The American Bar Association had recently downgraded Kavanaugh's rating from "well-qualified" to just "qualified," a move that Republicans decried as partisan politics.
As the ABA Law Journal reported, recent decisions that Kavanaugh was involved in lean very much toward Trump's inclinations — especially on abortion and guns. When the Court of Appeals rejected an appeal on a ban on assault weapons, Kavanaugh dissented. He also dissented when the court made the government allow a 17-year-old undocumented immigrant get an abortion.
Kennedy will retire effective July 31. There's currently a list of potential Supreme Court nominees that President Trump says he will choose from. Kavanaugh's name is on it, as are 24 others. Five of the potential replacements are women, 20 are men.
If Kavanaugh does get the nomination, it feels safe to say that he might see another contentious battle to be approved to sit on the Supreme Court. Considering that he was a controversial nominee in 2006, his conservative views, and the fact that Congress is possibly only more divided than it was 12 years ago, he'd likely be in for a lengthy — and tough — fight.
Read more on Justice Kennedy's retirement:
This Is How Soon Trump Could Pick Justice Anthony Kennedy's Replacement
Why People Are So Worried About Ruth Bader Ginsburg Retiring Now
Here's What Justice Anthony Kennedy's Retirement Could Mean For Abortion Rights
This Is Who Trump Might Have His Eye On To Be The Next Supreme Court Justice