This 'Gavin & Stacey' Fave Has Created A New Comedy & We're So Ready For It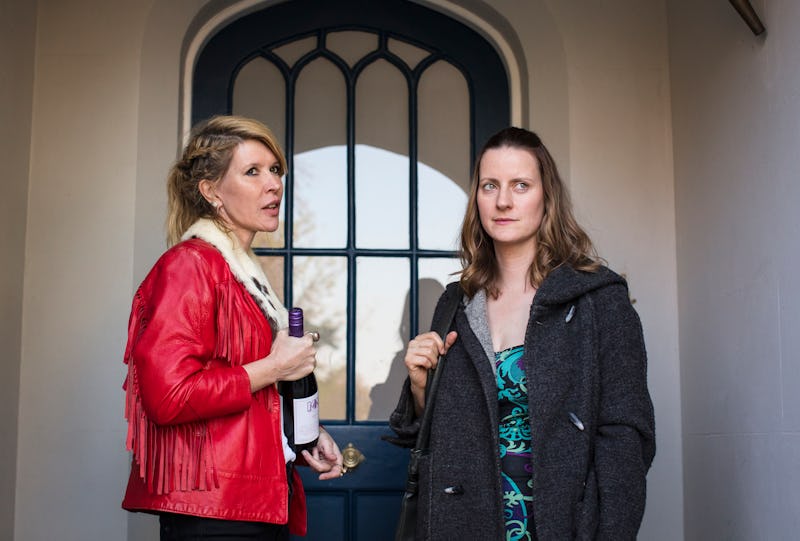 Sally4Ever/Sky
UK comedy is well renowned as some of the best comedy in the world. And one of its brightest lights is Julia Davis. She's set to star alongside a whole rake of other stars in new Sky Atlantic comedy Sally4Ever. The show is set to be an absolute winner but what about Davis, it's writer, creator and lead actress? She probably looks pretty familiar, so who is Julia Davis and where have you seen her before?
Davis is a serious heavyweight in UK comedy television. No mean feat in an industry so dominated by men. Yes, Davis wrote and starred in both the iconic Nighty Night and 2016's Camping, which is now getting a stateside reboot thanks to the one and only Lena Dunham and Davis' extensive talent. Guys, that is only a tiny portion of what she as written and also, she has starred in innumerable legendary shows like Nathan Barley, Gavin & Stacey, and I'm Alan Partridge. There is nothing this woman can't do.
Davis' latest offering is a joint venture between HBO and Sky. Sally4ever tells the story of (you guessed it) Sally, played by Catherine Shepard. She has a good but kind of boring job, a good but kind of boring partner, and well — a good but kind of boring life. She finds herself in some a pretty wild mid-life crisis after her partner David, played by Alex Macqueen proposes to her.
Enter stage left Emma, played by Davis. Emma is a super sexy, cool, creative, bohemian type and they kick off a passionate affair. Before Sally can blink, Emma has moved in and all of a sudden her life is changing at breakneck speed. It's what in the queer world call U-Hauling. Sally4Ever is the tale of a passionate and true romance that goes low key cray and takes a look at modern love. Love in a time where people are far more open to fluidity and someone suddenly pairing up with a same sex partner doesn't seem that bonkers, and is actually pretty common. Thank goodness for that I say! You can always rely on Davis to serve up some seriously forward-thinking comedy.
Hilarious No Offence actor Joanna Scanlan and Felicity Montagu (guys she is Lynn off Alan Partridge) also star and like, real talk, everything they touch turns to gold.
Apart from the female leads, this little slice of dark comedy heaven is set to star an actual slew of insanely funny and talented actors. One stand out actor is Julian Barratt, who you probably know best from The Mighty Boosh and who is Davis' real life partner. OMG now that's one house I want to go for dinner in.
Other male actors include the very legendary Mark Gatiss of League Of Gentlemen and Sherlock and someone you may not have expected in a comedy show—king-of-the-flipping-north himself Sean Bean.
So do yourself a favour and get acquainted with the wonderful comedic world of Julia Davis. And never let anyone say that women aren't funny.
Sally4Ever starts Thursday Oct. 25 at 10 p.m. on Sky Atlantic and Now TV