North Korea Has Detained A Fourth U.S. Citizen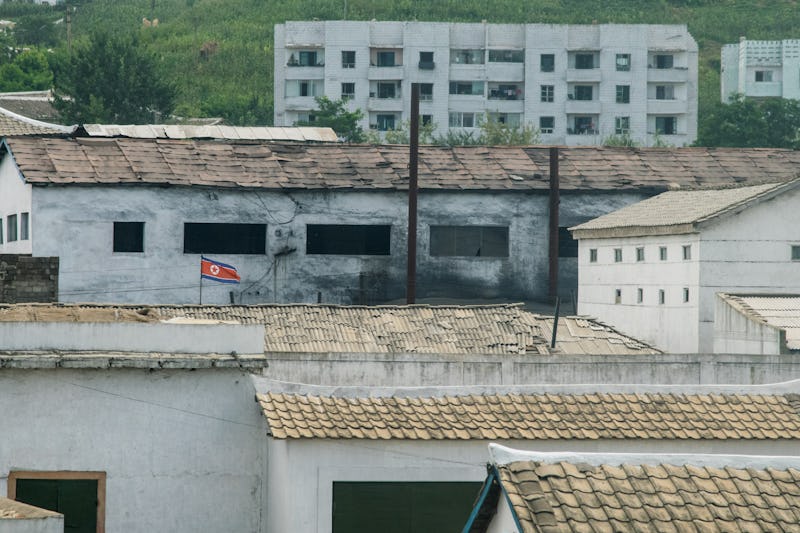 Getty Images/Getty Images News/Getty Images
Less than a month after a Korean-American professor was taken into custody, North Korea again detained a U.S. citizen on Sunday, according to reports from a state-run news agency. This time, North Korea has detained U.S. citizen Kim Hak-song on what the state-run news agency reportedly called suspicion of "hostile acts" against the state. Interestingly, Kim may have something in common with the U.S. citizen detained back in April.
According to CNN, the Korean Central News Agency (KCNA) reported Kim's detention on Sunday. The reports make Kim the fourth U.S. citizen currently in North Korean custody. Kim Hak-song joins Kim Dong Chul, a businessman arrested in 2015; Otto Warmbier, a college student arrested in 2016; and Tony Kim, a professor arrested in April. Tony Kim has not yet been sentenced, but Warmbier and Kim Dong Chul are currently serving 15- and 10-year sentences, respectively.
Like Tony Kim, Kim Hak-song worked at the Pyongyang University of Science and Technology (PUST), though it was not clear what position he held there. KCNA simply reported that he "was doing business in relation to the operation" of PUST. Although the arrests could have nothing to do with PUST, the school that has now had two American employees detained was previously looked on favorably by Kim Jong-Un's government.
Several years ago, PUST received approval from the North Korean government to become the first, and only, privately funded university in the country. Although it still follows some traditional North Korean practices, such as marching and singing, the school was intended to bring a Western perspective to North Korean students. According to BBC News, classes are taught in English and many of the university's professors — including its founder — have Western backgrounds.
Now, at least two of the university's employees seem to be caught in the escalating tensions between the U.S. and North Korea. As North Korea continuously reports and tests developments of its nuclear program, the U.S. has recently taken steps to confront the Kim Jong-Un regime. For instance, President Trump last month said he was sending an "armada" to the Korean peninsula (even though that may not have actually happened). More recently, Trump reportedly discussed North Korean relations with Russian President Vladimir Putin.
Shortly after Trump's phone call with Putin (in which many topics other than North Korea were also discussed), North Korea on Friday accused South Korea and U.S. agenices of plotting to kill Kim Jong-Un. According to The New York Times, KCNA reported that the North Korean government had uncovered a "hideous terrorists' group" that had planned to use biochemical weapons on the North's leader.
In the midst of all the back and forth, Trump last week expressed a willingness to meet with Kim Jong-Un. It's not clear how the Americans in North Korean custody factor into Trump's approach, but with two detentions in the last month, he may need to address the arrests soon. For their part, the parents of Warmbier told Fox & Friends last week that Trump is doing "a great job."