Here Is All You Need To Know About Kim K & Her Surrogate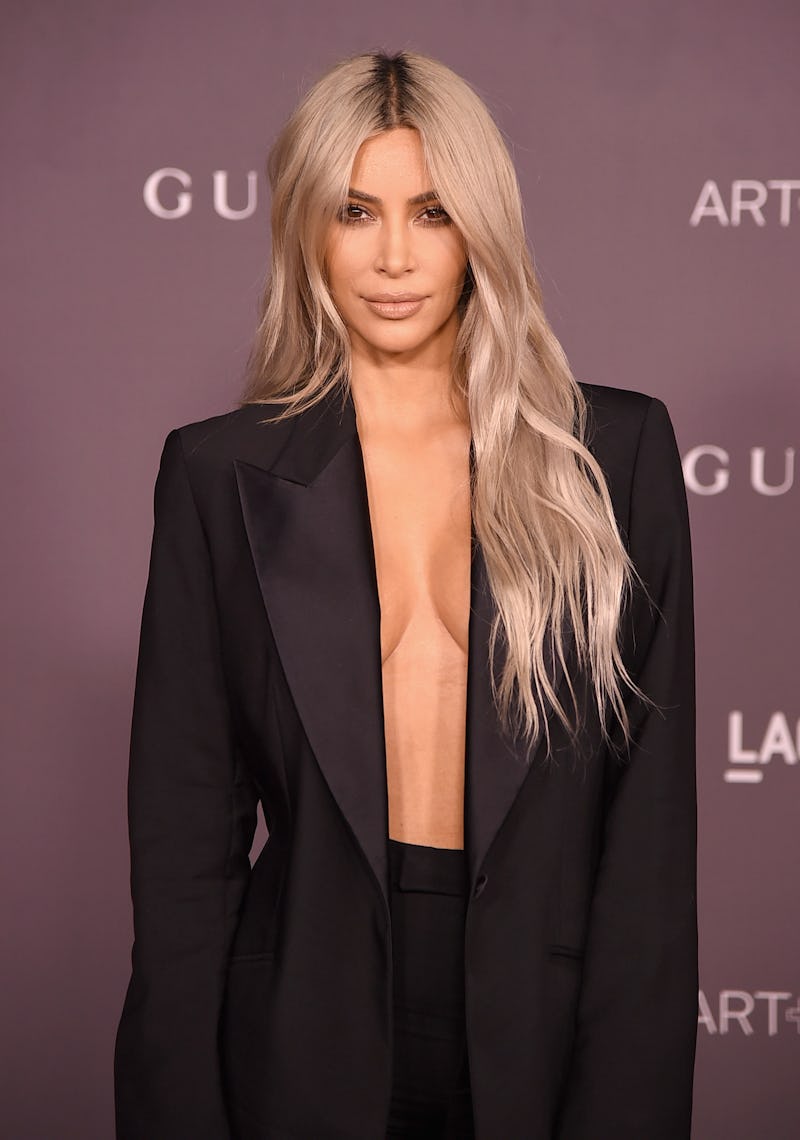 Kevin Winter/Getty Images Entertainment/Getty Images
Now that the reality star has announced officially that she is expecting a third child via a surrogate and talked about her journey with surrogacy on her show, there's on question on the top of everyone's mind: Who is Kim Kardashian's surrogate? Kardashian has been quite private about the details surrounding the surrogacy in general. On a recent episode of Keeping Up With the Kardashians she did share some information about the process, but made it clear that she wants to respect her surrogate's privacy. So, it seems unlikely that fans will learn the surrogate's identity in the immediate future, however, the Kardashians have a history of sharing private details about their lives on their show weeks or months after story has happened in real life, so perhaps things could change in the future.
Kardashian first confirmed that she and her husband, Kanye West, were expecting a child via surrogate back in September. It had been reported that it was the case as far back as June, but Kardashian chose to remain private and not speak out about the pregnancy until a few months later. Prior to confirming the news, she had previously spoken out about how invasive she felt speculation about the topic had become.
"I think when we're ready to talk about it we will," Kardashian said in an interview with E! News when asked about whether or not she was expecting. "And I think it's super invasive," Kardashian said about all the rumors circulating about her family. "So many details out there," she continued. "We have not confirmed it, and that's that. I'll let you know when we're ready." True to her promise, Kardashian did confirm later that she was expecting, but it shows how private she has been regarding her surrogate's pregnancy.
Given her own complications during her previous two pregnancies, it's understandable that Kardashian might not want to share too many details with the public about her surrogate. It can be exciting when you're expecting a baby, but also a stressful, and having a baby via surrogacy definitely adds a few more unknowns and new experiences the situation.
Also, it's clear that she' wants to protect the surrogate's privacy the best she can, particularly because she knows how nosy fans and paparazzi can be. During the recent KUWTK episode in which Kardashian spoke about her surrogate, she explained, "I definitely want to keep it private … I don't want people to find my surrogate … I don't want people following her and chasing her."
Kardashian herself spoke about how she's handling explaining her family's newest addition to her two children, North and Saint West, during an appearance on The Real in November. When asked about whether or not her surrogate was at her baby shower, Kardashian told the show's hosts that although she has a good relationship with her surrogate, she chose not to have her come to the shower.
"I love her," Kardashian said. "She is the perfect person to do this for my family. She is amazing." She also explained that although she respects anonymous surrogacies, she wanted to have a relationship with her own surrogate. However, although she'd introduced her surrogate to her family, she hadn't yet introducer her to North and Saint at that time.
"Of course I would have wanted her to be there," Kardashian said about not inviting her surrogate to her baby shower. "But I hadn't really gone that far in explaining it to my kids yet," she continued. "I think I have to explain it to my kids first and figure out how to explain it to them." Perhaps this will be an issue we see Kardashian discuss on KUWTK during a future episode, how she handles introducing the new baby to North and Saint.
Even if Kardashian does address explaining surrogacy to her children on KUWTK, that still doesn't necessarily mean the surrogate herself will be featured, though. It's clear that she wants her identity kept private. However, Kardashian is known for sharing details of her personal life with her fans, so perhaps once the dust settles and Kardashian's children adjust to their new sibling, fans might learn the identity of Kardashian's surrogate.