Madame Hydra Has Arrived On 'Agents Of S.H.I.E.L.D.'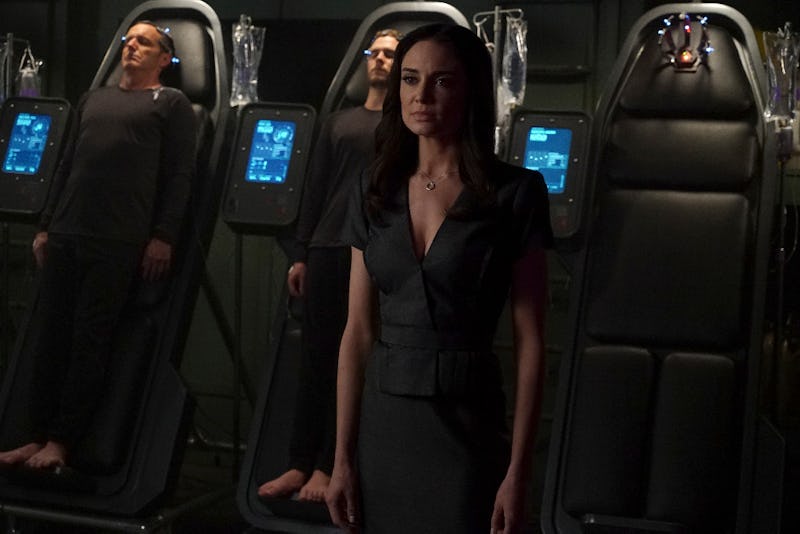 Eric McCandless/ABC
The Framework has rewritten the lives of our S.H.I.E.L.D. agents, brainwashing some and eliminating others. Their leader and artitect, meanwhile, has even adopted a new name. Who is Madame Hydra on Agents of S.H.I.E.L.D.? Aida is taking on an iconic role in Marvel comics for reasons that are not quite yet clear.
Madame Hydra is the leader of the Framework alternate reality, in which Inhumans are persecuted and Captain America's former Nazi enemies reign supreme. She's also in some kind of twisted romantic relationship with Fitz, which is just upsetting.
In the comics, Madame Hydra is also known as both Ophelia Sarkissian and Viper. She is the leader of Hydra, much like the Framework on the ABC series. While I do like that both she and Aida have striking literary names, Ophelia is not a life model decoy. She actually has more in common with Black Widow, and Dottie from Agent Carter. She was recruited as a child and raised in a Hydra orphanage. Their origin stories are so different, in fact, that I wonder if there is another Madame Hydra lurking somewhere in the real world that Aida is emulating.
For now, however, we're going to have to deal with this Madame Hydra in the Framework. She is content on maintaining this frightening new world order and keeping everyone asleep. Coulson was able to remember Daisy, but that's just the beginning. Also — where's Agnes, the terminally ill human that Radcliffe used as a genetic basis for Aida? Is she in a different, sunnier, Framework? If I hadn't already been suspicious of Aida's robot crush on Fitz, I might wonder if Agnes is Madame Hydra instead.
I can tell that this is going to be a fun arc on Agents of S.H.I.E.L.D. already. I like seeing Daisy and Jemma team up together, and the new identities will be interesting to unravel. The fact that Aida has reinvented herself as Madame Hydra makes it even better.