This Is Why 'Black Earth Rising's Michaela Coel Is One Of Britain's Brightest Stars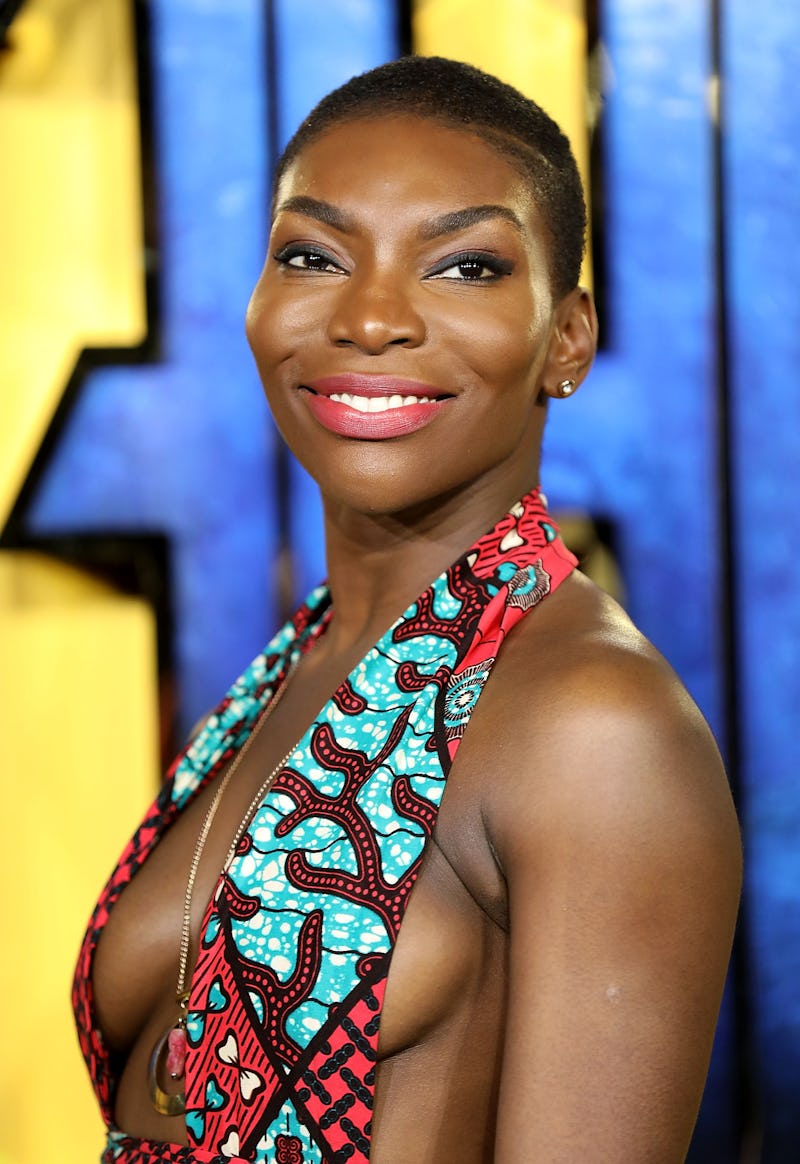 Tim P. Whitby/Getty Images Entertainment/Getty Images
Grab your onesies and put the kettle on, because autumn television is finally in full swing. And what better than to treat yourself with yet another BBC drama premiere in the form of Hugo Blick's Black Earth Rising. Based on true events, the drama is set to explore the history and present ramifications of African genocide through the character of Kate Ashby, portrayed by Michaela Coel. So who is Michaela Coel, and why does she seem so familiar?
Well, starring in two acclaimed shows — Chewing Gum and Black Mirror — may just jog your memory a little bit, but I'll get to that later. Black Earth Rising — which premieres Monday at 9 p.m. — is certainly going to propel Coel to new heights if the trailer is anything to go by, and rightfully so.
The role of Kate resonated with the actress, as she explained in an interview with iNews: "Every character I play leaves a residue," she explains. "I want to keep Kate Ashby with me for the rest of my life for her perseverance, strength, and resilience. Her pursuit of the truth is unique. I'm a bit stronger, more defiant and curious than I was before."
Coel's perseverance, strength, defiance, and curiosity may have increased exponentially thanks to the role of Kate, but these traits have always been a part of her character. The actress recently gave a MacTaggart lecture at the Edinburgh TV festival, in which she talked about racial discrimination, abuse, and sexual assault within the industry, further proving herself as such an important voice for women.
With Kate in Black Earth Rising already proving to be one of Coel's most formative roles, how exactly did she get to the position she's in today?
Born to "first generation-immigrant parents", according to the Guardian, the actress "grew up on an estate in Tower Hamlets, east London, with her mother and sister, surrounded by the cultures and characters who influenced [her show] Chewing Gum."
After dropping "out of college and then university — twice," as the Evening Standard reports, Coel won a scholarship to the prestigious Guildhall School of Music and Drama. It was there where she honed her craft both as an actress, playwright, and a poet. "I was the first black girl they'd had in five years and the only person in my years whose parents weren't homeowners," she told the newspaper.
"It felt a bit like the school for Downton Abbey's next stars. They were really friendly but I struggled with the fear I had of people from different places. Once I got over that, I made friends for life."
It was here that the seeds of her future show Chewing Gum came to fruition. Produced by Hackney Wick's Yard Theatre and titled Chewing Gum Dreams, the 2013 play received what the Standard called "rave reviews", and would eventually be commissioned by Channel 4 in 2015.
Unsurprisingly, the TV version of Chewing Gum was met with critical acclaim too, described as "wonderfully weird" and "boomingly broad" by MTV, and obviously they're not wrong. With an infectious smile, wry fourth-wall breaks, and the absurdly comical situations Tracey (Coel) would find herself in made for some quality television.
And it's thanks to Chewing Gum that Coel won two BAFTAs for "Best Female Performance in a Comedy Programme" and "Breakthrough Talent" in 2016, alongside a Royal Television Society Award for "Breakthrough" and "Comedy Performance".
Whilst the series only ran for two seasons, there is some hope regarding a return. Coel is totally up for doing a third season — as evidenced by the tweet below — and I'll go ahead and sign a bloody petition now because I need that show back in my life.
After Chewing Gum and before Black Earth Rising, Coel starred in two episodes of Black Mirror — season three's "Nosedive" and season four's "USS Callister" — and also appeared in Star Wars: The Last Jedi.
I think it's safe to say that Michaela Coel has totally made it, and I can't wait to see what she does next.