The Legend Behind Dr Alex's Instagram Should Be Next To Join The 'Love Island' Villa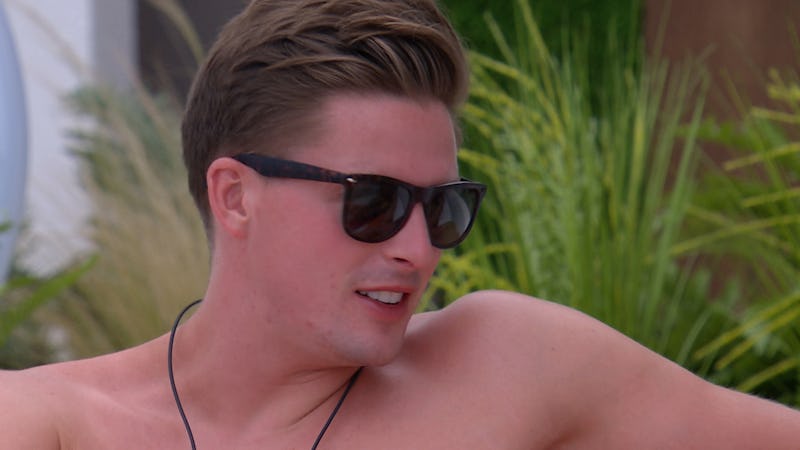 Love Island/ITV
After a rocky start in the villa, it seems A&E junior doctor Alex George is finally settling into the Love Island, even if he is still fighting for a certain girl's affections. Yes, while viewers will wait have to wait until Wednesday night's episode to see whether new girl Megan Barton Hanson will choose to couple up with Alex instead of her in-villa snogging partner Eyal Booker, it seems social media has a more pressing question in mind: who is running Alex from 'Love Island's Instagram account? Or, can the person running Alex George's Instagram account please — please — stand up?
You see, while contestants are in the villa, they only have access to the phone provided to them by Love Island producers. That phone only allows them to receive texts from other Islanders as well as instructions for tasks and such, which means that while the Islanders are in the villa, their social media accounts are either 1) inactive or 2) as is largely the case, controlled by friends and/or family outside the villa. It makes sense, given the surge of followers a stint in Love Island — ITV2's highest rating series — can give a person. Indeed, with almost 3 million viewers tuning in to watch the 2018 premiere, this year's batch of Islanders have seen their number of Instagram followers soar.
Thus, it wasn't long before such followers began to notice some very unusual activity going on with Alex's Instagram account.
Despite Alex deciding not to leave Love Island after all, his Instagram account has been overseen by a mysterious outside party, who has taken it upon themselves to be an absolute legend and take the mickey out of not only Alex, but all of this year's Love Island contestants (although, mostly Alex). One example was this comment the account left on a picture of Alex's current love interest Megan. "Have you seen a doctor lately?" the comment read. "Because it looks like you're lacking some Vitamin Me."
He commented on his own post, which happened to be a picture of Rosie licking honey of Alex's chest: "Might have to join Alex on the pie diet, it's working wonders for him! Who'd have thought it". Another comment read, "Ironic the clear sky in Majorca is clouding the girls judgement" in response to a screen grab of the news that newly dumped Islander Kendall would like to go on a date with Alex. He also commented on a post of Adam's which read "Sure Adam will be missing his family while he's in the villa... but for now, who's nervous about tonight's episode??" Alex's account responded with "I'd say you......"
Naturally, spectators on social media are rather enjoying the ribbing of Alex and his fellow Islanders, and thus, want the responsible party to identify themselves for more personalised praise. Here are just a few of the reactions.
Alongside some good natured mickey-taking, the account is clearly run by an Alex supporter and long may it continue. One fan even speculated that it was perhaps Alex's mates who appear in his Instagram feed who are responsible for the handiwork.
Elsewhere on Love Island, viewers are still reeling from the shock departure of Niall Aslam. At the start of Tuesday night's episode, it was revealed the Love Island villa's in-house Harry Potter stan had quit the series for "personal reasons," leaving Alex to break the news to the other Islanders. "For personal reasons unfortunately he can't continue or come back to the villa," Alex explained to his fellow contestants.
"I'm obviously sad that Niall's left the Villa," he added later on. "We got on really, really well. He's such a great guy. And I look forward to catching up with him and having some fun with him outside." With Alex and Eyal both vying for Megan's affection, viewers will have to wait until Wednesday night's episode to see who Megan decides to couple up with.
You can be assured Alex's Instagram account will have something to say about that, either way.
Love Island airs on ITV2, Sunday to Friday at 9 p.m.
Editor's note: After publication, we discovered this article did not meet our editorial standards. There were portions that did not correctly attribute another source. It has been updated to meet our standards.