Here's What You Need To Know About Vanessa Trump, Don Jr.'s Wife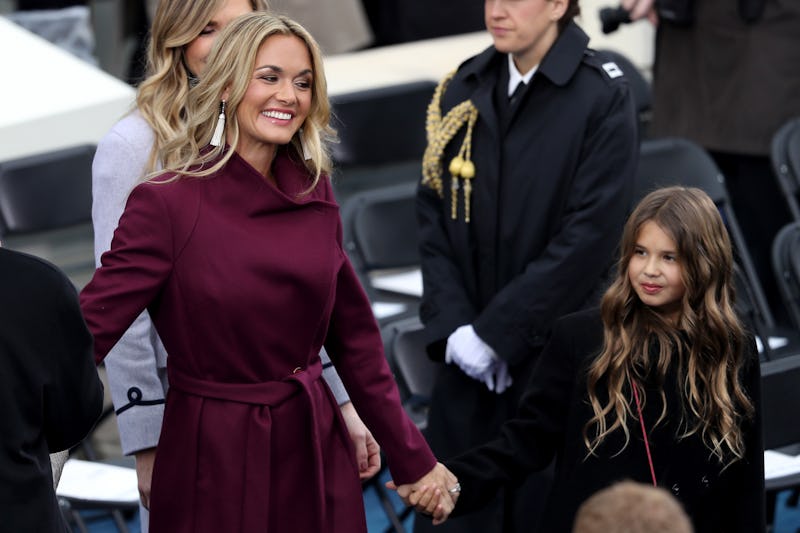 Joe Raedle/Getty Images News/Getty Images
By now, America should be pretty familiar with President Donald Trump's immediate family. But it's possible you don't know some of the president's in-laws quite as well ― at least, outside of the ever-ubiquitous Jared Kushner. So, you might be wondering: who is Vanessa Trump, and how did she end up with that very famous last name?
Vanessa is the wife of the president's eldest son, Donald Trump Jr., and the pair have been married for 13 years, having tied the knot back in 2005. By comparative standards, Vanessa has kept a far lower profile than Kushner has, or for that matter the president's eldest daughter, Ivanka Trump. Unlike those two, Vanessa is not in any way a member of the Trump administration, nor has she attempted to play any role in national politics.
A former model since her childhood, Vanessa's last name was Haydon prior to her marriage. According to The New York Times, she was raised in a home on the Upper East Side of Manhattan, and attended the prestigious Dwight School on the Upper West Side, an elite K-12 private preparatory school. She reportedly first met Don Jr. at a fashion show during her modeling days, and was introduced to him by none other than his very famous father.
To hear her tell it, she was actually introduced to Don Jr. three times before the two actually pursued a relationship, the first two times both being at President Trump's behest, as he apparently forgot that he'd already introduced them.
"I'm at this fashion show," Vanessa told The New York Times. "Donald Trump comes up to me with his son: 'Hi, I'm Donald Trump, I wanted to introduce you to my son, Donald Trump Jr.'"
During the intermission of the show, the elder Trump reportedly introduced them again, seemingly having forgotten he'd already done so earlier.
"Donald comes back up to me again, 'I don't think you've met my son Donald Trump Jr.," Vanessa reportedly said. "Yeah, we just met, five minutes ago." She was then re-introduced to him weeks later by a mutual friend, at which point they finally hit it off, and they were married just two years later.
Vanessa was in the news recently, and for a decidedly worrying reason. When she opened an envelope addressed to her husband last month, she discovered it contained a white, powdery substance, suggesting some sort of biohazard. She was subsequently hospitalized for safety's sake, although she was unharmed; the substance was ultimately determined to be cornstarch.
A series of anthrax attacks committed back in 2001 have since fueled thousands of hoax imitations through the years, with white powder getting mailed to politicians, celebrities, and other public figures. According to Slate, anthrax hoaxes are alarmingly common, with more than 800 of them occurring in the U.S. each year. Vanessa reportedly experienced nausea after opening the envelope, but given that it was only cornstarch, it seems likely that this was a coincidental reaction, or one borne from concern and stress over the nature of the powdery substance.
As for the family overall, Vanessa is one of three Trump in-laws, in addition to the aforementioned Kushner, and Lara Trump, the wife of the president's middle son, Eric. Don Jr. and Vanessa have five children together: Kai Madison Trump, Donald John Trump III, Tristan Milos Trump, Spencer Frederick Trump, and Chloe Sophia Trump.
Out of all the president's immediate family, Don Jr. and Vanessa have been the most prolific as far as having children is concerned; Ivanka has three kids, while Eric has just one. Of course, the president himself has five kids, including his youngest with first lady Melania Trump, 11-year-old Barron Trump.
Read more on Vanessa Trump:
Vanessa Trump Has Filed For Divorce From Don Jr.
Here's How Many Kids Trump Jr. & His Wife Vanessa Have
The Story Of How Donald Jr. Met His Wife Is Bonkers (And Involves Trump)