1D Fans Need To Read This Theory About Who Zayn Malik's New Song "Fingers" Is About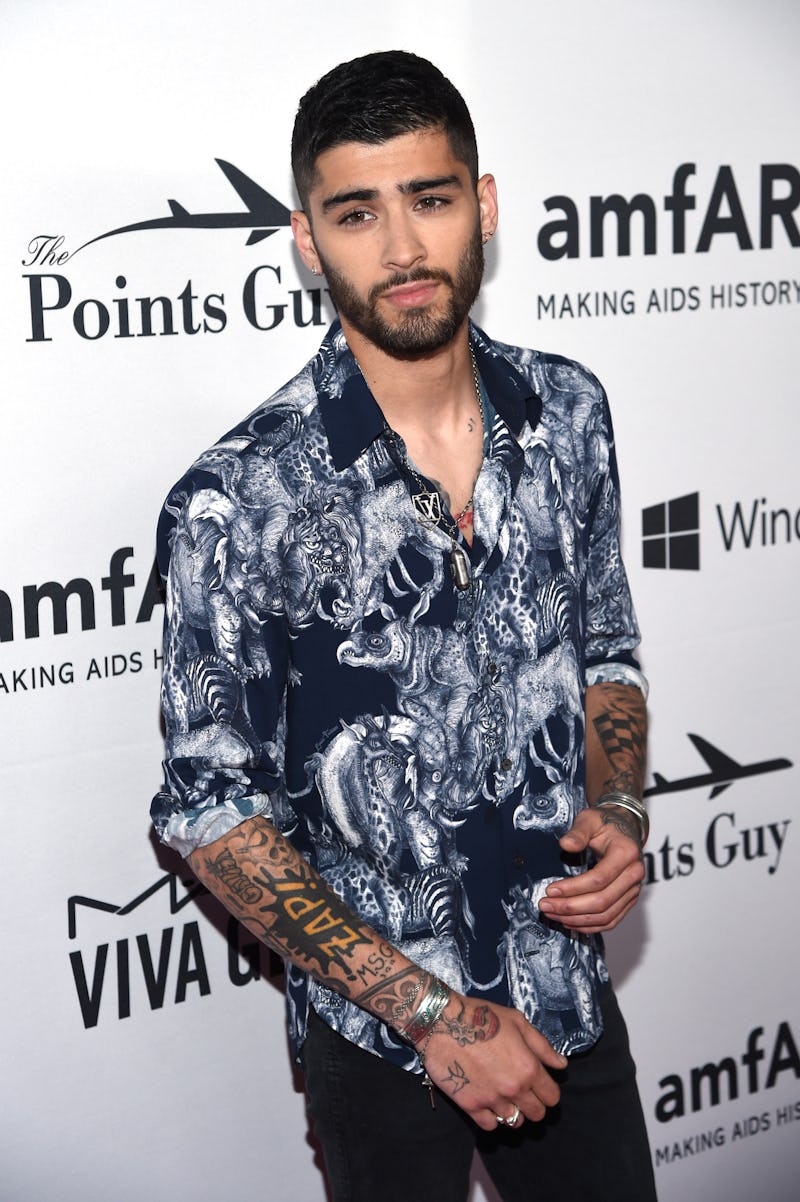 Dimitrios Kambouris/Getty Images Entertainment/Getty Images
No matter how long ago Zayn Malik left One Direction, fans believe the boy band will always have a little piece of his heart. Case in point: the secret meaning of Zayn Malik's new song "Fingers." Shortly after it dropped on Thursday, Oct. 18, fans on Twitter started taking a closer look at the lyrics, which talk about wanting to reconnect with an ex over text. That might sound like it's directed at an ex girlfriend, but leave it to fans to come up with an amazing theory about who Malik's "Fingers" is about that goes in a whole new direction (one that will make Zarry fans very happy).
"I've been f*cked and I want ya/ I can't even text ya," Malik sings on his new single. "'Cause my fingers ain't broken, but my heart is." It's those words that really got a few Directioners believing that Malik was singing about his former bandmate Harry Styles. "fingers is about harry, isn't it," a user named @tanqueraylwt asked. "#Fingers is a zarry song," user @svveetcreature tweeted, using the name fans use to ship Malik and Styles. And fan @atharryestyles didn't care what anyone else thought about the matter: "No one can tell me #Fingers isn't about zarry." Mystery solved, it seems.
Fans wishing for a love connection between the guys in 1D is nothing new. Especially when it comes to Styles. Before Zarry, fans were obsessed with Larry Stylinson, the shipping name for Louis Tomlinson and Styles, which gave the world a lot of fan-fiction, often erotic.
Last year, Tomlinson officially put an end to Larry Stylinson. In an interview, he actually said that the theory, which was really a fantasy for fans, was putting a strain on their friendship, which, sorry, was all it ever was. "I'm so protective over things like that, about the people I love," Tomlinson told The Sun. "It created this atmosphere between the two of us where everyone was looking into everything we did. It took away the vibe you get off anyone. It made everything a little bit more unapproachable."
So maybe because neither Styles nor Malik has refuted the idea of Zarry — is why fans are so hopeful that it really could exist. A fan named @MrsAnaDehaan tweeted a few lines from "Fingers" that they felt were totally about Styles: "My fingers ain't broken by my heart is. If you want to let me know where you're hiding." "Aint this ZARRY tea," @MrsAnaDehaan tweeted about those lines. It's also true that the song doesn't necessarily have to be romantic to be about Styles. Malik's decision to leave One Direction was definitely a tricky one, and fans are always holding out hope that he'll patch things up with the guys and bring the bad back. Perhaps "Fingers" isn't as romantic as it sounds?
Whether it is or isn't, Malik hasn't said yet. But, it's rather safe to assume that this is wishful thinking on the part of One Direction fans. All signs point to "Fingers" being about his on-again-off-again girlfriend Gigi Hadid, who he's now back on with.
The two split up earlier this year so it's possible this song — in which Malik sings, "Didn't mean what I was saying/No, I wasn't playing, just confused" — could be about regretting the way things ended. Malik makes it clear on the single that he's missing someone he loves, but his feelings could be all in the past. Hadid made their reunion Instagram official in June with a photo of them together.
So, yeah there are more clues that "Fingers" is about Hadid than Styles, but a One Direction fan can dream, can't they?