A Former High School Cheerleader Was Named One Of The Victims In Las Vegas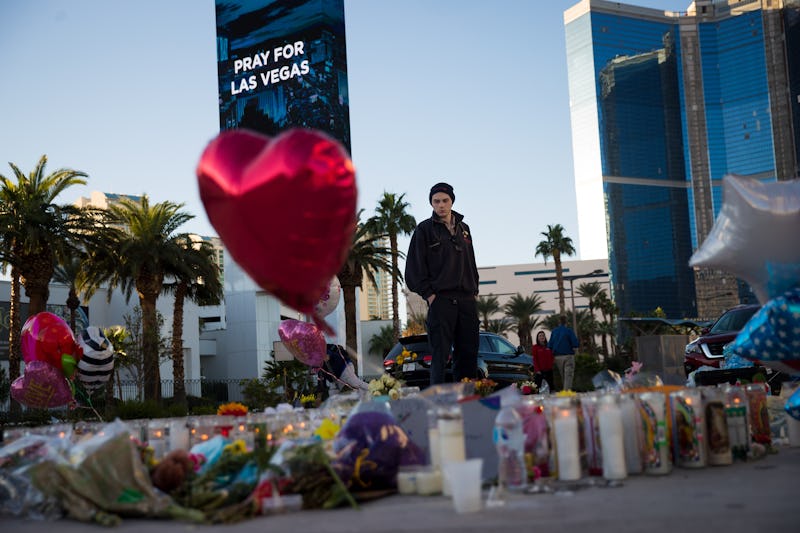 Drew Angerer/Getty Images News/Getty Images
On Oct. 1, the biggest mass shooting in modern U.S. history occurred at the Mandalay Bay Resort & Casino in Las Vegas, NV. The shooter, Stephen Paddock, shot at a crowd of thousands attending an outdoor country music festival from the 32nd floor of the hotel, leaving 59 people dead and over 500 people injured, as CNN reported. One of the people who tragically died in the shooting was Angela Gomez, a former high school cheerleader from Riverside, California.
Gomez's death was announced on Riverside Polytechnic High School PTSA's Facebook page, which stated that the class of 2015 alumna succumbed to her injuries from the shooting. CNN reports that the Riverside Unified School District put out a further statement about the woman's death, saying that Gomez, who went by Angie, was a "fun-loving, sweet young lady with a great sense of humor" who, in addition to cheerleading, had established a reputation for herself in her community's theater program. She was also involved in her middle and high school choir, according to CNN.
Her English teacher and cheer coach Lupe Avila has established a GoFundMe page to help Gomez's family with expenses related to her memorial service and to support them during their time of need. "It is with deepest sadness and absolute shock that we mourn the loss of Poly Cheer Alumni, Angela Gomez," the GoFundMe page reads. Gomez "was a cheerful young lady with a warm heart and loving spirit," it continues. One commenter on the GoFundMe page remembered Angie's sense of humor, saying she "always made me laugh in the classes we had together." The page also exhorts readers to keep her family in their thoughts and prayers, and "celebrate the life of a young woman who has gone home too soon." At the time of publication, the page had raised over $50,000 for the Gomez family out of a $10,000 goal. A GoFundMe page set up for all the victims of the attack has amassed almost all of its $3.5 million goal at the time of publication.
Gomez took on a challenging course load during her time at Riverside Poly, attending honors and AP classes, said the school district according to CNN. She was remembered "with a smile on her face whenever she was on campus," the statement said. "She will always be loved and endeared by our Poly Family," reads the Facebook post announcing her death.
Riverside, CA, is a city on the outskirts of Los Angeles, and is a three-and-a-half hour drive from Las Vegas. It borders the city of San Bernardino, which experienced a mass shooting in December 2015 that left 14 people dead and injured 21 others. A mass shooting is defined as any shooting event where at least four people are shot, according to the FBI, though definitions differ across various authorities. There have been over 270 mass shootings by the FBI's definition in 2017, according to the Gun Violence Archive, compared with 486 mass shootings occurring over the full year of 2016.
If you are searching for loved ones following the shooting attack in Las Vegas, there is a dedicated phone line to call to report loved ones missing or to find information. It is 1-866-535-5654. The FBI is also asking anyone with information, photo, or video about the incident to come forward by calling 1-800-225-5324, or 1-800-CALLFBI. If you are experiencing grief in response to this situation, know that it's OK to feel upset, angry, or scared, and to take care of your mental health and that of your loved ones as the country navigates how to move forward after this attack.