Here's Who Could Be The 2018 Bachelorette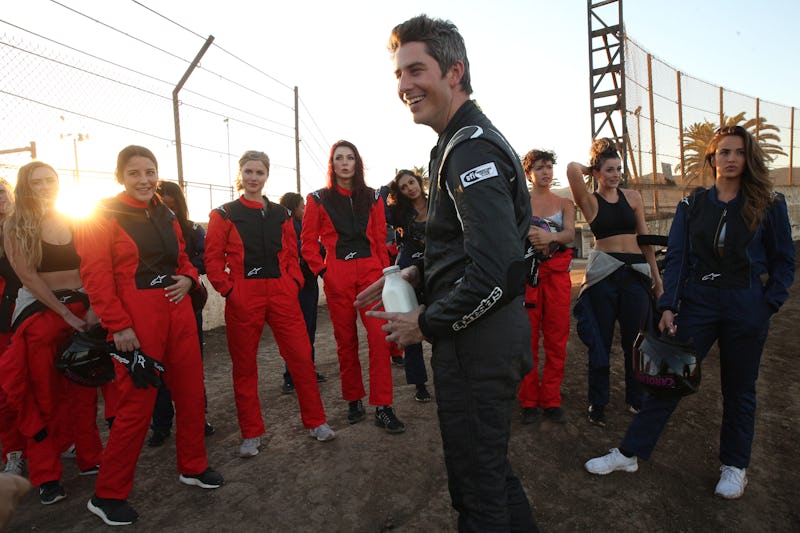 ABC
In a way, there are two prizes to be won when competing on The Bachelor. One prize is the heart of the man that 29 women showed up to compete for, but the other prize is another shot at love on one's own season of The Bachelorette. All Bachelorettes are pulled from previous seasons of The Bachelor, and often end up making it to the Top 4 or 5 of their season. So, who from Arie's season will be the 2018 Bachelorette?
Arie's had extremely good fortune when it came to meeting possible suitors on The Bachelor. Everyone in his final four has a distinct personality, has proven to be very entertaining to watch, and could likely anchor their own season of The Bachelorette. While Arie is enjoying the company of an incredibly strong Top 4, he has also sent home numerous people that could excel in the position of Bachelorette. Arie was able to enjoy an embarrassment of riches when it came to the people he got to spend time with, and there's no reason that America should have to miss out on seeing such vibrant personalities find a love of their own on The Bachelorette. Here are just a few of the competitors on Arie's season of The Bachelor that would excel at being on The Bachelorette.
Bekah M.
When she wasn't being made to justify her age, Bekah M was undoubtedly one of the stars of Arie's season of The Bachelor. With a playful enthusiasm about the process, and an emotional intelligence that would be impressive at any age, Bekah M. made a lasting impression on Bachelor Nation. A Bekah M. season of The Bachelorette could prove to be one of the most fun, hip, and downright millennial seasons of reality television ever created.
Becca K.
While Bekah M. was getting flirty in hot tubs and falling for Arie, the other Becca was getting flirty outside of hot tubs while also falling for Arie. Becca K. brought some baggage to The Bachelor in the form of her ex, but she also brought a sense of humor and an undeniable charm that would make her a perfect Bachelorette. Her "let's do the damn thing" proposal was one of the most memorable Bachelor entrances in recent history, and if she can bring that attitude to The Bachelorette, then Bachelor Nation would be in for one great season.
Lauren B.
While Lauren B. isn't the most talkative date on The Bachelor, she may be exactly what The Bachelorette needs. Part of the reason that Arie's season of The Bachelor has so many likable contestants is that Arie allowed his personality to take a backseat to the others. Lauren B. may not be the best as pumping up her personality to the camera, but that honest approach could help her find a connection and allow America to fall in love with some fascinating guys the way America fell for the women of Arie's season.
Seinne
While many of the other women on Bachelor were interested in getting a smooch from "The Kidding Bandit," Seinne was more focused on getting to know the man behind the lips. Her personality-first focus could make for an engaging season of The Bachelorette, but don't take my word for it — Former Bachelorette Rachel Lindsay agrees that she's the best choice.
Tia
Tia's the total package. She's a stellar Bachelor contestant, playing along with the rules of the game while not being afraid to fight for herself. She's serious about finding love, but isn't censoring herself on her journey. Tia is looking for someone that will love her for her, and The Bachelorette may be a perfect place for her to find someone.
Kendall
In the world of The Bachelor, Kendall is weird. Not just "oh she plays ukulele" quirky-weird, although she does play ukulele. Kendall collects taxidermy. Kendall is willing to eat worms for love and barely bat an eyelid. Kendall should absolutely be the next Bachelorette. Featuring Kendall would not only allow the series to redefine who a typical Bachelorette is, but also showcase one of the most genuine people on Arie's season. When everyone else in the house was arguing with Krystal, Kendall made an attempt to sit down with her, have a conversation, and encourage Krystal to genuinely reflect on how she was acting. That's exactly the kind of personality that should be in the role of the Bachelorette.
There's no shortage of great options from Arie's season to become the next Bachelorette. If anything, it's a shame that there's only one season of The Bachelorette per year as there may simply be too many deserving women from his season that would excel at having an entire season of television devoted to their search for love. While there are plenty of other members of the Bachelor franchise that would be great in the role of Bachelorette, the producers don't need to look far past Arie's season to find some great contenders.