Princess Eugenie's Wedding Has A Stellar Musical Lineup You Won't Want To Miss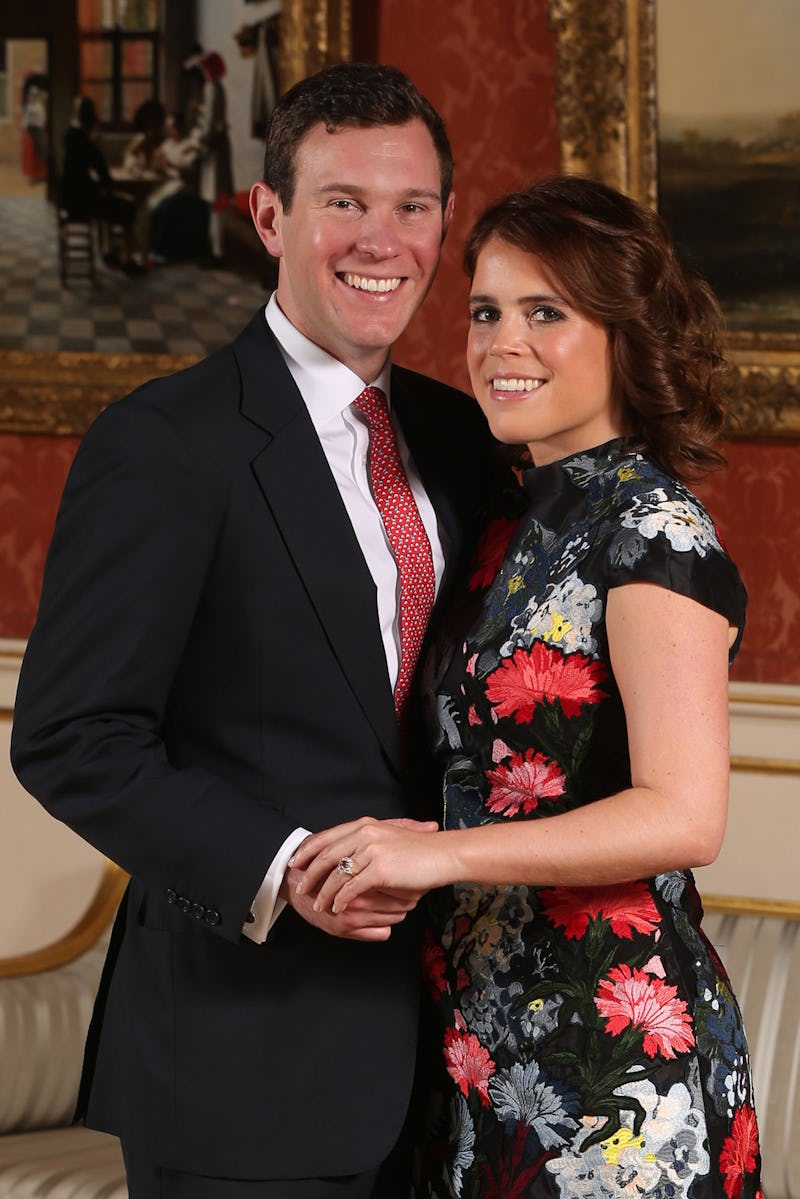 WPA Pool/Getty Images Entertainment/Getty Images
With just about four days left until this year's second royal wedding, preparations over at Windsor are well underway. Which means, those fans who've been dying to know who will perform at Princess Eugenie and Jack Brooksbank's wedding ceremony are finally seeing some answers. Over the weekend, The Royal Family's official Twitter account rolled out a series of announcements about the ceremony's upcoming musical lineup, as reported by People.
And — to no one's surprise — the lineup promises a performance roster duly fit for a monarch. Seems entirely appropriate, given the occasion, as well as the fact that a whole Rolodex's worth of monarchs are expected to be there to witness the union. As royal enthusiasts likely know already, Princess Eugenie will marry Brooksbank this upcoming Friday, Oct. 12, at St. George's Chapel on the grounds of Windsor Castle. (Where Prince Harry and Meghan Markle's royal wedding took place earlier this year.) In addition to the couple's loved ones — not to mention all the musical talent — another 1,200 members of the public have been invited to join in the royal celebration.
Those who managed to make the royal guest list are in luck for a bunch of reasons. And one of them is the fact that, much like 2018's last royal wedding, Eugenie and Brooksbank's will feature a string of performances by some of the world's most esteemed musicians. First up? Some lilting tunes from the acclaimed vocal chords of Andrea Bocelli, the legendary classical performer whose talents Celine Dion once likened to "God's singing voice." According to an announcement from the Palace via Twitter on Oct. 6, Bocelli will perform two songs during the ceremony.
Suffice to say, Bocelli's two-fold performance certainly doesn't sound like the only one that's bound to elicit an emotional response from the ceremony's sprawling audience. (Which, just for the record, is expected to see something like a 3,000-person turnout.) As the Palace noted a bit earlier on in its recent announcement thread, the Archbishop of York has written a special prayer in honor of Eugenie and Brooksbank's big day. "The Dean of Windsor will give the Address and officiate as the couple make their marriage vows," the announcement finished.
Adding to the list of personalized wedding gestures by various members of the royal clergy, the director of music at St. George's Chapel has written additional music specifically for Eugenie and Brooksbank's wedding. As People's report mentioned, he's composed two independent descants — musical interludes, essentially — for a set of choir hymns that will also be performed during the ceremony.
And finally, rounding off the ceremony's performance lineup with a nod to tradition, the Palace also revealed that the Royal Philharmonic Orchestra and State Trumpeters from the Band of the Household Cavalry will be on-hand to provide some celebratory tunes throughout the day as well. After that? There will be a hand-crafted red velvet cake waiting at the reception.
So, who else is currently wishing they'd filled out an application to be one of those lucky 1,200 commoners invited to Eugenie and Brooksbank's special day? If its extraordinary musical lineup is any measure of how powerful the royal couple's actual wedding ceremony is going to be, then it seems pretty safe to say the world is in for a serious bout of chills come Friday morning. Those of us who didn't snag a seat at St. George's Chapel will just have to settle for watching Bocelli's performance (and all the others) on TV.