Another Creepy AF Suspect Emerged In This Week's 'Sharp Objects'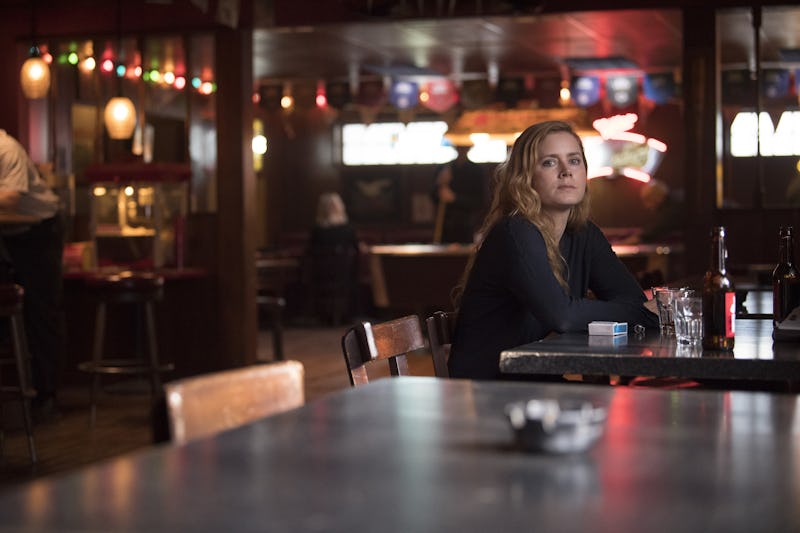 Anne Marie Fox/HBO
Major spoilers ahead for Sharp Objects Episode 2, "Dirt." Two girls have been murdered in the town of Wind Gap, and it's anyone's guess as to who did it. With everyone in the sleepy, Missouri town acting closed-off and mysterious, it's difficult for Camille (Amy Adams) to whittle down her list of murder suspects. In the second episode of Sharp Objects, however, a new possibility emerges. She talks to a young boy named James Capisi who claims he saw the woman in white take Natalie Keene. Natalie is the latest murder victim, whom audiences saw in Episode 1 when the townspeople discovered her body, teeth ripped from her mouth. So who is the woman in white on HBO's Sharp Objects? Is she simply a tall tale, or is there some truth to the town folklore?
The young source, James, lives in a small house with his sick mother. So when the reporter goes and talks to him about Natalie, she asks James if he told the police about what he saw. "Yes ma'am," he answers. "They say I'm seeing ghosts." Camille responds, "It's like the story." But the boy says, "She ain't no ghost. She was real."
According to Camille, the woman in white is a Wind Gap fable. "Well, when I was a kid, we used to scare each other with stories about the woman in white killin' little children," she reminds Vickery. "Yeah, I, too. Town folklore," he says. "Well, I don't know," Camille says. "Maybe someone doesn't believe it's folklore. Maybe they want to make it real."
James claims he and Natalie were playing ball in the woods when it happened. "I hollered at her, but she was gone," he says. It seems strange that such a detailed, eyewitness account would be thrown out. However, when Camille goes and speaks with Vickery about it, she learns a bit more about the boy's background. "He's got a mom with cancer, and she's a meth addict on top," he says. "That boy, when he does goes to school, comes with tall tales about where he's been. His momma took him to Disney world. She wears those hospital gowns — white gowns. Now he sees a woman in white do bad things? It's a cry for help."
It's also interesting to think about who else wears white in Wind Gap. As Chief Vickery (Matt Craven) points out, James Capisi's mother wears a white hospital gown. However, Camille's mother Adora (Patricia Clarkson) also wears robes around their house, and flashbacks show that she used to make Camille wear them, too. When Amma isn't wearing her girlish dresses and hair bows at home, she, too, is wearing a white gown.
The fact that a woman has been brought up as a murder suspect is also interesting, since both Vickery and Detective Willis (Chris Messina) are so convinced that a man did it. Then there is the disturbing fact that the murderer removed the girls' teeth. "Vickery says that the killer is a man — positively a man. Why positively?" Camille asks Detective Willis. "Statistics, for one thing, and it takes a lot of strength to pull teeth," he answers, adding that he tried it. Indeed, there's a disconcerting scene where the out-of-town investigator attempts to pull teeth out of a pig's head with pliers. He discovers that it's quite difficult.
Ultimately, however, Sharp Objects is more than a whodunnit. In fact, the murder mystery is almost besides the point. The real genius of this dark HBO show is the tense, small-town dynamics and a study on what happens when secrets fester too long beneath the surface. It will be interesting to see if the center will hold in Wind Gap or if its residents are in for a reckoning.
If you or someone you know is considering self-harm or experiencing suicidal thoughts, call the National Suicide Prevention Hotline at 1-800-273-8255 or text HOME to the Crisis Text Line at 741741.