Aaron Hernandez's Murder Conviction Was Vacated Because Of This Special Law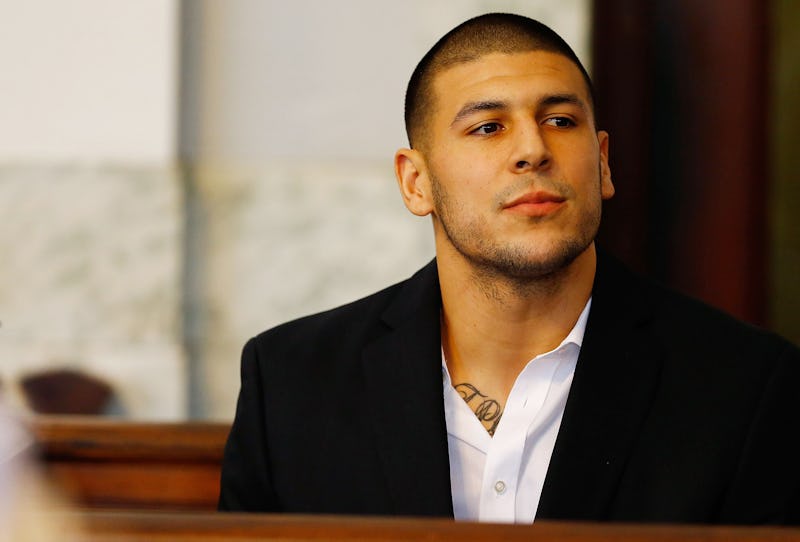 Jared Wickerham/Getty Images Sport/Getty Images
The two things that are often associated with Aaron Hernandez are "football" and "murder." Yet, after his death, the former NFL player is technically no longer a convicted killer. As will be seen in the two-part Oxygen docuseries Aaron Hernandez Uncovered, Aaron Hernandez's murder conviction was vacated by a judge after his suicide. And this abatement has nothing to do with new evidence or anything like that, but with a law recognized in Massachusetts that deals with the appeals process.
When Hernandez committed suicide on April 19, 2017, he was serving a life sentence with no possibility of parole for the 2013 murder of Odin Lloyd. Days after his death, his lawyers had requested that the court dismiss his conviction. And on May 9, 2017, CNN reported that Judge Susan Garsh vacated Hernandez's murder conviction. This ruling was due to Massachusetts courts recognizing "abatement ab initio." If a defendant dies before their appeal can be heard, then their conviction can be thrown out.
"In any event, Hernandez did not yet file a motion for new trial or appellate briefs before his death and this court cannot speculate as to the potential grounds he may have raised to challenge his convictions," Judge Garsh said. "In the interests of justice, the court has no choice but to abate the proceedings of initio by vacating Hernandez's convictions and dismissing the charges against him and his appeal."
After the ruling, Lloyd's mother, Ursula Ward, responded by saying, "In our book, he's guilty and he's going to always be guilty. But I know one day, I'm going to see my son. And that's the victory that I have that I'm going to take with me." Hernandez and Lloyd had been friends and they knew each other through their significant others, who were sisters.
Prosecutors fought against the abatement process, citing the fact that Hernandez took his own life. "A defendant, who can cut off his own criminal appeal by suicide and stall civil litigation by a stay of proceedings ... has the reins of the entire justice system in his own hands," CNN reported that the prosecutors wrote. Yet, Judge Garsh said in her ruling, "This court cannot know why Aaron Hernandez chose to end his life ... a tragic act that may have complex and myriad causes."
Just five days before his suicide, Hernandez had been found not guilty of two additional murders that occurred in 2012. After his death, Hernandez was posthumously diagnosed with the brain disorder CTE — chronic traumatic encephalopathy. CTE is most commonly found in people who experience repetitive brain trauma, like football players, and its symptoms include impulse control problems and aggression. Neither of these factors had anything to do with his conviction being vacated.
In September 2017, a few months after the abatement, the prosecutors of Bristol County, Massachusetts, asked for Hernandez's guilty verdict to be reinstated. But the Massachusetts Supreme Judicial Court ruled in October that the conviction would not be reinstated.
Lloyd's mother is not giving up, since the Boston CBS affiliate reported that Ward is working to change the abatement process. While it won't overturn the court's stance on Hernandez, Ward spoke in front of a judiciary committee at the Massachusetts State House in March 2017. She testified in support of the Act Relative To Odin Lloyd bill that would stop convicted people from having their convictions vacated if they commit suicide. That bill is pending.
Aaron Hernandez Uncovered airs on March 17 and 18.
If you or someone you know are experiencing suicidal thoughts, call 911, or call the National Suicide Prevention Hotline at 1-800-273-8255.