We Need To Talk About Why Women Still Don't Propose To Men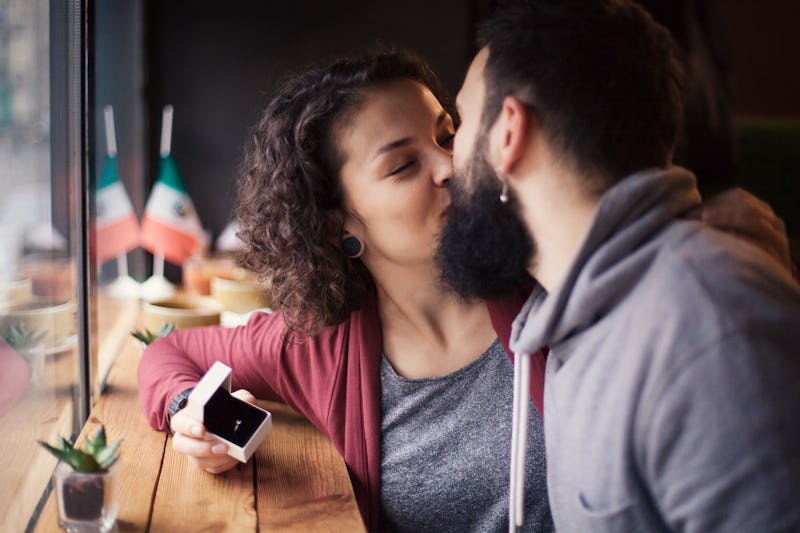 Andrii Zastrozhnov/Fotolia
The wedding industry has clearly gone through a lot of changes in recent years — and not just in terms of the now-omnipresent wedding hashtag. Now more than ever, folks are embracing the nontraditional when it comes to their nuptials, likely due in large part to the spread of feminism and increasing visibility for the LGBTQ+ community. But for all the progress that's been made in the wedding industry — from the rise of mixed-gender wedding parties to the use of more neutrally worded vows — there's one major thing that hasn't really changed all that much: it's still extremely rare to see women proposing to male partners.
According to a 2017 survey of more than 14,000 engaged or recently married brides by The Knot, less than one percent said they had proposed to their now-husbands themselves. But just because women-led proposals are rare in relationships between men and women, doesn't mean they're unwanted: a survey of 500 men by Glamour found that 70 percent of men would be "psyched" if their female partner popped the question. So that begs the question: why aren't more women proposing?
Why Do We Think Of Proposals As Something Just For Women?
Any conversation about engagements would be remiss to leave out the obviously huge influence that the media we consume has on how we view proposals, and romance as a whole. By and large, most mainstream TV shows, movies, and books are geared toward straight folks, and not many of them deviate from the traditional engagement narrative: girl likes boy, boy has issues committing, boy almost loses girl, then finally, he makes the ultimate romantic gesture and proposes to the girl.
It's a tale as old as time, and one that helps to condition girls and women to anticipate the day that they, too, are swept off their feet by an epic proposal, an undeniable declaration of commitment — something we're taught is hard to find. According to Ainsley Blattel, vice president of partnerships and branding/lead planner at Modern Rebel — a "love party" planning company that aims to make weddings more feminist and inclusive — women are socialized to not only expect a proposal, but to spend their adult lives "working up" to the all-important moment when a man gets down on one knee.
"We do have such a strong narrative about weddings being the best day of your life, [and] there's a sense that this [engagement] is what you're working towards," Blattel tells Bustle. Basically, thanks to basically any rom-com ever made, women eagerly await their fairytale wedding, and the proposal is portrayed as the moment that everything starts falling into place — which puts tons of pressure on both parties to have the perfect proposal.
Even the language surrounding proposals has gendered connotations — the man usually "gives" the proposal, while a woman "receives" one — which makes it hard for folks to want to break the mold and have a nontraditional proposal. There's a long-standing stigma that passivity is akin to femininity, and as both are historically associated with weakness, it's not hard to understand how society has ingrained in us the notion that "taking action" and proposing is a man's job, while a woman's job is to accept the engagement ring, a symbol of her being "off the market."
How Weddings Are Becoming More Equal In Other Ways
Even though women might yet be hesitant to pop the question to male partners themselves — and btw, there's nothing wrong with a woman wanting to receive a proposal from her partner — it's nonetheless clear that, among millennials, there's a growing sense of equality in relationships between men and women, and an emphasis on partnership.
"We haven't yet seen an uptick in the number of women proposing, but we have seen an uptick in the amount of couples having more of a conversation about engagement, and fewer surprise proposals," Blattel says. Rather than springing a proposal on their unsuspecting partner, more couples are openly communicating their expectations surrounding engagement and marriage — and according to Blattel, that kind of conversation is much more important than the gender of the person who ends up doing the proposing.
"It feels so magical to find someone you feel that deeply about, someone you want to continue to show up to the table with, even after hard conversations, day-in and day-out," Blattel says. "Check in a little bit before you propose and make sure you're on the same page in terms of your desires for the future of your relationship... Make sure you know the answer first, then plan something ... wild or simple and romantic — just go for it."
Ultimately, there's no "wrong" or "right" when it comes to planning a proposal. As long as you're on the same page as your partner about taking that next step, and the proposal is thoughtful and special to the two of you, it doesn't matter what it looks like — maybe you propose, maybe your partner proposes, or maybe you both propose to each other on separate occasions (as many queer couples do).
Even though it might take some time for women-led proposals to be normalized, there are plenty of other ways in which modern weddings have become more equal. "One of the most common breaks from tradition that I've seen in the past few years is women keeping their maiden names," Lindsey Nickel, wedding business coach at Lovely Day Strategy, tells Bustle. "I think that this has to do with the fact that more couples are getting married later in life... Once women get into their late 20s and early 30s, they are usually quite established in their careers and self-identity, their maiden name is much more a piece of who they are later in life."
And wedding ceremonies themselves are becoming less and less traditional: some brides are nixing the notion of matching bridesmaids dresses, some are chopping their hair off mid-ceremony, and some are proud to let male partners take the lead on wedding planning — something that men are typically assumed to be disinterested in, which is totally untrue.
"One major trend I've seen, from a feminist perspective, is that men are getting more involved in the wedding planning and asserting what they want in the process — and they DO have wants and desires for their big day," Elizabeth Williamsberg, a wedding and portrait photographer in Boulder, Colorado, tells Bustle. "Gone is the stereotype of the disengaged engaged male who doesn't care and lets the bride do all of the heavy lifting! Grooms are having opinions more often, and expressing those opinions regarding photography style, color schemes, decor details, etc. instead of letting the bride have complete control over the day."
What We Can Do To Make Proposals & Weddings More Equal
We're slowly shifting how we view gender roles, wedding traditions, and how those two things intersect. As we see more examples of nontraditional proposals and wedding ceremonies, we'll be able to push the boundaries even further — and maybe someday that will mean more women feel comfortable proposing to a male partner... and more men are open to receiving that kind of gesture.
"Be open to receiving love and affection, be able to let go of that masculinity that has been taught, be able to see exactly what the person [proposing] is saying to you, be in the moment, be open to hearing the outpouring of adoration and gratitude from your partner... be open to receiving that," Blattel says.
Above all, your engagement and your wedding should feel authentic, whatever that means to you and your partner. It doesn't really matter who proposes, how many people are in your wedding party, or whether or not you change your last name: as long as you and your partner are happy and can celebrate your love with your loved ones, that's all that matters.
"I just hope in the future there's more acceptance for people making the decision [to get engaged] together, and more doing away with the surprise popping the question," Blattel says. "I think of course it makes sense that any person in the partnership could decide to take the initiative [and propose]. I'm always trying my best to fight down stereotypes of what we think people should do, instead of just giving them permission to do what feels best for them."
So if engagement is on the horizon for you and your partner, start talking about the future of your relationship, and figure out what would make you both happy — and then let your proposal play out however you choose.