Why Kanye West Deleted His Trump Tweets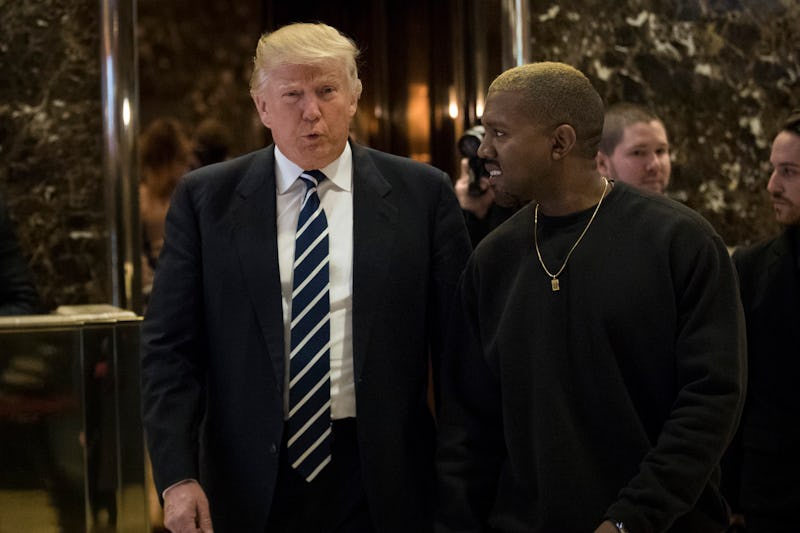 Drew Angerer/Getty Images News/Getty Images
I was shocked and became convinced the earth had switched to an alternate timeline when Kanye West met with Donald Trump and proceeded to tweet his support of the then president-elect. Now, the universe feels like it somehow meandered back to the original timeline as TMZ reported that West seems to have deleted his tweets supporting the president. But why did Kanye West delete his Trump tweets? Bustle has reached out to the rapper for comment but did not receive a response at the time of publication, so at this point all fans can do is make guesses based on West's previous reasons for deleting other past tweets.
After the meeting with Trump, West tweeted his hopes about the future stating, "I wanted to meet with Trump today to discuss multicultural issues," and "These issues included bullying, supporting teachers, modernizing curriculums, and violence in Chicago." He then went on to state, "I feel it is important to have a direct line of communication with our future President if we truly want change." It seemed like maybe he didn't love Trump, but was willing to work with him for the benefit of his country and maybe even his future hypothetical political prospects as he also mysteriously shared the hashtag, #2024 and has in the past been vocal about perhaps running for office at some point.
At the time, Kanye's meeting with Trump went well, Trump's spokeswoman, Hope Hicks told The New York Times: "The meeting was requested by Kanye and we were delighted to host him. They had a very positive and productive conversation." Also at the time, it seemed like Kanye West was very much on Team Trump.
According to TMZ, an unnamed source said the "decision to remove the tweets were all his" because West is "super unhappy with the president's performance over his first two weeks in office." Meanwhile, this isn't the first time West has deleted his tweets, so this isn't a bizarre course of action for the rapper. In January 2016, after a Twitter dispute with Wiz Khalifa, which started because West thought Wiz was insulting his wife Kim Kardashian, the rapper proceeded to delete the tweets. He then tweeted, "I love the world bottom line and all I want is peace and positive energy." So maybe, just maybe, West deleted his Trump tweets because he doesn't see any positive energy in the president's antics during the first two weeks of his administration — I mean, he's certainly not the only one who thinks so.
So really there's two possible explanations for why Kanye West has deleted any race of Trump support from social media. Explanation No. 1: everyone is back on the original timeline of the universe. Explanation No. 2: In West's infinite quest to spread positivity on Twitter, he has decided that the Trump administration does not have a good energy for him.
It should also be noted that Kim Kardashian has vocally criticized a few of Trump's moves on her Twitter. She praised women and men for taking part in the Women's March and also responded to the Muslim ban by sharing an infographic about the amount of deaths in America with the simple caption, "Statistics."
As with many of West's actions, fans may never quite understand his decision-making process — unless this is a whole new timeline for everyone.