Blake E. Won't Shut Up About Whaboom On 'Bachelor In Paradise' & Literally Everyone Wants Him To Stop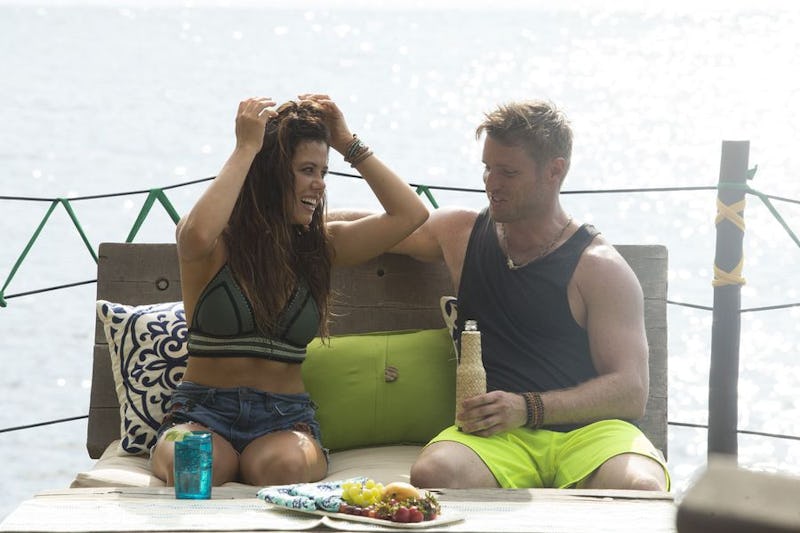 ABC
One of The Bachelorette's biggest rivalries may be over, but it seems like it still managed to follow a new contestant all the way to Bachelor in Paradise. While vying for Rachel Lindsay's heart, Blake Elarbee and Lucas "Whaboom" Yancey just could not put their differences aside. But why does Blake hate Whaboom on Bachelor in Paradise, anyway? Like explained on The Bachelorette, it started the first time they were on a reality show together, because this was not uncharted territory for them.
Once upon a time, Blake and Whaboom were both on a show called Ex-Isle in 2016, where Blake ended up hitting it off with Whaboom's ex-girlfriend, Brittany, despite the fact that Whaboom was trying to make things work with her in couple's therapy. After the show, Brittany and Blake proceeded to live together, which really (and understandably) upset Whaboom, so by the time they both ended up on The Bachelorette together, there was already bad blood between them. And then, in the mansion, it got a lot worse.
Blake and Whaboom were constantly fighting; Blake wanted to make sure everyone knew that his catchphrase was stupid and spent all his time trying to convince everyone that this dude was a loser, while Whaboom mostly just wanted to cement himself as a lasting icon in Bachelorette history. It was a disaster.
And when these two got eliminated, their feud only got worse. They engaged in a huge screaming match on their way out, slinging ridiculous insults and generally just making themselves look bad. Unfortunately, now that Blake's been given a second shot at love on BiP, he still can't seem to stop talking about Whaboom, which isn't going to help him earn any points with the women he's now trying to woo.
His one saving grace at this point is that Whaboom isn't actually on BiP with him, which would make this the third dating show they'd both been on at the same time. Maybe now that they're separated, he'll be able to show his true personality, but judging by his first moments in paradise, that may not happen. Time will tell... and so will the next rose ceremony.