This Kim K Rumor Has Fans Wondering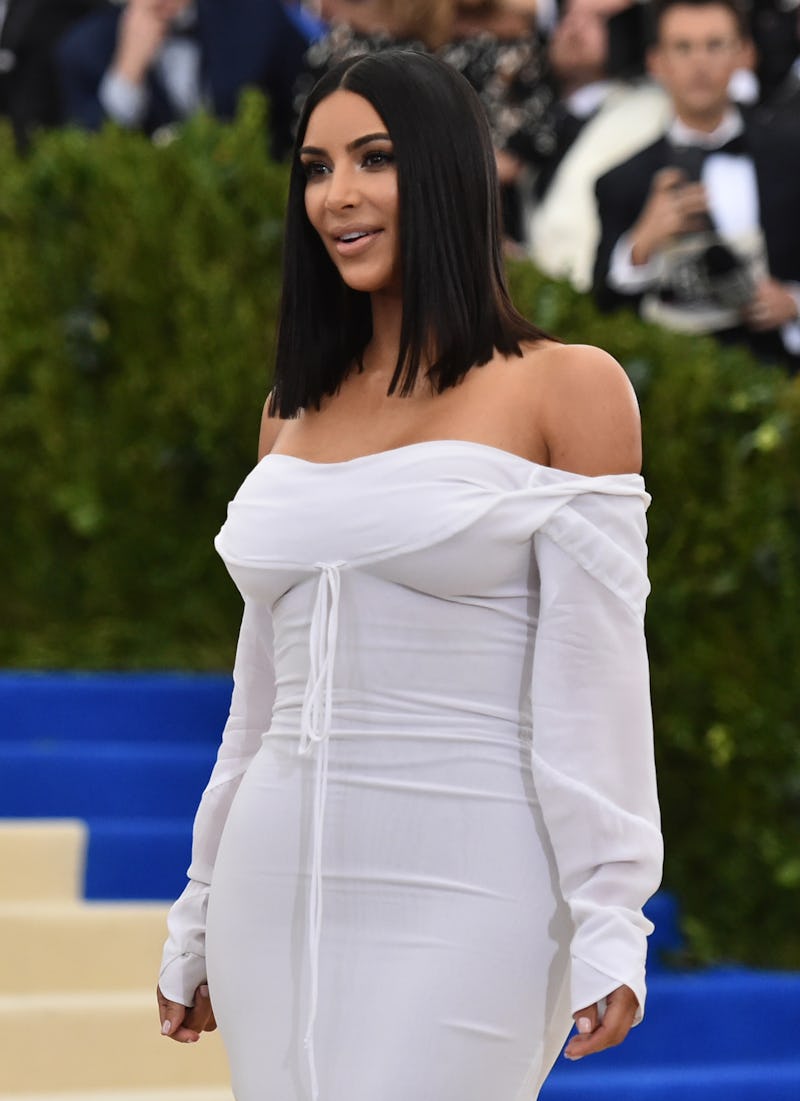 Mike Coppola/Getty Images Entertainment/Getty Images
It's very exciting that she and Kanye West will allegedly be trying for a third child, but why does Kim Kardashian need a surrogate, according to reports? Bustle has reached out to Kardashian for comment, but have yet to receive a response. There is, of course, no stigma in the decision, but, considering that she didn't use one for her first two births, fans might be wondering. North West was born in June 2013, and Saint West followed in December 2015, and the 36-year old gave birth to both children herself. However, Kim Kardashian has also never made any secret of her difficult pregnancies.
In fact, both have been what the reality star and businesswoman describes as "high-risk." In a post on her website, Kardashian detailed the long and painful journey that led her to the beautiful family she boasts today. During her first pregnancy, she developed a condition called preeclampsia that can come on so suddenly that all you can really do to protect the mother and the baby is to induce labor early. The Keeping Up With The Kardashians star gave birth to North almost six weeks early, and her trials didn't stop there.
She also suffered from what's known as "placenta accreta," which occurs when a woman's placenta anchors itself too deeply in the walls of her uterus. In most births, the placenta detaches easily and is birthed with the baby, but, in Kardashian's case, it had to be detached manually.
In her own words:
My doctor had to stick his entire arm in me and detach the placenta with his hand, scraping it away from my uterus with his fingernails.
If you felt uncomfortable reading that, imagine how the new mother must have felt experiencing it. Kardashian refers to it as the most painful experience of her life, even after a second epidural, and says she still required a followup surgery to excise pieces of the placenta that hadn't been removed.
But, even after all that, the mother of two was determined to do all she could to carry a third child. On KUWTK, we watched her endure another surgery, this time in hopes of preparing her uterus for another baby. But, sadly, the procedure was ultimately unsuccessful, and Kardashian's surgeon advised her that it would be unduly dangerous for her to attempt to get pregnant again. Carrying a third child was out of the question. It was clearly devastating news to receive, and the reality star needed some time to process. But the rumors that Kardashian has now hired a surrogate for baby three suggest that she's taken that time.
There are any number of great reasons to consider surrogacy, and avoiding a high-risk pregnancy is absolutely one of them. The reason people put themselves through the pain and the stress and the risk of pregnancy is for the payoff of a child at the end. So if you can take a different route to that same end result, why not?
Assuming that these rumors are true, I fully endorse Kim Kardashian's decision to take care of herself, her body, and her baby, and hire a surrogate for Baby West Number Three. (Just send a check in the mail if that's the name you end up going with.)