Alice Has An Unexpected New Client On 'The Catch'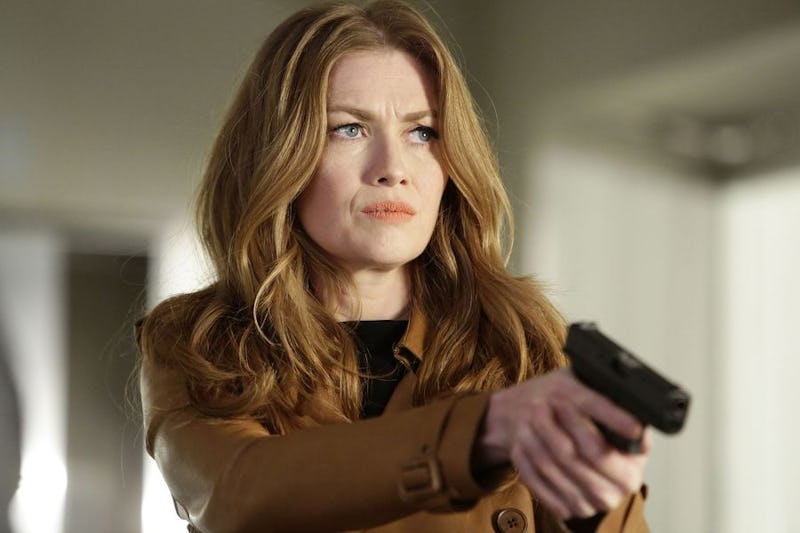 Nicole Wilder/ABC
Margot's attempt to land Alice in prison seriously backfired when Ben took the fall for his fiancée, so no one is having a particularly good week in The Catch Season 2 premiere. The couple's "happily ever after" is just going to have to wait and, in the meantime, the reputation of Alice's firm has taken a major blow and her neurotic brother has decided to crash with her indefinitely. Ben asks Alice to promise him one thing while they're separated — she'll stay away from Margot for her own safety. She begrudgingly agrees to not go after her nemesis — but imagine her surprise when Margot comes to Alice for help on The Catch.
Ben assumed that Margot would stay away from Alice because, to the best of his knowledge, she just became head of one of the most powerful crime families in the world. But, all is not well in the family biz — a hotel that functioned as their insurance policy was torched to the ground and, despite what Margot initially assumed, her mother had no involvement in the arson. As it turned out, her father stashed millions there and he only told Margot's mother when he realized his death was near. Someone's after the family, but Rhys has ditched Margot (again) and her mom's in jail — so Margot is going to have to sort this doozy out all on her own.
As if this day isn't rough enough, Margot's enjoying some pillow talk with Jamison when he's suddenly shot in the head by an assassin who aimed directly into her window. And, when you need any sort of thorough investigation on The Catch, everyone knows that AVI is the place to go.
When Alice and Val arrive at the office the next morning, Margot's waiting for them and she apologizes for not calling in advance (because that's totally the strangest thing about this visit). "I find myself suddenly in need of a private investigation security firm. Are you available?" she asks before the screen fades to black.
As the trailer for the March 17 episode indicates, their answer is yes — and this is going to be one tension-fraught collaboration. Although viewers witnessed firsthand that Margot is indeed in mortal danger, can we really trust that's her only reason for seeking Alice's help? Surely there are other private investigation firms in Los Angeles. Of course, their history is probably why Alice will be more than happy to take on Margot as a client. (You know what they say about keeping your friends close and your enemies closer.)
Aside their faux therapy sessions, Alice and Margot haven't shared much screentime yet — and I can't wait to see their psychologically-charged verbal sparring matches in Season 2.