Why Dragging Tristan Thompson's Ex Into Khloé Kardashian's Baby News Is Not OK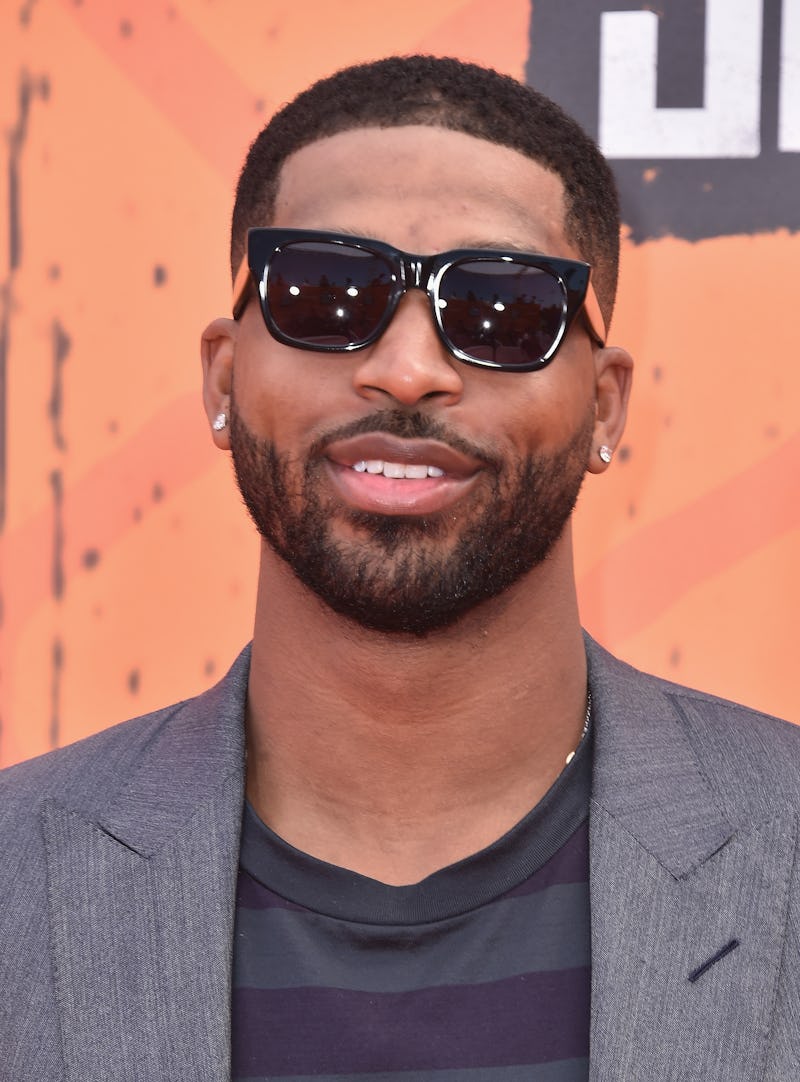 Alberto E. Rodriguez/Getty Images Entertainment/Getty Images
While it would seem obvious that dragging Tristan Thompson's ex into Khloé Kardashian's baby news is not OK, apparently it's worth discussing. As seen when Khloé confirmed her pregnancy on Wednesday, the internet has once again proven that it has no boundaries when it comes to trolling innocent bystanders, such as Jordan Craig and her young son, Prince Oliver.
Baby announcements are almost always a joyous occasion for expectant parents and their families. That is, if you're a private citizen without thousands (or even millions) of social media followers clocking your every move, as is the case of Khloé, Thompson, and Craig. Though not necessarily a celebrity herself, Craig has become the center of a narrative that she, quite honestly, has very little to do with. Once the girlfriend of NBA baller Thompson, Craig was notably catapulted into mainstream interest when her ex-boyfriend and son's father began dating Khloé in late 2016.
According to Us Weekly, Craig gave birth to her and Thompson's son in December 2016, and seemingly moved on to living her best life as a mother and retail entrepreneur. Reportedly a close cousin of comedian Kevin Hart's wife Eniko (Parrish) Hart, Craig owns an online clothing and hair extension boutique, and she often shares photos of her lavish wardrobe on her Instagram.
However, in light of Khloé recent pregnancy announcement, fans have, for some reason, resorted to dragging Craig's name into an unwarranted pool of drama, which includes shaming the father of her child and claiming that he left her to be with Khloé during her pregnancy.
None too pretty, fans' Twitter comments run the gamut, taking issue with a myriad of things, including Thompson's relationship with Khloé, as well as his lack of photos featuring his first-born child on social media. Amid the social media dragging, which does sometimes offer Craig sympathy, many have begun tagging her, seemingly to draw her attention to the matter.
While it's unclear exactly how Thompson and Craig parted ways, it's safe to say that bringing her into the drama and making her relive a breakup is just unfair. It's also worth noting that neither Craig or Thompson have yet to publicly address their past relationship, which means it's something that they'd both, most likely, not like to keep rehashing. And with no clear indication of when and why Thompson and Craig split up in the first place, fan speculation is simply that — speculation.
Thompson and Khloé reportedly began dating in September 2016 after meeting on a blind date, as was revealed on E!'s 10-year anniversary special of Keeping Up With the Kardashians. The meeting was reportedly arranged by fellow basketball player and friend Brandon Jennings. More than a year later, the two are still going strong and now officially expecting their first child together.
For what it's worth, it seems that all parties involved have pretty much moved on with their lives — including Craig, who recently posted a photo of her son in celebration of his first birthday earlier this month. Up until this point, both Craig and Thompson have kept the youngster's photo under wraps since his birth last year.
Now that Thompson's son is expecting a sibling, it's probably best that fans give the drama a rest. Though the internet can feel fleeting at times, the words that people share are forever, and these two children will one day have access to all of the comments aimed at their father and respective mothers. That said, with small children at the nucleus, sensitive subjects such as these should remain private and for the families to work out on their own.