'Bill Nye Saves The World' Brings The '90s Nostalgia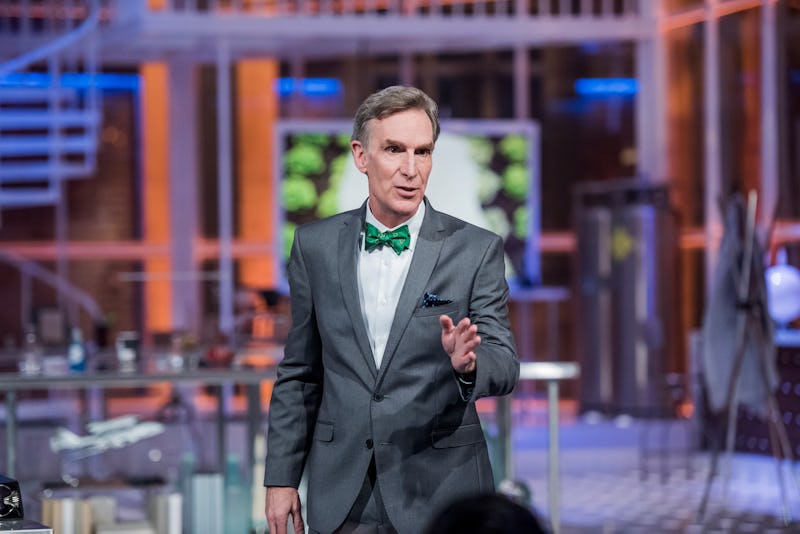 Eddy Chen/Netflix
Guys, hold on to your hats. If you don't have a hat, hold onto a wall or a small child, because Bill Nye is returning to your television once again. That's right, Bill Nye Saves The World debuted on Netflix April 21 for your streaming pleasure, and fans of his other work definitely won't be disappointed. He may have updated the effects and the subject matter a bit, but Nye still brings the same enthusiasm, brilliance, and humor that he did during his original run on Bill Nye The Science Guy from 1993 to 1998. I'm sure '90s kids will love Bill Nye Saves The World.
With the current political climate, I think we could all use a heavy dose of humor and an even heavier dose of cold, hard scientific facts. Nye has been one of the most vocal advocates for educating our country on the climate change crisis and he will bring his crusade into his new show. For fans of the original series, a new Bill Nye show makes it feel like the scientist has grown with them. He met them at their level when they were children in the '90s, and now he is speaking to them as adults. It feels like this new series is perfectly timed, for so many reasons.
Here are a few reasons why Bill Nye Saves The World will certainly appeal to fans of Bill Nye The Science Guy.
The Theme Song
Raise your hand if you vividly remember walking into Science class to see Bill Nye's spinning head on the screen and hearing the ethereal sound of "Bill, Bill, Bill, Bill, Bill, Bill!!" being chanted with the force of a thousand suns. The Bill Nye The Science Guy theme song is legendary. Are you missing this musical feast in your life nowadays? Well, fear not because your beloved theme song lives on, albeit updated by Tyler The Creator. Because Bill Nye is extraordinarily hip, in case you weren't aware.
Famous Faces
Bill Nye The Science Guy managed to snag some seriously impressive guest stars during its run in the '90s. Drew Barrymore, Sinbad, Robin Leach, Candace Cameron, and Queen Latifah are just a few. This time around, he is keeping with that same vibe and it looks like everyone wants to throw on a lab coat and have a science party with him. Supermodel Karlie Kloss, Tim Gunn, Zach Braff, Donald Faison and Rachel Bloom are only a few of the stars who will be joining Bill Nye Saves The World.
The Man Himself
You are likely tuning in for a myriad of reasons but one of those reasons is most certainly the host. The man is brilliant, hilarious and unbelievably effective at making science fun. Well, don't worry because Bill is still Bill. He has some of the same hokey jokes, and certainly the same enthusiasm for spreading knowledge that he had in the '90s.
One thing that is slightly updated in Bill Nye Saves The World is the subject matter and the tone in which he delivers it. He will discuss topics like sex, GMOs and climate change and he definitely has fun while doing it. You may notice that he maintains a air of seriousness under every bit, which is necessary, in my opinion. He is truly making a sincere effort to save the world by spreading factual information to people who may not initially take the subjects seriously enough, or pay enough attention to them.
The Format
The format for Bill Nye Saves The World is similar to the original series, but has obviously been updated a bit and moved in front of a studio audience. Each episode focuses on a specific topic (like vaccines or climate change) and the 30 minutes are filled with a lot of wacky experiments and a wealth of information, sometimes delivered via field correspondents or panels of experts. The updates are appreciated but the nostalgia still remains.
Basically, Bill Nye is the hero we all need right now, just like he was back in the '90s.