Faith's Time On 'The Challenge' Differs From Her 'Vanderpump Rules' Roots In This Major Way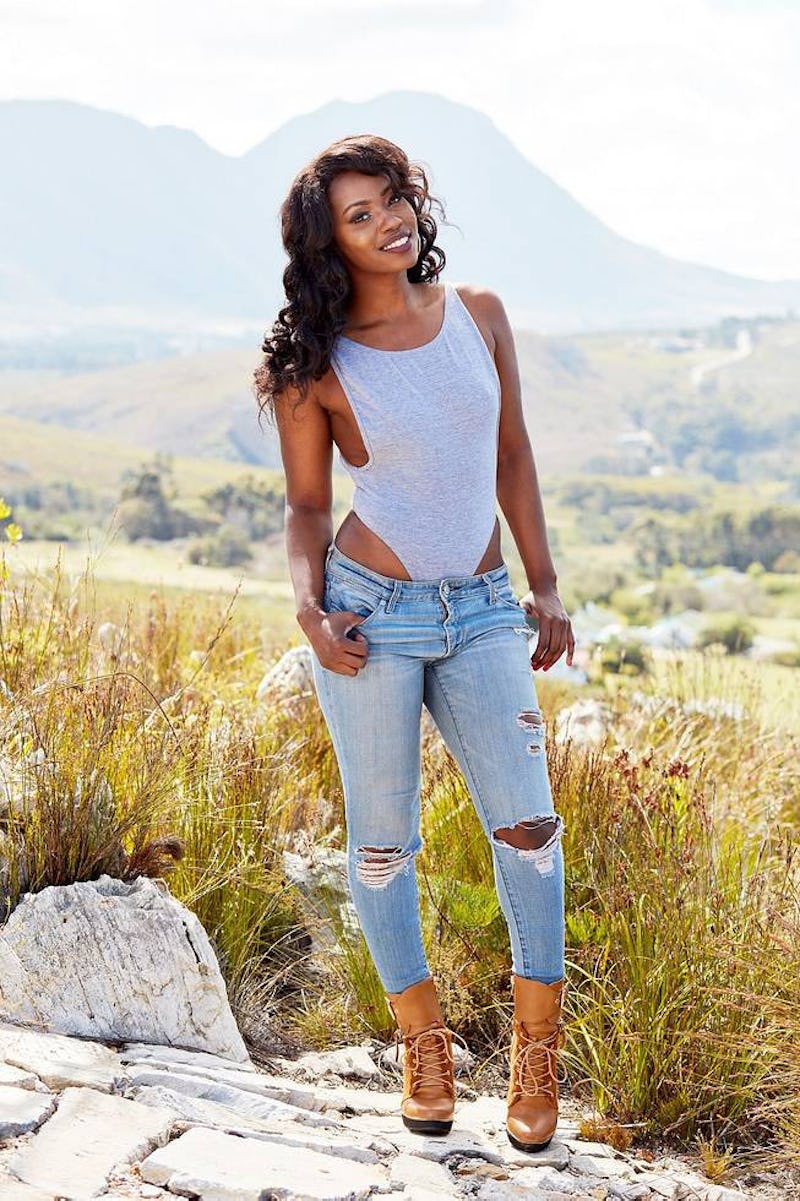 MTV
Reality TV fanatics first "met" Faith Stowers on Vanderpump Rules. Back then, she never got to fully share her side of the story, but that's a thing of the past. She's front and center on MTV's The Challenge: Final Reckoning, airing Tuesday nights at 9 p.m. During a recent phone interview with Bustle, Faith explains how her time on The Challenge differs from her experiences on Vanderpump Rules — and so much more.
This time around, Faith has her own voice and she's not afraid to use it. She finally has a chance to show people who she truly is and what's important to her. Faith is all about women supporting each other — on and off the show. As she explains, "Now I have a platform that I can use for something that matters and that's what means the most to me."
The premise of The Challenge: Final Reckoning sets up the competitors for drama. Each person has to work together with a "vendetta" from their past to win $1 million. Being on this show is tough enough — there are physical challenges, social politics, and of course, the rookies have to pay their dues to be accepted by the veterans. Being forced to work with a rival on top of all that is no small task. Faith was paired up with Ex on the Beach costar Angela Babicz, a fellow Challenge rookie.
When The Final Reckoning began, Faith and Angela still had unresolved issues from an Ex on the Beach love triangle. Nevertheless, Faith literally had to dig Angela out of a grave during the first challenge of the season to stay in the game — and that quickly snapped her into focus. Faith admits, "I thought to myself, 'For a million dollars, I'll dig her up.' I'm gonna keep it real. We hated each other. We did not like each other going into it."
She continues, "A million dollars can help you work out your differences though. Even me and [Vanderpump Rules flame] Jax [Taylor] can work out our differences for a million dollars." Now that would make for amazing television. Can someone make that happen?
Throughout The Challenge, Faith and Angela's relationship quickly progressed from rivalry to a strong partnership. "I think Angela came into the house with the same mindset that I had," Faith theorizes. "She had stuff that she wanted to prove to the world. I had stuff that that I wanted to prove to the world."
With the bigger picture in mind, Faith and Angela let bygones be bygones. Reflecting now, Faith keeps it real: "Yes, we had beef, but it was over a guy, so who cares? Women are always getting mad over guys, and it just needs to stop. I just said that we need to move past it. Would you rather have a million dollars or a man holding you at night? This is life-changing money. I don't understand how so many people lost sight of that just to argue about irrelevant things."
Faith says, "I am always will to work things out with someone who is willing to talk and listen." At this point, Faith and Angela have more between them than the ability to work well together — they actually became friends.
"Angela is the first name that comes to mind," Faith admits when asked about her closest pals. "She has been having my back in a lot of Twitter beef. She's been going out of her way to hold me down, and I've been doing the same for her." Oh, how times have changed.
On Vanderpump Rules, Faith never got a chance to share much of personal life. She only appeared as an adversary to the female cast members. However, being on The Challenge has given her the opportunity to show who she truly is, forming positive relationships along the way.
"I always try to make sure the women around me are good.That's why I was able to turn things around with Angela. It's like with Lala [Kent] on Vanderpump Rules," she shares. "No one liked her and I was there for her when no one else was. When you're willing to get along with someone regardless of what you hear about them or their past, it is possible to move forward. I always try to put women first."
Angela isn't the only person from The Challenge that Faith praises. She even has kind things to say about her latest rival, Cara Maria Sorbello. Faith admits, "I think she is a strong competitor. What she's accomplished in life and on this show, she's worked very hard for and she has success that she deserves."
So, why aren't these two friends? Oh right, Cara Maria's ex Kyle Christie made out with Faith on during the very first night in the house. However, Faith explains what happened: "Kyle making out with me happened quickly [after] we moved into the house... I think I'm the character to watch. I got one of the toughest girls in The Challenge history — Cara Maria — on my back. There was an immediate storyline that will carry on for multiple episodes."
Even still, Faith says, "I really think we can work it out." You never know, maybe Faith and Cara Maria will get paired up as rivals on a future season. They can resolve their differences and they would be a very tough team to beat. She adds, "I hate how men get in the way of my differences with people."
Overall, Faith is tired of women getting pitted against each other. She emphasizes, "I'm all about women empowerment." Yet she knows she's not perfect either, confessing, "I'm definitely a human being. I've gotten mad at women. I have to admit that. Still, I definitely would like to see women come out on top in this game."
Speaking of coming out on top, there's always been money on the line on The Challenge, but this amount is a huge deal. Faith teases that some beloved cast members change their behavior for a chance to win it all.
She warns, "Just know in the back of your mind that people will be switching it up this season. People are trying different tactics and acting out of character from what the viewers are used to, even the longtime favorites." Unfortunately Faith doesn't call out any specific names, but her warning is tough to forget.
Even though Faith teases lots of drama, she's happy with how it's going so far. "I think MTV is being truthful to what was filmed and I'm grateful for that... It's an accurate portrayal, not a 'good edit,'" she says. "So far, what has been shown is accurate and what actually happened. This is really who I really am."
Unlike Vanderpump Rules where the viewers never got to hear Faith's perspective, The Challenge is showing the world many facets of her character. "I think MTV captured me in both tough moments and letting loose and having a great time," she says.
"I want people to get to know me and who I actually I am," she admits, which is a tough order to fill after her infamous portrayal on Vanderpump Rules. Of that experience, Faith claims, "On Vanderpump Rules, I wasn't given a voice. I was silenced. When you heard I did something, I couldn't defend myself."
Looking back, she reflects, "People didn't get to know me. They had no reason to have my back. Thanks to MTV, I've developed a fanbase where people actually care enough to have my back and want to see me win." Hopefully the third reality show is the charm for Faith and she'll be able to win over the viewers... and that $1 million cash prize. That certainly wouldn't hurt.