Whoa, 'TRL' Already Sounds Way Different From The Days Of Your Youth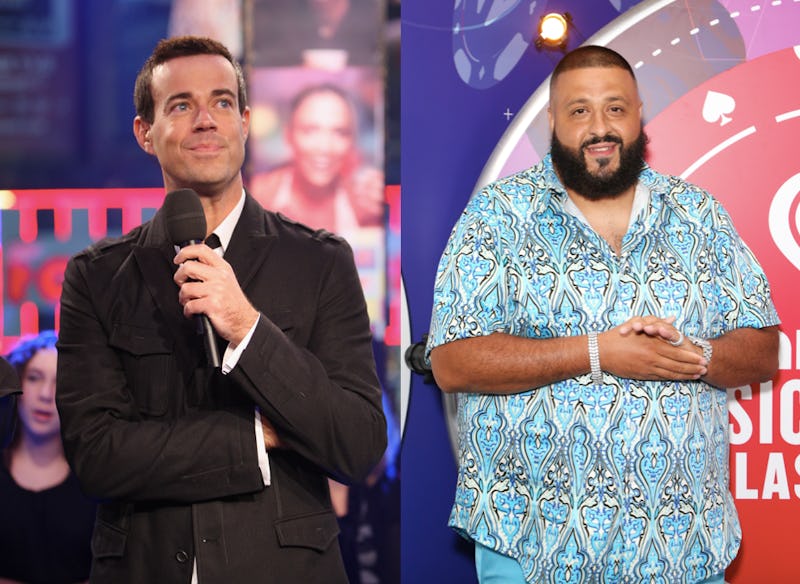 Scott Gries/Getty Images Entertainment/Getty Images; Gabe Ginsberg/Getty Images Entertainment/Getty Images
Back in the early 2000s, MTV's TRL wasn't just a show, it was a lifestyle. In the glory days from 1998 to 2008, tweens across the country would eagerly get in front of the TV (or elbow their way through Times Square) to watch the hottest artists release new music and videos, with occasional in-person appearances to make them really swoon. Now, TRL is coming back and it's getting a very modern makeover. Like the addition of a "TRL Godfather," for instance, who was announced on Friday. But why is DJ Khaled TRL's Godfather exactly?
When the show first started, the face of the franchise was beloved VJ Carson Daly (with co-hosts like Dave Holmes, Damien Fahey, Hilarie Burton, Vanessa Lachey, and La La Anthony). The ceremonious return of TRL on Monday, Oct. 2, will be led by DJ Khaled. And as the TRL Godfather, the artist will not only be featured in the premiere, but make cameos throughout the year.
The return of TRL will be hosted by rapper DC Young Fly and the "TRL squad," including co-hosts Tamara Dhia, Amy Pham, Erik Zachary, Lawrence Jackson, and various social media influencers. DJ Khaled is another fresh face for the franchise, but he's arguably the best person for the job.
Fans may be scratching their heads, wondering: Was DJ Khaled heavily involved in the original TRL? Not really, mostly because his career really started taking off when TRL was coming to the end of its run. In the early days of his career, DJ Khaled worked with performers like Lil Wayne, T-Pain, Birdman, Fat Joe, and Rick Ross, and he released his debut album in 2006 (TRL ended in 2008). However, DJ Khaled did make an appearance on TRL once in its final year.
Since his TRL debut, DJ Khaled as become a media mogul. He released his 10th studio album Grateful in June and has brought together major hit makers like Nicki Minaj, Justin Bieber, Beyonce, JAY-Z, and Rihanna, to name a few. Not to mention, his social media game is next level. DJ Khaled isn't only the Godfather of TRL, but of pop culture.
And this isn't the only change: TRL is getting a makeover from head to toe (except that it'll still air weekday afternoons). It has new faces, an expanded studio, and a fresh lineup of artists. (In the old days, performers like Britney Spears, Christina Aguilera, Eminem, Hanson, Backstreet Boys, and *NSYNC were all the rage). TRL's kickoff week will include performers like Ed Sheeran, Migos, Noah Cyrus, Demi Lovato, Lil Yachty, Why Don't We, and PRETTYMUCH.
According to MTV's press release, TRL still aims to be a water-cooler setting for youths across the country, bringing "teen passion points to life" and honoring audience requests. In the modernized version, TRL will expand from broadcast and integrate social and digital platforms like a Facebook and YouTube post-show and live stream on Live.ly and Musical.ly.
Although TRL is getting heavily updated, it looks like franchise isn't totally forgetting its roots. The Instagram page displays a hybrid of new artists with classic shots of stars like Hillary Duff, Mariah Carey, and Will Smith in the iconic TRL photo booth.
Because the upcoming TRL is different from the original in so many ways (largely due to technology, YouTube, and social media), it's uncertain how the reboot will be received by audiences. On Friday, former VJ Dave Holmes weighed in with a piece on Billboard, explaining what the new version should change in order to be successful.
He points out that unlike the old days when fans would patiently wait for hours to get even a short glimpse of their favorite artists, the attention span is much shorter now. Holmes suggests "better live performances, crazier spontaneous moments, [and] more personal interaction between artists and fans."
If there's anyone who gets how fandoms worked in the old days and is still able to master the use of social media now, it's DJ Khaled. The Godfather, in other words, is a living hybrid of the original and new TRL.