The Reason You'll Never See Kate Middleton Take Off Her Coat Is Actually Pretty Sexist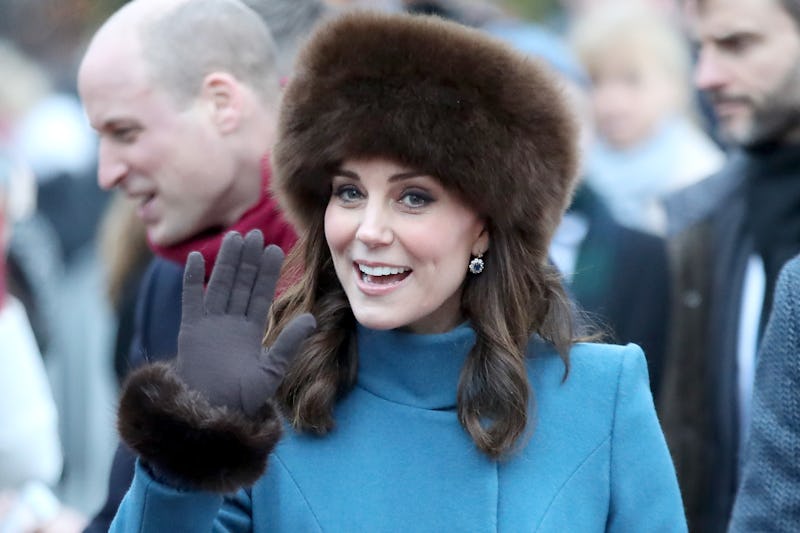 Chris Jackson/Getty Images Entertainment/Getty Images
Sometimes the coat makes the outfit. Other times, you're not allowed to take your coat off in public so it becomes your outfit. Well, at least for royals. As Honey originally reported, there's a royal rule that says Kate Middleton is not allowed to take her coat off indoors. Yes, even when she gets out of the cold and joins people indoors, the coat still stays on. The rule isn't only totally inconvenient, but it's also pretty sexist.
All eyes are on the royals, no matter where they are. The Kate Middleton and Meghan Markle effect is real. No matter what they wear, it's constantly flying off the shelves right after they wear it. But there's a reason why you never get to see what dress Middleton is wearing underneath her dress.
According to multiple publications, royal rules state that Middleton is not allowed to take off her coat in public because it is deemed "unladylike" by The Queen. No matter what is happening at the moment, if the Duchess of Cambridge must always keep her jacket on in front of the public, including cameras.
Even when the men in the room get to take off their jackets and relax, Middleton is always seen wearing her jacket. As Glamour points out, if the Duchess wants to take off her jacket, she must excuse herself from cameras to do so.
Case and point: Middleton stayed in her Dolce and Gabana coat the entire time that she was at lunch with the Norwegian royals Crown Prince Haakon and Crown Princess Mette-Marit, as Glamour points out. Even when Prince William is sitting next to her in a cardigan, Middleton sticks to protocol.
Even Meghan Markle, who is known for toeing the royal fashion rules, keeps her jacket buttoned up in front of the cameras. On Christmas, people were dying to know what dress Markle was wearing under her jacket. No one knew until Club Monaco saw a little piece of the velvet dress underneath and announced on social media that it was the $268.26 Club Monaco Dress in Dark Cherry dress.
It isn't clear why The Queen frowns upon a woman taking off her jacket in public, but she follows her own rule. You never see the crown without her jacket on while the cameras are rolling. Perhaps it's a fashion rule that she always follows, so she has others do it as well. There's just no reason.
This isn't the only royal fashion rule out there that will make you scratch your head. Women must wear tights whenever legs are showing and there's a strict rule on which handbags can be carried in public. They're also supposed to make sure hair is sleek and perfectly tamed at all times and can only wear a neutral color nail polish.
These rules put are put in place by the Royal Palace, but they're aren't necessarily always followed. While Middleton follows all of them without a single slip up, but Markle is already known for breaking the sartorial rules. She has carried the wrong bag, worn a messy bun not once but twice, and opted out of dresses all together and rocked a matching suit with Prince Harry. Not to mention that she avoided royal rules on her very first public appearance and chose a mesh topped gown for her engagement photos.
Markle has yet to comment on her fashion choices, but the clothing is speaking for itself.
The royal fashion rules are uncommon to us normies, but entertaining nonetheless. On thing is for sure though — you'll never take for granted the little things, like painting nails bright colors and being able to take off your coat in public, ever again.