Justin Bieber Isn't At The VMAs, But He's Still Living His Best Life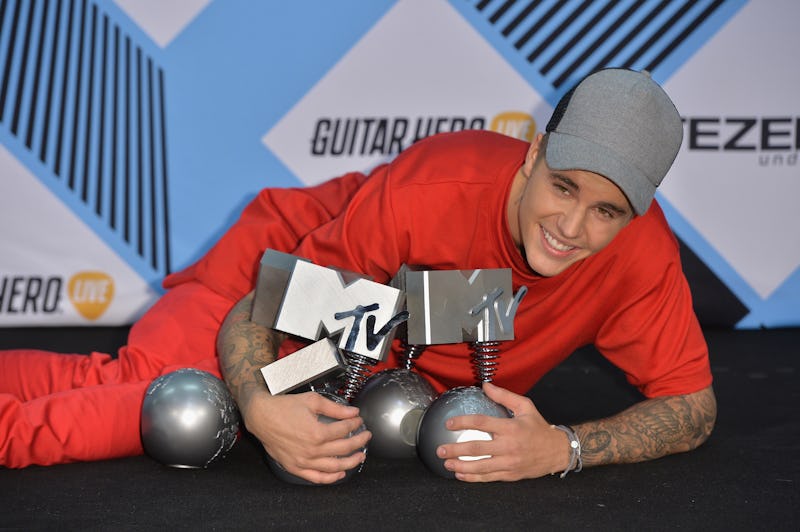 Anthony Harvey/Getty Images Entertainment/Getty Images
Beliebers everywhere were crushed Monday night when they realized that, for the second year in a row, Justin Bieber didn't attend the MTV Video Music Awards. The singer and newly engaged artist has successfully avoided the awards show for a few years now, but his absence was particularly felt this year given his nomination for Song of the Summer with "No Brainer." So, why isn't Justin Bieber at the VMAs even though he's nominated? It seems like the singer is preferring his newly engaged peace too much to brave the mass of screaming fans awaiting him at the awards.
Bieber hasn't released a new album in three years, since 2015's Purpose, but that hasn't kept him from releasing hit songs. With features on hit songs like "Despacito" and, of course, his nominated "No Brainer," Bieber has maintained a solid presence on the radio without actually going through the gauntlet of releasing an entire new album. His last public performance was at Coachella alongside Post Malone, where he treated fans to an impromptu performance of "Deja Vu." It was his first public performance since cancelling his tour in July of 2017.
Biber surprised fans last summer when he unexpectedly cancelled the rest of his Purpose tour. He explained his decision with a lengthy message in an Instagram post on Aug. 2, 2017, saying that he needed time to himself. "Me taking this time right now is me saying I want to be SUSTAINABLE.. [sic] I want my career to be sustainable, but I also want my mind heart nd soul to be sustainable," he wrote. "So that I can be the man I want to be, the husband I eventually want to be and the father I want to be."
Since announcing his hiatus, Bieber has kept a relatively low profile. Yes, he's been featured on hit songs, and his love life — specifically his on-again-off-again love affair with Selena Gomez and his new engagement to Hailey Baldwin — have landed the pop star a prime spot in the tabloids. But, the singer himself hasn't exactly been courting the press. It's a nice change of pace for the young superstar, who for years was constantly hounded by paparazzi. After his career took a turn towards the sensational around 2014 thanks to a viral video of Bieber drunkenly peeing into a mop bucket and an arrest for DUI in Miami Beach, there were a few years where his every single move made headlines. In 2018, however, Bieber's been in the headlines for a much happier event: his engagement.
Bieber confirmed his engagement to Baldwin on July 9, after a few days of speculation, in a sweet Instagram post. "So committed to spending my life getting to know every single part of you loving you patiently and kindLY [sic]," he wrote. "You are the love of my life Hailey Baldwin and I wouldn't want to spend it with anybody else."
Instead of partying it up at the VMAs, it seems safe to assume that Bieber is spending his evening with his bride-to-be. After all, the Sunday before the awards show, Baldwin shared a sweet photo of her sitting on her fiancé's lap, enjoying what appears to be a peaceful summer boat ride. Wherever Bieber is, here's hoping he's enjoying his newly engaged life, and if he gets a Moon Person in the mail, so be it.