The One Thing That Ruined A Near Perfect 'Gilmore Girls' Trend At The Emmys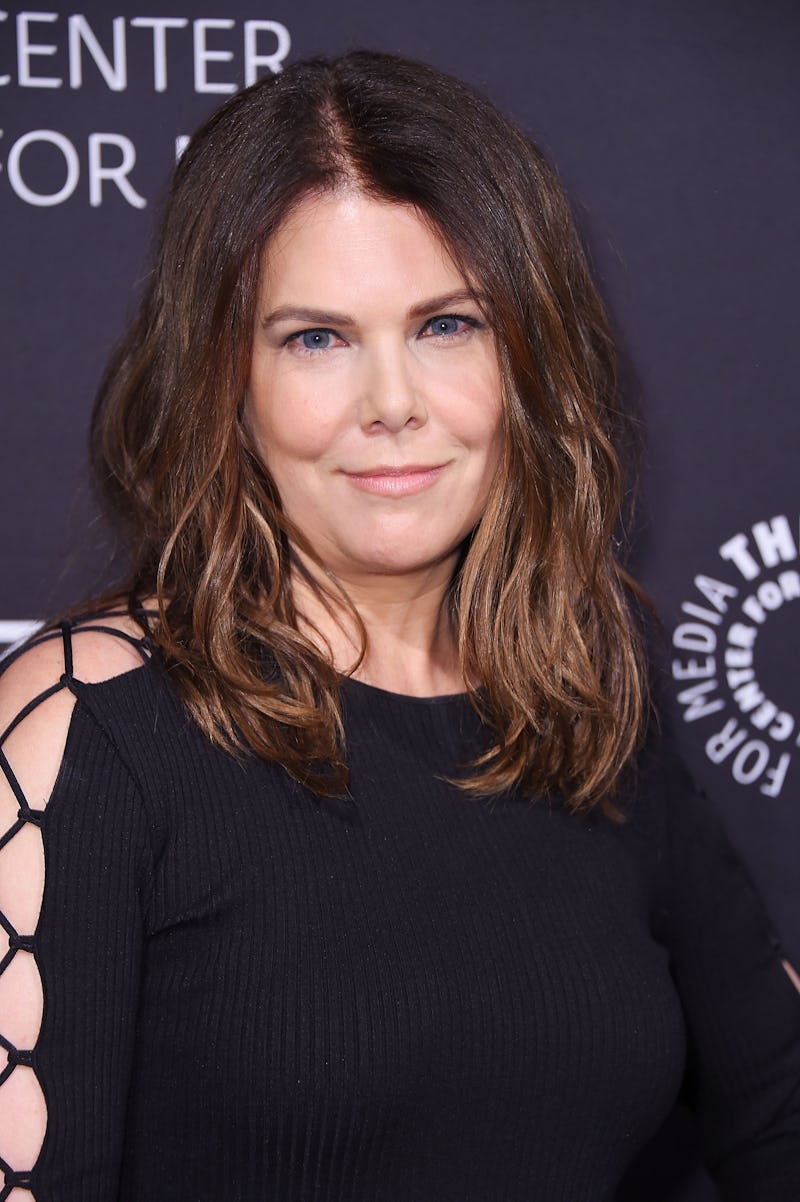 Michael Loccisano/Getty Images Entertainment/Getty Images
Rory Gilmore may have an Emmy now, but Gilmore Girls fans know that Lorelai is never too far behind. So, was Lauren Graham at the 2017 Emmy Awards with Alexis Bledel? The former TV power duo sadly did not reunite at Sunday's main event. Last weekend, Bledel took home a trophy at the Creative Arts Emmys for her work on The Handmaid's Tale, and she'll be presenting Sunday evening. Graham took to Twitter to congratulate Bledel on her win, but doesn't appear to be involved in the awards this year.
She was unfortunately snubbed for her work in Gilmore Girls: A Year In The Life, and may not have been invited at all. Shockingly, Graham has never been nominated for a single Emmy in her career — despite lining up Screen Actors Guild, Television Critics, and Golden Globe nods over the years for her performance as Lorelei Gilmore.
Other than the occasional tweet, Graham isn't huge on social media, but did retweet some Carole King lyrics earlier in the day. It didn't seem like she was getting ready for the Emmys in any way, unless that was her pre-game soundtrack. She's not on Instagram, as she reiterated earlier on Sunday "for the five hundred and seventeenth time" in a Twitter post.
Where is she? Possibly still promoting her book Talking As Fast As I Can, which will soon be released in paperback. That's what she was tweeting about during the ceremony, so that could be a clue. The actor may also be preparing for her newest role as Larry David's love interest in Curb Your Enthusiasm. Who knows, maybe she'll be at the Emmy Awards next year. (Fingers crossed.)
Still, the TV mom made sure to support her sometimes on-screen daughter after the Creative Arts Emmys last weekend. Graham — though, again, not huge on social media — took to Twitter to show her pride for her faux-daughter's win, saying, "Congratulations, @alexisbledel, for the nom for your beautiful work on @HandmaidsOnHulu! So excited and happy for you. Brava! Love, LG."
You guys. I know "LG" stands for Lauren Graham, but doesn't part of you want to read that as "Lorelai Gilmore." Just me? Either way, it's one heck of a way to support Bledel, even if she didn't answer fans dreams and fly to Bledel's side to be her date at the 2017 Emmys.
Plus, there were still plenty of potential for possible Gilmore Girls reunions at the 2017 Emmy Awards with Graham. Both Milo Ventimiglia and Melissa McCarthy are in attendance. Ventimiglia is nominated for This Is Us, and McCarthy was also an early winner for her work on Saturday Night Live. Sure, Ventimiglia may have had a memorable Emmys moment with Viola Davis and his new TV family instead his former Gilmore costars, but that's nothing to fret over. There's plenty of love to go around at the Emmys. Both Sookie and Rory are already winners, which would definitely make Lorelai proud.
The final acceptance speech, for The Handmaid's Tale, even threw a tiny shout out to Bledel's iconic character. "You guys supported us when we wanted to do horrible things to Rory Gilmore," a Handmaid's producer joked. He wasn't wrong. Even if you loved the Hulu — or should we say "Hooloo" — series, the difference between Rory and Ofglen was pretty stark.
The Netflix revival may not have been nominated this year, but the talented cast is doing the most and definitely represented Stars Hollow on Sunday night. The Handmaid's Tale, This Is Us, and Saturday Night Live were three of the biggest overall winners. It really just goes to show how far these talents have come.