Sophia Bush Isn't In The 'OTH' XMas Movie, But There's Still Hope For A Real Reunion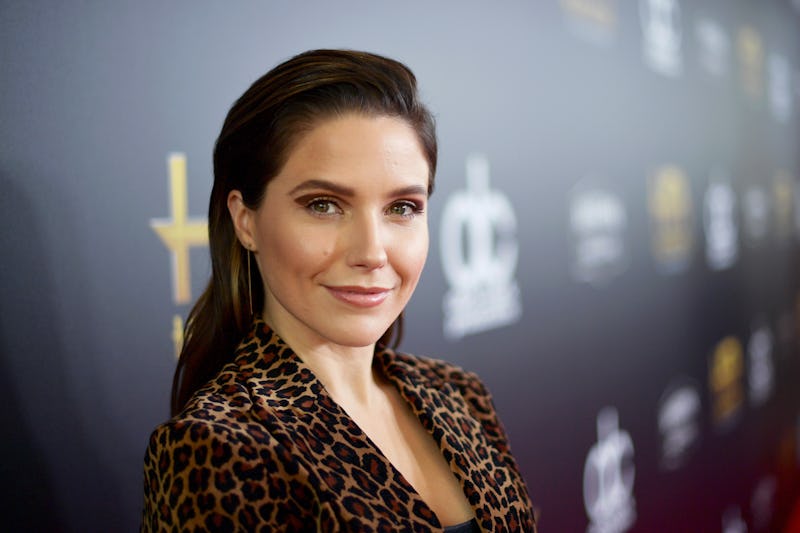 Matt Winkelmeyer/Getty Images Entertainment/Getty Images
If you were a teen at any time between 2003 and 2012, chances are you were a fan of One Tree Hill. In the six years since it went off-air, an actual, official reunion hasn't happened (and really, six years isn't that long), but a new Lifetime holiday movie brings plenty of the previous cast back together — save for a few exceptions. For example, Sophia Bush isn't in The Christmas Contract, though that isn't necessarily surprising.
Bush doesn't appear to have commented about why she isn't in the film, but the former One Tree Hill star has downplayed the idea of a reunion in the past. "There are no plans. I don't know if that's to say there never will be, but literally there is not a single discussion of a plan in the works at all," she told Bustle earlier this year, though it's unclear if Lifetime had hatched plans for The Christmas Contract, which premieres on Thanksgiving Day, at that time.
Bush has also been pretty busy, so perhaps the movie just didn't fit into her schedule. Her IMDb page notes that just this year, she's appeared in Alex, Inc., voiced a character for Incredibles 2 and its video game counterpart, and starred as a detective in Act Of Violence. She's also involved in two upcoming projects that are still in production, so her acting calendar looks a little hectic.
And aside from showbiz, she's an advocate for tons of causes she holds close to her heart. Her Instagram feed is pretty full of rallies she's attending and campaigns she's supporting. So basically, we should be understanding if she couldn't make time for Christmas Contract, no matter how much it might hurt the hearts of die-hard One Tree Hill fans. The cast that is appearing in the movie was able to carve out space in their schedules to reunite, and that's already enough to get excited about.
According to TVLine, Hilarie Burton, Robert Buckley, Danneel Ackles and Antwon Tanner are all starring in the film, so it'll have plenty of familiar faces present for those desperate for more One Tree Hill content. Tyler Hilton, another OTH alum, will also appear with a special musical performance, per another TVLine report. He reflected on how they all connected while filming the original project, and why the OTH cast remains close even today. "We were in that age when friendship is so important. Nobody has partners or kids yet, so this show was our life, and everyone is hanging out together every night," Hilton told the outlet.
They obviously still love working together, and even though Bush couldn't be in on this one for one reason or another, she's still never shy about reconnecting with her One Tree Hill friends. She's been known to hop in photos with her former castmates, and it seems clear that if a true One Tree Hill reunion is ever on the table, Bush will be at least giving it some serious consideration.