Why Jacqueline On 'The Bold Type' Is The Boss You'll Wish You Worked For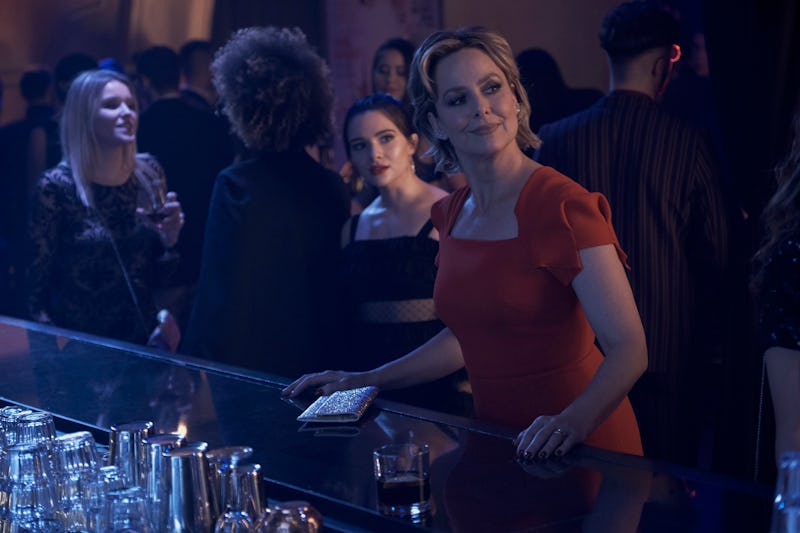 Freeform/Phillippe Bosse
"I'm not a boss bitch, I'm a boss, bitch." Melora Hardin can't help but giggle when she shares the tagline for her show The Bold Type, which returns for its second season on June 12. Not just because she thinks it's witty, but because she relishes just how perfect this motto is for her character Jacqueline Carlyle, the editor-in-chief of Scarlet magazine. "It's just so cool," she tells me over the phone. "And I think it's really true." The Bold Type's Jacqueline is unlike most female bosses on TV (Hardin's previous role as The Office boss Jan Levinson included). She's the kind of thoughtful, poised, driven person you want to work for, but also want to be. "I was very attracted to her being more of a mentor," Hardin says, "and not somebody that was an asshole."
Unfortunately, being an asshole has often felt like a prerequisite to being a female boss on screen: look no further than The Devil Wears Prada's fearsome Miranda Priestly as evidence that female bosses — especially in the cutthroat world of women's magazines — are hardly portrayed as supportive and kind. Jacqueline, on the other hand, offers inspiration and confidence to her underlings Jane (Katie Stevens), the ambitious up-and-coming reporter; Kat (Aisha Dee), the self-assured social media director; and Sutton (Meghann Fahy), the industrious newby fashion assistant.
Jacqueline leads by example, encouraging them to set their sights on taking over not just Scarlet but the world at large, while finding other women to help them do it. She's building a workforce comprised of confident women who aren't afraid of their boss, but admire her — not just for how powerful she is, but for the way in which she wields that power. With Jacqueline, The Bold Type offers up a different kind of female boss who doesn't have to act like a man to get ahead. She just has to be her fiercely feminine self.
It's an incredibly timely update to TV's women in the workplace narrative, given how the #MeToo and Time's Up movements have forced people in all industries, not just Hollywood, to rethink what makes for a toxic work environment. "It's not a feminist revolution that's happening now," Hardin says, "it's a feminine revolution." And luckily, this revolution will be televised.
For far too long, "strong female character" was unfortunate shorthand for a woman who exhibits traditionally masculine traits as a way of proving to the audience that anything a man can do she can do better. And let's not forget, often she's doing so in heels. But, as Vulture's Jen Chaney recently pointed out, the strong female protagonists of right now are not hiding their feminine side, but embracing it.
This is also true of TV's current female bosses who revel in their femininity, most notably through their workplace fashion. There's Younger's Diana Trout (Miriam Shor) and her statement necklaces; House Of Cards' Claire Underwood (Robin Wright) and her power looks; and Jacqueline's chic business casual wardrobe. On TV right now, it's female bosses, but make it fashion.
"[Female bosses] are enjoying what it is to be a woman," Hardin says. "They're saying, 'I can conquer this and I can make waves in high heels and a beautiful dress if I want to. I can also do it in sneakers. The world is my oyster and as a woman I have so many choices.'"
Those choices are emblematic of something bigger: a changing workforce. In 2016, 74,000 women were working in the U.S., up over four thousand from a decade earlier, according to the United States Department of Labor. These women no longer want to adhere to the workplace taboos that were established without them in mind. The Bold Type wants to assure these women that they can wear what they want and be taken seriously; that it's OK to have a good cry in the bathroom — or, like Jane, Kat, and Sutton, in the fashion closet — and then get back to business.
Women are no longer trying to be like men in the workplace because they've realized femininity is powerful. For Hardin, there's something about this realization that feels almost biological. "Just look at our sex organs," she says. "[Women] are designed to take things in, make something beautiful out of them, and birth it into the world."
The Bold Type is trying to shine a light on all the beauty that women are creating, Hardin says, "in a way that's also couched in beautiful fashion and all the other things that women love." What Hardin loves is that Jacqueline doesn't have to compartmentalize herself like so many other female bosses on TV have had to do in the past. She can be a boss, a mentor, mom, a wife, and a friend. Jacqueline can also be a sexual assault survivor, something she revealed in the Season 1 finale.
"I don't think you ever get over something like that," Hardin says, revealing that this season won't take on Jacqueline's assault in a "pointed way." "But," she says, "I think she's healed and is fully transformed and inclusive in her life."
All of this is what makes Jacqueline so different than Hardin's most famous boss character, Jan from The Office. "I think Jan was much more in pieces, whereas Jacqueline is much more whole," Hardin says. "Jan had to give up a big part of herself to become what she became." She had to act more masculine to climb the ranks of the male-centric world of Dunder Mifflin, which now feels like an office from a bygone era. (There's absolutely no way Todd Packer would survive #MeToo with a job.)
That's why Jacqueline is the kind of female boss TV needs right now. She's a leader that leans in to the idea that for women to thrive in the workplace, they need to find support in other women. "I think that on television, so often, women of power are portrayed either or," Hardin says. "They don't get to be real women with friends, but [The Bold Type] shows how powerful and empowering female connection can be."
The Bold Type also shows its viewers an idea of a feminine revolution in which women don't have to be either or. They can be like Jacqueline and do it all — with other women right by their side.