Here's Why JoJo Is Supportive Of Colton Being The Next 'Bachelor' Lead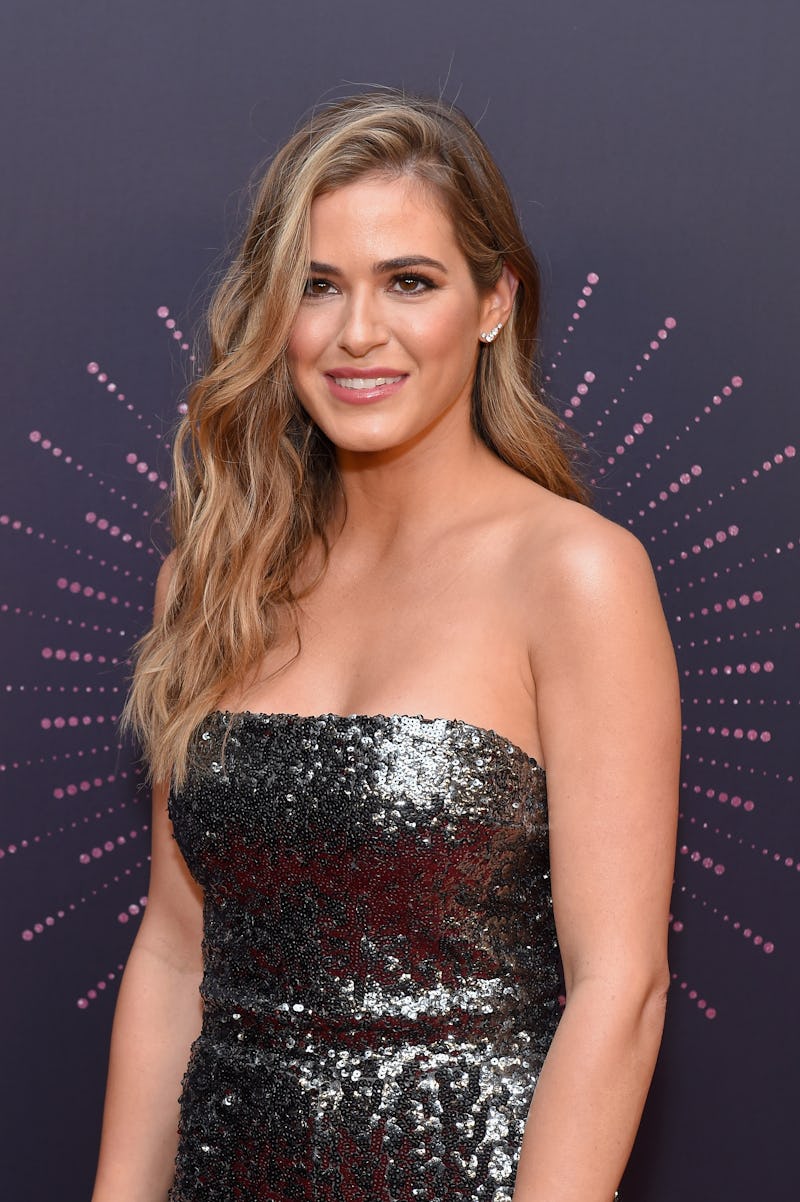 Jason Kempin/Getty Images Entertainment/Getty Images
Since Colton Underwood was announced as the next Bachelor, fans have definitely had mixed opinions about it — especially the ones who were hoping that Bachelorette runners up Jason Tartick or Blake Horstmann might have a shot at their own season. But according to one of the franchise's alum, he might actually be a pretty good choice. While talking to Entertainment Tonight, JoJo Fletcher said Colton will make a good Bachelor lead, and her reasons do make a lot of sense.
ET caught up with JoJo (and her fiancé, Jordan Rodgers) at Wednesday's CMT Artists of the Year event, and she shared her take on the upcoming season while also acknowledging where things could go wrong if he hasn't learned from his previous Bachelor adventures — and referencing the fact that Jordan would probably have a lot in common with him, since they're both into sports and football. She said:
"I didn't follow [Becca's season] as much as I should have, but from the stuff I got to see, people loved him. He's a football guy, so you can talk about that. I think he's gonna be great. I don't know that much. Hopefully he finds love this time and not trickles through a couple more girls."
JoJo's right — Colton was easy to love on The Bachelorette. From night one, he was incredibly endearing, talking about how much he loved his dog and his family and the passion he had for helping others. But then, the Tia Booth drama set in, and that's where people began to get critical... and unfortunately, watching the continuation of that storyline spin completely out of control on Bachelor in Paradise this summer didn't exactly do him any favors, so many people were surprised (if not outraged) that ABC decided to go with him as their next lead.
But he does have a lovable personality when he's not entrenched in a sticky romantic situation, and there is a lot to like about him. Like JoJo said, it's probably for the best if he has learned from his mistakes and is going into this adventure totally ready for love, unlike his previous experience on BiP.
Jordan also joked that this could be "the most dramatic season" ever, and honestly, he might actually be right. That line gets thrown around a lot (thanks, Chris Harrison), but Colton always finds a way to keep things interesting.
And speaking of the Bachelor franchise? JoJo said that although being the Bachelorette was the "greatest thing" she's done, she and Jordan are glad to be living their normal lives again. She added:
"We disconnected from the show. We disconnected sort of from all the events and the stuff. We kind of just took time for ourselves. We tried to get back to normal life, went straight back to work. It took a lot of patience and work. That's the biggest thing, just working at it."
And now, she and Jordan seem to be living happily ever after, so it seems like everything worked out just fine. Fingers crossed that she's right about Colton's upcoming season — maybe this time, things will work out for him, too.