Chris Harrison Made A Really Solid Point About Any 'Bachelor' Fans Complaining About Colton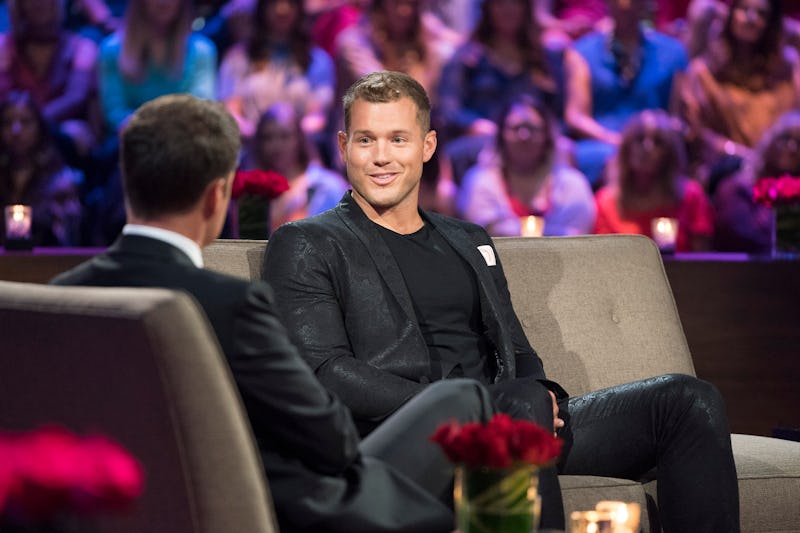 ABC/Paul Hebert
Now that it's officially been revealed that Colton Underwood is the next Bachelor, there have been some fans who aren't exactly thrilled. Does this mean that the people behind the beloved reality TV show made a mistake with their choice? Nope, not according to the host himself. Chris Harrison thinks the fans would've been disappointed, regardless of who the Bachelor ended up being.
In a new interview with Entertainment Tonight, Harrison said,
"No matter what we say, if we said Jason [Tartick], if we said Blake [Horstmann], it doesn't matter. There's going to be backlash, that's the way social media works these days."
That makes a lot of sense, especially this season with so many different names being thrown around. There were a lot of great possibilities to choose from. Unfortunately, you just can't please everyone — it's impossible.
Of course, there were also plenty of people who were pulling for Colton to nab that lead spot, and even some women who want to try out solely because he will be the lead. That means if another guy got it, there would be some viewers equally upset about that selection. Apparently a win-win situation with so many great candidates to choose from has turned into a lose-lose situation, where no matter who got the role, people had strong opinions.
Despite what people are saying, though, Harrison has faith in the upcoming season. He insisted to ET, "Colton's going to be good TV, and that is the reason we chose him." The truth is that no matter who's handing out the roses, the season is always good. For the most part, the storylines are more about the contestants than the lead — or at least until the end when the show morphs from a romantic comedy into a love story. Fans will likely enjoy the season, no matter who the Bachelor is.
Even though Harrison is positive that Colton is a great choice for the season, he's still not sure if the former football player actually wants to get married soon. The host even admitted, "That's the whole point of the show." Hopefully that's not the case and he ends up sincerely ready to pick out diamond rings with Neil Lane.
Then again, even if he's not really ready, it could still be a good thing for the viewers in terms of entertainment value. Harrison added, "Maybe at the end of it, he's not, and it's a complete disaster. That's the way it goes, that's life." It just be entertaining but in a different, nonconventional way.
As mentioned, there were plenty of names floating around to be the Bachelor. There are a lot of "datable" guys in the franchise, making it inevitable that at least some fans would be upset or disappointed. Yes, there are some people who threatened (no one in particular) not to watch the show with Colton as the lead, but will they really skip out? That's highly doubtful.
Colton is not the first Bachelor choice to receive objections from the fandom. No one saw it coming when Arie Luyendyk Jr. was chosen last season. People thought it would've been Peter Kraus from the previous season of The Bachelorette or literally anyone else from a more recent season, but guess what? The season happened anyway and plenty of people watched.
The year before Arie, Nick Viall was selected as the Bachelor following his redemption story on Bachelor in Paradise. He was on The Bachelorette twice, finished as the runner-up both times, and wasn't offered the Bachelor role after either of those seasons. The fans were "sure" that Luke Pell or Chase McNary would be the Bachelor since they were on JoJo Fletcher's season right before. Nick's selection was a complete an total surprise, yet the season was still filmed and the viewers tuned in.
There's been backlash for most of the recent seasons' picks. It just feels like a more heated issue, since the Colton announcement is just so fresh, but there's no need to worry. The show will still go on. There are plenty of Colton fans — including Harrison.