Pink Has Been Canceling Concerts For The Most Relatable Reason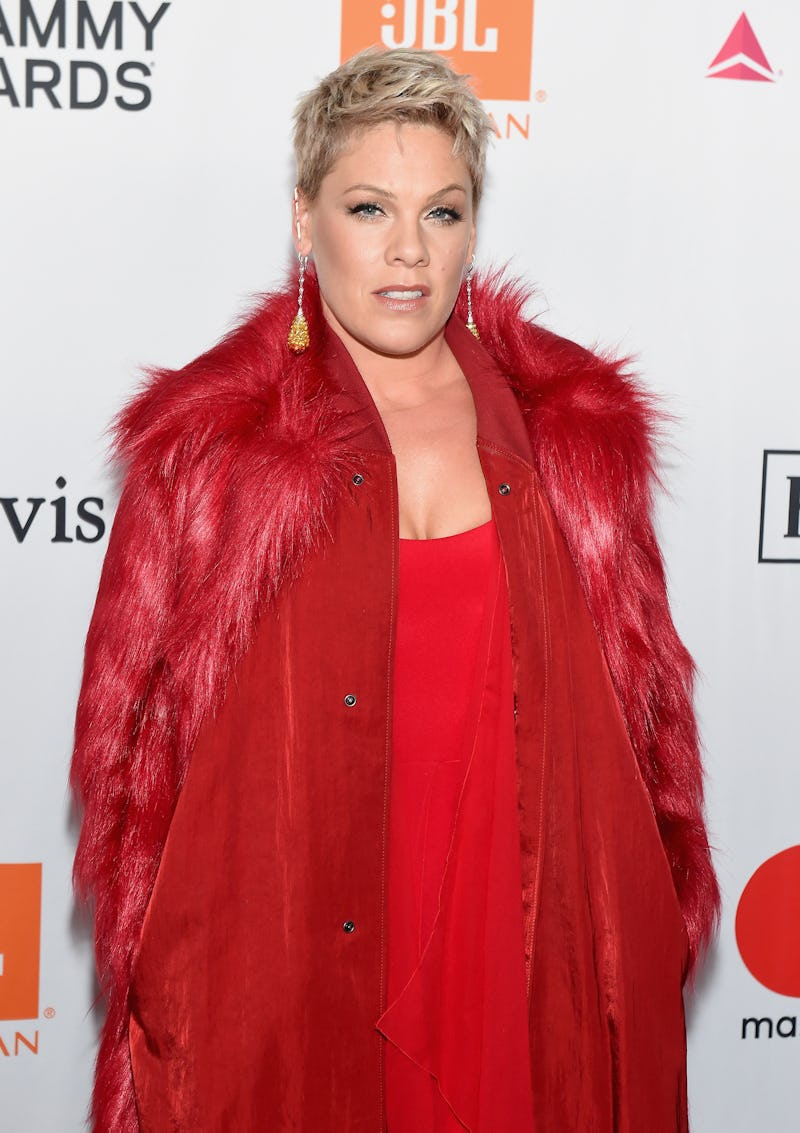 Nicholas Hunt/Getty Images Entertainment/Getty Images
Sometimes, there's just no getting around the need for a sick day, even when you're a famous musician. Pink has been canceling concerts due to the flu, as reported by Entertainment Weekly. The "Raise Your Glass" singer and her family have been hit hard by the virus this year, like so many other families. This is at least the family's second time dealing with the flu in 2018. Pink previously sang the National Anthem at the Super Bowl despite being sick, and her rendition brought the audience to their feet. However, it's important that the singer take the time off that she needs to recover.
Pink was scheduled to perform a show in Detroit, Michigan, on Sunday, March 25, but due to illness she decided to postpone her performance until a later date. The 38-year-old apologized on Twitter. She tweeted the following message to her fans:
"I've just seen the doctor here again in Montreal. I'm not going to be well enough to do the show tomorrow night in Detroit. I want to give you all the full show and not be hacking all the way through it and have to cut songs because of my voice.
I understand how much trouble you go to to be at my shows, what it entails, the planning, the schedules, etc. I am very very sorry, and I'm very grateful for your understanding. I will absolutely do this show at a later date, and it will be the full show. Again, I'm very sorry and have tried so damn hard to avoid this. All my love."
The singer previously had to post-pone the Montreal show that was scheduled for Friday, March 23. The next show on her Beautiful Trauma tour is set for Louisville, Kentucky, on March 27. However, it's unclear whether or not Pink will be well enough to perform by then.
What's most important right now is that Pink and her family take the time they need to rest and recover from the flu. And that's a sentiment that her fans are echoing on Twitter. Replies to her cancellation post have been overwhelmingly positive. Twitter user @justplaneliving wrote, "Real fans love you for you, and for making sure that you take care of you! Get some rest. Your fans aren't going anywhere." Meanwhile, @ThereseaA74 added, "Went to Montreal to see you but completely understand, I will travel back when you return. Wishing you a speedy recovery."
Pink shared a similar message when she had to postpone her Montreal show. At that time, she shared that not only is she sick, but so is her husband, Carey Hart, and her children, Willow Sage and Jameson Moon. The flu is no joke, and it's been particularly hard on families this year. While the CDC reported that cases of the flu are on the decline, this is the worst flu season in a decade, according to USA Today. It's also important to note that just because you've had the flu already this season, that doesn't mean you can't catch a different strand of the virus.
This may be what happened to Pink and her family. In February, the singer shared on Instagram that she had caught the flu from her kids just days before she was scheduled to perform at the Super Bowl. She went on to wow people with her rendition of the National Anthem, despite being ill, but it was clear that she wasn't feeling well at the time. During a practice session before the big game, she shared on Instagram that she was, "Trying to practice the flu away."
Pink is no doubt a total boss, but even bosses need a break sometimes. Right now, she's doing what's best for her and her family as she takes the time she needs to recover from the flu. While canceling concerts is no doubt a hard thing for a performer to do, it's the absolute best decision the singer could possibly make while she focuses on her health.