What Abortion Clinic Escorts *Really* Want You To Know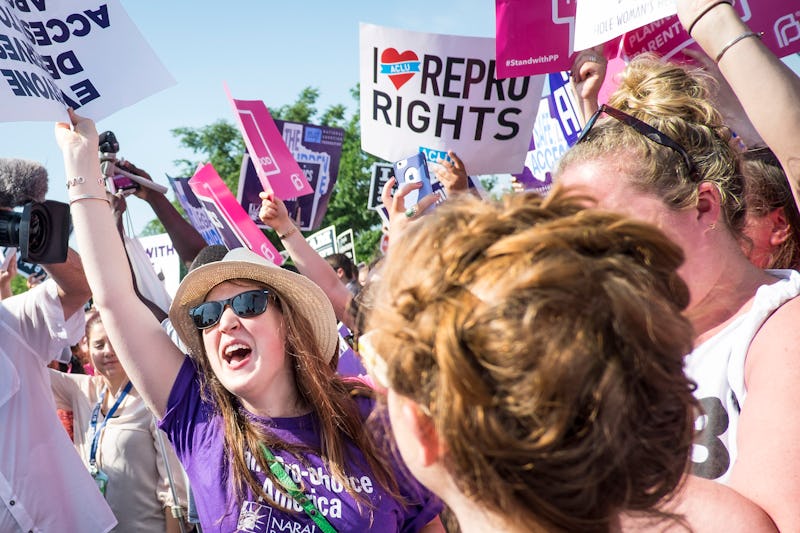 Pete Marovich/Getty Images News/Getty Images
When I saw calls for a counter-protest at the Planned Parenthood in my hometown a couple of years ago, I thought hell yes! There's something that just feels really righteous about showing up and showing support in a space where patients are being bombarded with violent messages, disturbing images, and misinformation. I was going to put my body on the line for the movement! I was literally going to stand up for the right to choose! But, it turns out, it may not be a great idea to counter-protest at an abortion clinic.
"I know what counter-protesters are thinking, and I feel it," Shana Broders, an abortion clinic escort in North Carolina, tells Bustle. "I want to stand out there with signs and play music too, but all it does it cause chaos. We're supposed to be about the clients — all those distractions are not a good thing."
Broders and other clinic escorts volunteer their time to make sure that the situation outside their clinic remains under control. They escort patients and their companions into the clinic, sometimes putting their bodies between them and anti-choice protestors. They're the ones who call the police if a protestor gets violent; who hold the hands of sobbing women; who spend hours taking screaming abuse from religious fanatics. And they're pretty clear: Don't counter-protest at an abortion clinic unless the clinic specifically asks you to.
Still thinking you might want to grab a Planned Parenthood-pink placard and go show those protesters what you really think of their nasty names and images? Here are six reasons why you may want to reconsider: