Rose McGowan Just Revealed The Real Reason She Did 'Charmed' & It's Heartbreaking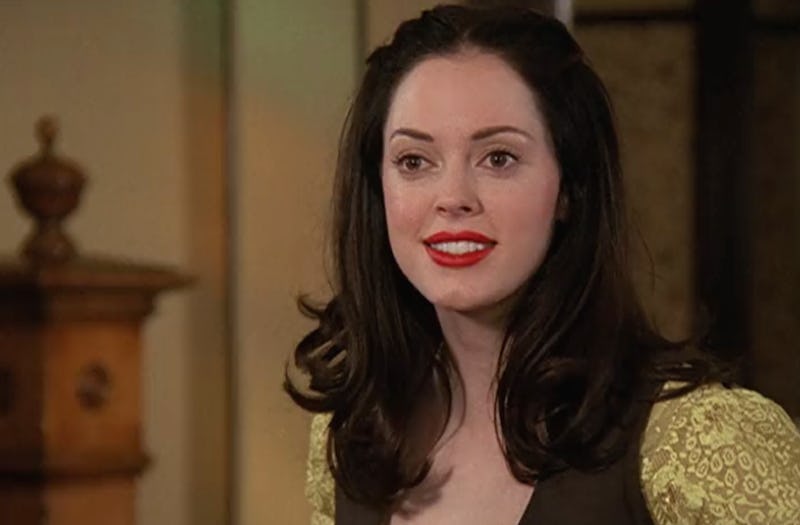 Netflix
As a television viewer, you may not put much thought into why an actor takes on a role. But Rose McGowan's reason for starring in Charmed (creator: Constance M. Burge) is about to change all that. The 44-year-old claims that she took the role of Paige Matthews specifically so that she would still be in the public eye whenever the allegations against Harvey Weinstein eventually broke. Her explanation, in retrospect, is both heartbreaking and impressive. (Bustle has reached out to Weinstein for comment on her statement, but did not receive an immediate response.)
At an NBC and Television Critics Association event in Pasadena promoting her upcoming project CITIZEN ROSE, McGowan answered questions on all topics. According to E! Online, when asked about her role on Charmed, she shared,
"I did the TV show so I could gain a foothold internationally in all areas so when the news broke I could have a foothold and people would pay attention in every region across the globe. This is a long plan."
McGowan has been one of the earliest and loudest voices condemning the producer's alleged behavior. In 2016, she posted tweets accusing an unnamed studio head of assault. And in 2017, McGowan accused Weinstein of rape in a tweet. The accusations reportedly stem from an alleged hotel room incident in 1997 that the New York Times reports resulted in a $100,000 settlement from Weinstein, as well as a non-disclosure agreement, which the activist has seemingly now broken. However, the Times did also note that the legal documents surrounding the settlement indicate that it was "not to be construed as an admission" on the part of the mogul, but instead intended to "avoid litigation and buy peace." For his part, although he hasn't mentioned McGowan by name, a spokesperson for Weinstein stated after the Times piece that "any allegations of non-consensual sex are unequivocally denied by Mr. Weinstein."
So, what does the Charmed actor mean when she says she took the role to gain a foothold? Well, she joined the cast after three successful seasons in 2001, when ABC News reported the show had the second-highest ratings at The WB. That same ABC News report also commented on McGowan's movie career, which was plainly lagging:
"Frankly, this development couldn't have come at a better time for McGowan, whose film career since 1999 has amounted to a starring role in the little-seen black comedy Jawbreaker and supporting parts in Monkeybone and the David Arquette vehicle Ready to Rumble."
To date, the activist — who has now stepped away from acting — hasn't had a hit film since her first, Scream, which came out in 1996, just before her alleged run-in and settlement with Weinstein. But landing the role on Charmed made her a star, and McGowan has held onto that fame, which she's now translated into a career in activism.
The actor has delivered powerful speeches at locations like the Detroit Women's Convention in 2017, and now she's working to expand her audience even further. In addition to CITIZEN ROSE, the five-part docu-series for E!, McGowan is also readying her memoir Brave for release.
Both projects will come out on Jan. 30, and give a behind-the-scenes glimpse at the activist's battle against allegedly being silenced within Hollywood, as well as amplifying her own voice:
"This is not a show about or just for women. This is about expanding consciousness… It's about humanity, it's about freeing your mind… I wanted to go global with the greatest reach. I wanted really to be like Gertrude Stein and have a conversation with the world instead of just in my living room."
But as politically engaged as the whistleblower has become, McGowan has also made some missteps. The activist has been accused of touting white feminism, specifically after a controversial tweet to Ellen DeGeneres dismissing her concerns about LGBT folks, and another controversial tweet that tried to drive a point home by suggesting someone replace "women" with "the n-word."
McGowan apologized, but still clearly has a long way to go when it comes to embracing intersectionality — something that every one of us should be striving for in ourselves. But as she hopefully begins to do that work, at the very least she deserves to be commended for not only gaining a platform, but holding onto that platform and using it the way she's managed to do.
Without the years she spent on Charmed between 2001 and 2006, it's likely that McGowan's name might not even be remembered now. And a decade later, it's largely because she took that role and fought to stay relevant that her voice has such an impact now. So the idea that she was prescient about that fact and claims to have accepted the Charmed role with that in mind is incredible.
If you or someone you know has been sexually assaulted, call the National Sexual Assault Telephone Hotline at 800-656-HOPE (4673) or visit online.rainn.org.