Why It'd Be Perfect If Beyoncé Named Her Daughter Sir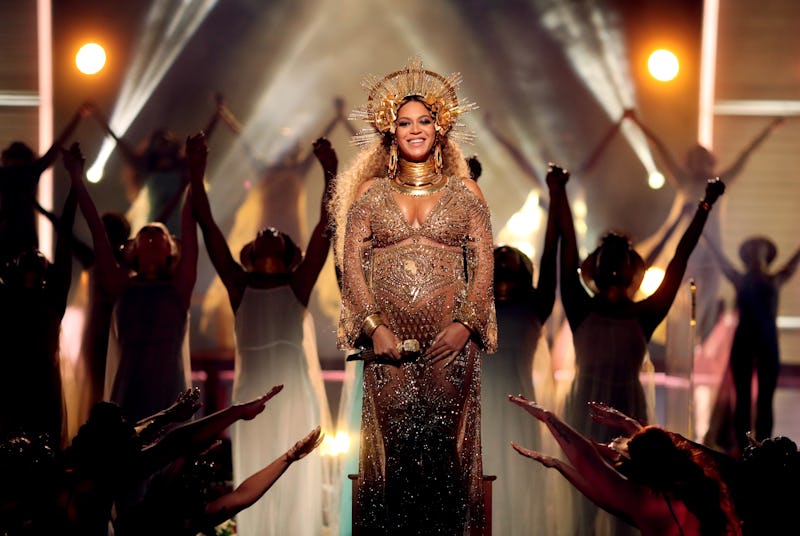 Christopher Polk/Getty Images Entertainment/Getty Images
Beyoncé may have been flying under the radar the past few months, but that doesn't mean she was taking a break from being an influential, feminist powerhouse. Beyoncé and JAY-Z welcomed twins, a boy and a girl, in June. And now, their names have reportedly been revealed: Rumi and Sir Carter. And while the news isn't yet confirmed, it seems like naming her newborn daughter Sir would quite possibly be the most Beyoncé thing Bey has ever done. Granted, it's currently unclear whether the name is for the son or daughter, but defying gender stereotypes is right up the singer's alley.
UPDATE: According to copies of the twins' birth certificates obtained by TMZ, Sir is a son, and Rumi is a daughter.
EARLIER: The lack of confirmation hasn't stopped the internet from theorizing about what these names could mean or why they were chosen. The first theory is that Rumi is named after the thirteenth century Persian poet — a controversial and fearless male writer who wrote powerful lines like, "Woman is the light of God." For Beyoncé, a performer who samples beautiful works of poetry (which empower women) in her music, this wouldn't be far off.
And naming their daughter Sir would be yet another choice that makes complete sense for the couple. Considering "sir" is a phrase used to formally address a man, it might be considered peculiar to give this name to a baby girl. But this is Beyoncé we're talking about, and the vocal feminist would be the one to flip the common term on its head and breathe new life into the word by reclaiming it for womankind.
According to Merriam-Webster, Sir's formal definition is "a man entitled to be addressed as sir — used as a title before the given name of a knight or baronet and formerly sometimes before the given name of a priest; a man of rank or position." If Beyoncé did name her daughter Sir, it would challenge the word's meaning and implications, and prove a little girl has the potential to be as powerful as she wants to be.
Plus, Sir could possibly tie into Rumi's name, as TMZ pointed out the use of "sir" in one of Rumi's most famous poems: "Bring the pure wine of love and freedom. But sir, a tornado is coming. More wine, we'll teach this storm. A thing or two about whirling."
Not only would naming her daughter Sir challenge the societal norm, but also show that women should be addressed in any way they want. Fans have seen celebrities give their babies strong and even royal names like Reign Disick, Saint West, and King Cairo, especially in the last few years. But names of such influence and power have typically been given to sons. Beyoncé could be the one to change the game — and the dictionary.