Why 'The People v. O.J. Simpson' Fans Will Love 'The Assassination Of Gianni Versace'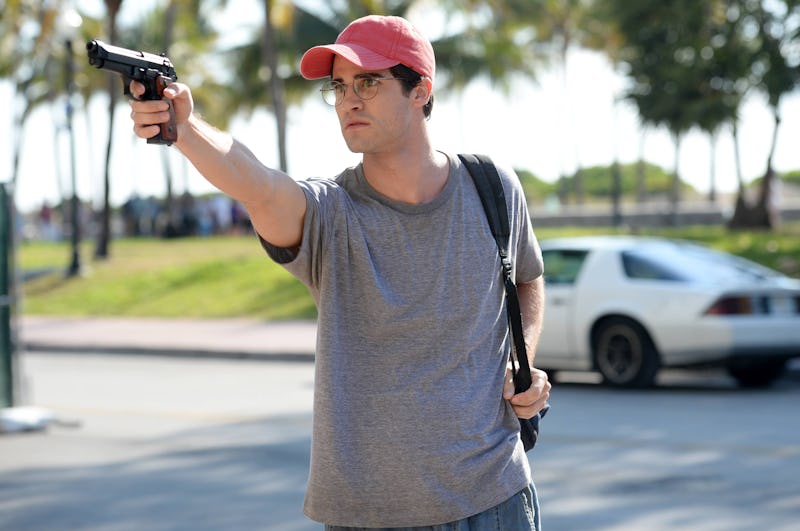 Jeff Daly/FX
It's been almost two years since Ryan Murphy's American Crime Story (executive producer: Nina Jacobson) got fans obsessed with a true crime story from the '90s that most of us thought we knew everything about. This time, the sophomore outing of the FX anthology series is taking on a different case and a new crime with details that are not as well-known. That said, People v. O.J. Simpson fans will love The Assassination Of Gianni Versace (director: Gwyneth Horder-Payton, three episodes) because American Crime Story is back with a lot of the elements that hooked you in the first place. Spoilers for the Jan. 17 premiere!
The storytelling is a little different in this season. It's not a legal drama, and not even a chase — because Andrew Cunanan's alleged killing spree, which ended with Versace's death, unfolds backwards on the program. It's an interesting artistic choice that allows the audience to get into the head of Cunanan — as played by Darren Criss — and into the world he inhabited in a truly immersive way. In that way, the show is exercising its own artistic liberties as an anthology series. But the connective tissue of American Crime Story (associate producer: Meredith Meade) is still very clearly there.
Maureen Orth's book, from which the series draws inspiration, is titled Vulgar Favors: Andrew Cunanan, Gianni Versace, and the Largest Failed Manhunt in U. S. History. That title implies a level of mystery and institutional incompetence that stacks it right up next to the first season. Here are some other reasons that fans won't want to miss a single moment of American Crime Story (executive producer: Alexis Martin Woodall).
True Crime
While O.J. Simpson has been part of the national conversation for decades, Versace's death and Cunanan's psyche have not been picked over or analyzed nearly as much. Still, both events really happened. And if this kind of dramatization is your jam, you're in for one heck of a ride.
Ryan Murphy
Of course, as part of the American Crime Story franchise (writer: Maya Forbes, one episode), this series comes from Ryan Murphy. He collaborated with London Spy writer Tom Rob Smith and directed the first episode. There are some Murphy fan-favorite actors involved, including of course Criss, as well as Finn Wittrock, and Max Greenfield. Even Ricky Martin was in one episode of Glee (story editor: Jessica Meyer, 13 episodes), and Matt Bomer directed the penultimate episode of Versace (editor: Emily Greene, three episodes).
The Great White Way
If you enjoyed seeing Broadway actors like Stephen Pasquale, Billy Magnussen, and Robert Morse in Season 1, you'll be pumped to see Annaleigh Ashford and Will Chase in Season 2.
The Tone & Aesthetic
Even those who aren't fans of Murphy's campier shows like Feud (director: Helen Hunt, one episode), Scream Queens (director: Barbara Brown, three episodes) and American Horror Story (script coordinator/staff writer: Crystal Liu) were captivated by The People v. O.J. Simpson (executive producer: Alexis Martin Woodall) in 2015. While The Assassination Of Gianni Versace (associate producer: Meredith Meade) is about the fashion industry and features a lot of glamorous characters, it doesn't have quite the theatrical or ostentatious feel that you may expect.
The '90s
Like The People v. O.J. Simpson (costume designer: Hala Bahmet), the Netflix documentary Casting JonBenet (writer/director: Kitty Green) and this year's film I, Tonya (editor: Tatiana S. Riegel), this series takes a seedier look at a decade that we're all newly nostalgic for and examines it from today's perspective. While Season 1 of the FX series examined race and the legal system, Season 2 explores gay rights and culture towards the end of the AIDS crisis and in the midst of "Don't Ask, Don't Tell."
Donatella Herself
OK, so there isn't a Kardashian connection in Versace (location coordinator: Courtney Wilson). The new season can't repeat that magic of seeing famous actors portray a famous (and living) family. However, Penelope Cruz as Donatella Versace is a force in Season 2. In real life, Gianni's famous sister reportedly gave Cruz her blessing.
Sneaky Heroes
When you sat down to watch the first season in 2016, did you ever think that your favorite "characters" in a show about O.J. Simpson would be Marcia Clark and Christopher Darden? The same is likely to happen this time around, especially as later episodes will likely focus on Cunanan's other victims as the story moves backwards through time.
Cunanan allegedly took four lives before Versace's and was already on the FBI's Ten Most Wanted list before the designer's death, per Time. His other alleged victims, we don't know nearly as much about. The focus on relatively unexamined personalities is one of the reasons why The People v. O.J. Simpson felt fresh, even though the story itself was all over tabloids for years. And the new season of American Crime Story should inspire that same fervor.