The Queen & Prince Philip Missed Louis' Christening For This Totally Understandable Reason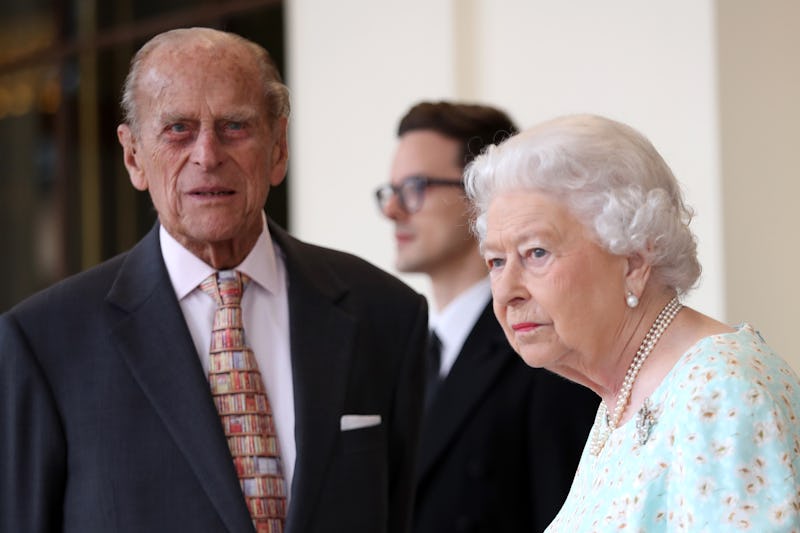 Chris Jackson/Getty Images Entertainment/Getty Images
On Monday, Kate Middleton and Prince William's third child, Prince Louis, had his christening, but there were two noticeable absences. Queen Elizabeth II and Prince Philip weren't in attendance. Before anyone jumps to conclusions, let's explain why the Queen and Philip weren't at Louis' christening.
Even though they attended both Prince George and Princess Charlotte's christenings, the reason they didn't go to Louis' isn't as dramatic as one might suspect. On July 9, palace sources told People that Queen Elizabeth and Philip didn't go to the special ceremony for their great-grandson was "mutually agreed" upon "some time ago" between the royal couple and the Duke and Duchess of Cambridge. A source also assured the entire royal family is "comfortable with the arrangement."
According to the Daily Mail's Royal Correspondent Rebecca English's tweet on Monday, "The Queen and the Duke of Edinburgh will not be attending today's christening. There's no health issue for the Queen. She was working flat out in Scotland last week and has got a busy few days in London with the RAF Centenary event tomorrow and #Trump on Friday."
English also tweeted, "The Queen & Philip have just spent the weekend together in Norfolk. He is remaining there while she travels back to London today. Her decision not to attend was mutually agreed with William & Kate, while Philip clearly doesn't want to attend public events unless he really has to."
Apparently, the Queen's busy schedule played a part in their absences. She has a lot on her plate as of late, including celebrating the 100th birthday of the Royal Air Force on Tuesday and hosting President Donald Trump at Windsor Castle on Friday.
For some time now, the Queen has even been handing over certain duties to her son, Prince Charles. For example, at London's Cenotaph ceremony for the Remembrance Sunday commemorations in November 2017, Charles laid a wreath on her behalf. During this time, the Queen and Philip watched from the Foreign Office balcony.
A source also informed People the Queen is returning from Sandringham, Norfolk, which interfered with her attendance. Plus, now that they are both getting older (the Queen is 92 and Philip is 97), they are also scaling back the amount of events they attend. That said, People reports palace sources said there shouldn't be any concern about Queen Elizabeth and Philip's health, despite the Queen being "under the weather," according to Buckingham Palace, in June and canceling an appearance at St. Paul's Cathedral.
In August 2017, Philip announced his retirement from royal duties. "In taking this decision, the duke has the full support of the Queen," Buckingham Palace said in a statement (via The Guardian). "Prince Philip will attend previously scheduled engagements between now and August, both individually and accompanying the Queen." The statement continued, "Thereafter, the duke will not be accepting new invitations for visits and engagements, although he may still choose to attend certain public events from time to time. Her Majesty will continue to carry out a full programme of official engagement with the support of members of the royal family."
Both Philip and the Queen attended Prince Harry and Meghan Markle's wedding in May. The Queen and Markle have also developed a close relationship lately. In June, the Duchess of Sussex and Queen Elizabeth had their first solo outing.
Even though Louis' great-grandmother and great-grandfather weren't in attendance, he still had plenty of family supporting him, including Louis' godparents, his mother, his father, his brother and sister, Charles and Camila, Duchess of Cornwall, Carole and Michael Middleton, Uncle Harry and Aunt Meghan, and Pippa Middleton and James Matthews, among many others.
Based on the videos shared, everyone was all smiles and seemed very excited to be in attendance. The Queen and Philip were probably missed, but Louis' christening was still very much a family affair.