Why Tracee Ellis Ross Wants People To Stop Asking Her When She'll Have Children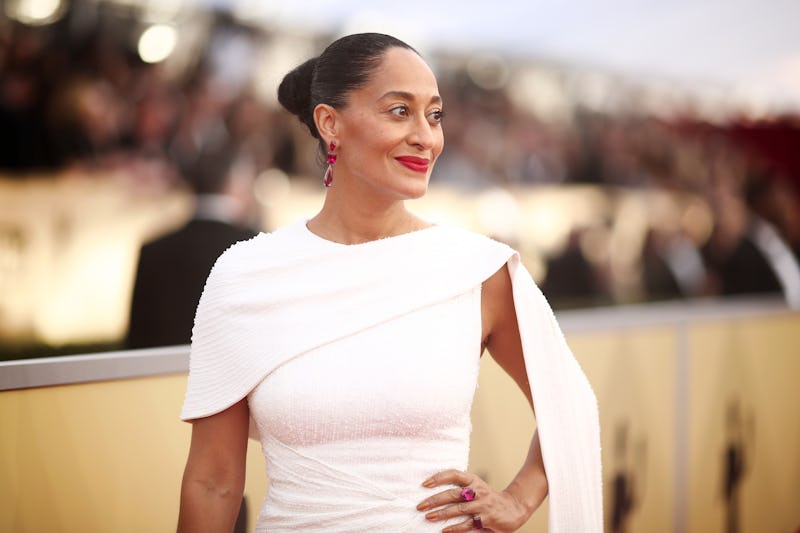 Christopher Polk/Getty Images Entertainment/Getty Images
While sitting down with Vanity Fair to talk about her career and activism, black-ish actor Tracee Ellis Ross also touched on one of her current pet peeves. According to the June 7 interview, Ross wants people to stop asking her about when she will have children, and her frustrations are oh, so warranted.
In the candid Vanity Fair interview, Ross explained,
"Last year, I was pregnant all season [on ABC's black-ish]. That brought on a lot of comments and questions and pontifications from people with no invitation."
If you're a fan of black-ish — in which Ross plays Dr. Rainbow Johnson, a wife and mother in a hilarious TV family — you know that throughout its third season, Ross was fictionally pregnant with her character's fifth child. Seeing Ross rocking the pregnancy prosthetic, and then following the fictional birth of baby Devante, being the stylish mother of five on camera, admittedly would be enough to give fans baby fever. For Ross, however, her character's journey with motherhood inspired some to inquire about her own maternal plans for the future. And as you may have guessed, the intrusiveness didn't sit well with the entertainer.
Ross continued, saying,
"I literally have said to people, for real, no joke, 'Why don't you just get out of my womb? Like, get out of my uterus? What are you doing in there? And why are you asking those questions? And what makes you think you can ask that?' Part of what patriarchy has created for women is this siloed-off experience, with one answer for what a good life looks like."
Followers of Ross on her social media accounts can attest to the fact that the entertainer seems to be living her best life. Between traveling all over the world, to wearing the most extravagant gowns on the coolest of red carpets, her experiences are definitely too interesting to turn a blind eye to. Not to mention that the actor is super close to her family, and as a result, shows off skills that would totally put her in the running for the "Best Aunt of the Century."
But, Ross having a happy-go-lucky demeanor and being amazing with all of the children in her life doesn't necessarily mean that parenting her own batch of kids is on her radar. And on the other hand, her not bearing children right now doesn't mean that it isn't. Although seemingly polite of her fans, asking Ross when she plans on having children is a total insult. And it's so cool to see the actor speaking out about this super sensitive issue for women.
It goes without saying that the patriarchial society surrounding pop culture, as well as the rest of the world — as Ross noted — has everything to do with the pressures a lot of women feel with settling down and starting families. If it's not physicians suggesting that having children past the age of 35-years-old due to a host of health risks, or outsiders deeming what the "perfect" time is for women to go into full-on mother mood, then it's the shame that the world puts on women for not deciding to become mothers.
All in all, it must be noted that while some questions about motherhood may come from a place of love or just plain curiosity, placing your implications of what motherhood looks like to you on someone else is destructive. Because you never know what someone is battling in their personal lives — whether it be healing from the loss of a child, troubles with infertility, or the divine disinterest with bearing children of their own — it's sometimes best to keep those burning inquiries about someone else's way of life to yourself.
Kudos for Ross for being so candid and forthright with this topic. The world could use more women who live their lives out loud and unapologetically.