Here's Why Jax Taylor Gave Underwear To His 'Vanderpump Rules' Co-star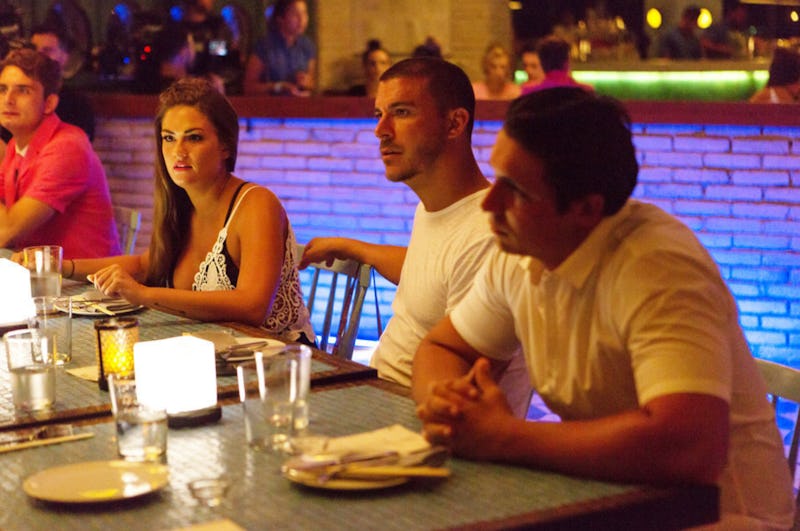 Paul Cheney/Bravo
It's time to get to the bottom of The Great Underwear Mystery of Vanderpump Rules. On Monday's night's premiere, James Kennedy said Jax Taylor gave him some Supreme underwear. Jax not only presented his former enemy with a gift, but he presented his former enemy with a pair of designer boxers. The episode breezed right on past this revelation, sending shockwaves through the Pumpverse. Thankfully, Jax has thrown some light on the matter. On a recent episode of Bravo's The Daily Dish podcast, the "number one guy in the group" shared why he gave his on-again, off-again nemesis some skivvies.
Look, a brand new pair of undies really isn't the weirdest thing you can give someone; it's not like Jax handed James a Ziploc bag full of cold chicken broth and was like, "This made me think of you." But underwear is one of those things you usually only get from your significant other, your mom, or your really good friend. It is not usually something you give to a person who once threatened to "punch you in your fat throat," but hey, Jax has always been great at keeping things interesting.
Though they are clearly not on good terms now, Jax and James's friendship was in a solid place when the underwear gifting happened. As we saw on Season 6, Jax and James tried to put their long-running feud behind them once and for all. They hung out! They made each other laugh! They drank absinthe! They gave trendy underwear!
Now about that underwear. Jax told The Daily Dish that he is "not a big label guy," nor is he someone who wears boxers, so he decided to hand the big label boxers off to someone who would dig them. He explained,
"I get gifted a lot of stuff. And somebody gave me the Supreme [underwear], which is a brand, I'm not really a big brand guy, I don't care. But at that age, I was a big brand guy, so I understand how much he loves the brand Supreme, so I was like, I got this, it'll be a nice gesture, I'm leaving town, I'll stop by, I know he's at SUR, I got this package of Supreme boxer shorts, which are very hard to come by. So I just thought it would be a nice gesture."
The gesture was appreciated. On the Season 7 premiere, James shared a video he took as he tried on the undies in front of a mirror, clearly delighted by Jax's gift. Their relatively new friendship was headed in a positive direction (or so we thought).
Jax admitted that though it was "a weird thing to buy," it was his way of being "kosher with the guy." He said that though he doesn't "have the energy or the care in the world to sit here and try to be [James's] friend," he wanted to "just be civil for the sake of being civil."
This whole "civil for the sake of being civil" stance sure went out the window when, several days later, James referenced Jax cheating on Brittany Cartwright in the middle of one of his DJ sets at SUR. And just like that, the Jax vs. James feud has been reignited.
Jax gave James a pair of underwear, James made Jax the rump of a joke, and they're back to butting heads. It's the SUR-cle of life.