This 'Vanderpump Rules' Season 7 Sneak Peek Hints At Lots Of Drama For A SUR Employee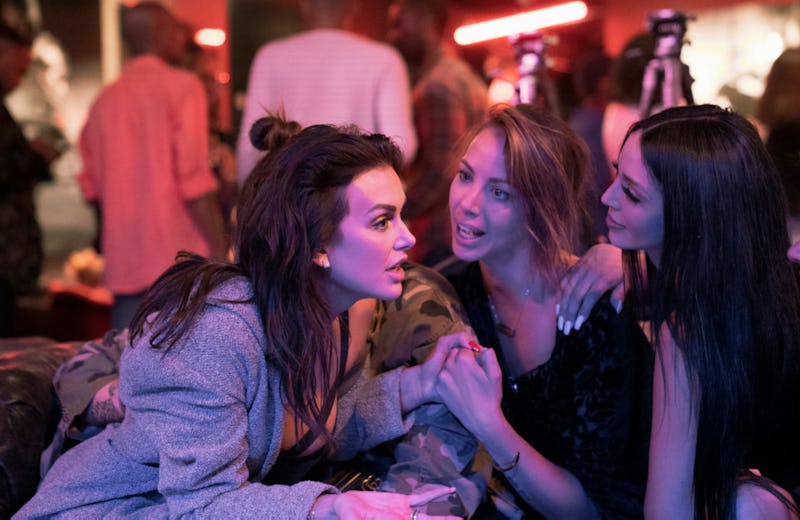 Isabella Vosmikova/Bravo
Hang up the mi-SUR-letoe, because Vanderpump Rules season is here in all of its Sexy Unique Majesty. In a new sneak peek at Vanderpump Rules Season 7, Lala Kent, Kristen Doute, and Katie Maloney get piercings and talk about James Kennedy— namely, where the DJ stands with the rest of the Pumpers. The video begins with Lala addressing the dissolution of her and James' once beautiful friendship, a topic that is as woeful as it is well-trodden, and then touches on some of the other bridges that have been set ablaze by James.
Lala says in a talking head,
"At this point, my friendship with James is nonexistent. When Rand and I were at Coachella, James the audacity to say, 'Come on, we all know each other inside and out, if you know what I mean.' And I just wanted to vomit. Rand was absolutely not OK with it and it was time for me to say, 'You know what? You don't even deserve my friendship anymore.'"
This uncouth remark isn't the only thing that has driven a wedge between James and his fellow Pumpers. Kristen, Lala, and Katie also bring up something that happened involving James and Brittany Cartwright that acted as the final Sexy Unique Straw. "When I see him hurt someone like Brittany, who has just always been so, so kind to him, I've had enough," Kristen declares. The snippet does not get into the specifics of what transpired, but Kristen does say he did something at SUR that humiliated Brittany. She says, "You don't treat my Brittany like sh*t, and you certainly don't embarrass her in front of everyone at her workplace."
Brittany's fiancé also has some strong feelings about what happened at SUR that night, but those feelings do not come up in the clip. Rather, they came up on an episode of Jeff Lewis Live. When Jax Taylor went on the Flipping Out star's Sirius XM show back in May, he revealed what James apparently did to Brittany. And uh, it's not a good look for James. According to Reality Blurb, Jax said,
"You know, I'm going to tell you who I'm not getting along with. I'm going to go right to it. It's James. He pulled a situation a couple of days ago. I extended the olive branch. I was trying to be the better person and take the high road. I actually went shopping and got him a nice gift. And then he pulled some bullsh*t a couple of days ago at SUR."
Jax continued,
"Brittany went in to go see him and say hi Tuesday night at SUR. He literally gave her a hug, she walked maybe four feet away, and he started rapping a song called 'Jax and Faith.' And Brittany started bawling her eyes out. Crying, embarrassed in front of everybody at SUR and she had to be escorted out. She was literally mortified."
Ooooh boy. Apparently, DJ James Kennedy took a moment during his SUR set to play a song about Jax's affair with Faith Stowers while Brittany was in the audience. Brittany and Jax have moved on from the scandal that rocked Season 6, and James is making jokes about it while he's behind the 1s and 2s at SUR.
Can't wait until next Monday's season premiere? Do you crave more Pump content? Then you might want to head on over to E! News and watch their exclusive video of Jax picking up the engagement ring and sharing his proposal plans with the Toms Schwartz and Sandoval. It really is all happening this season.