Beyoncé Didn't Surprise Super Bowl Fans After All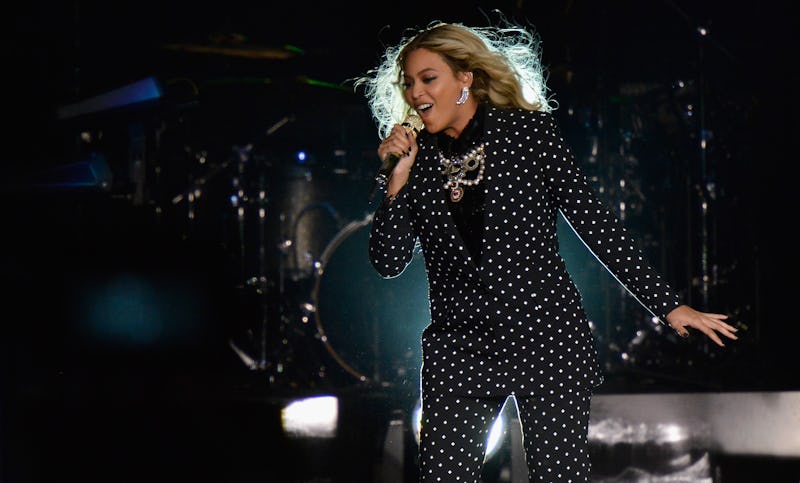 Duane Prokop/Getty Images Entertainment/Getty Images
Thanks to her long history of surprise performances, announcements, and even albums, whenever there's a major event, fans can't help but hope that Beyoncé will make a surprise appearance. Super Bowl LI was no exception, as rumors swirled that she would join Lady Gaga's halftime show just days after the Lemonade singer took over the internet by announcing that she's pregnant with twins. Ultimately, Beyonce didn't perform at the 2017 Super Bowl, despite the supposed "clues" that got the Internet buzzing.
What initially kicked off the speculation was a seemingly innocuous Instagram posted by Lady Gaga, who is headlining the halftime show. On Feb. 1, the singer shared a photo of herself sitting in a picturesque backyard with the caption, "Houston, you are beautiful. 🐝" Of course, the bee emoji raised the Beyhive's hopes that she would surprise us all by joining the halftime show. It didn't seem too far fetched, since Beyoncé is from Houston, where Super Bowl LI is being held. Plus, she had just recently gotten the entire world's attention with her pregnancy announcement, which was also shared on Instagram on Feb. 1 and has already become the most liked photo in the app's history.
However, shortly before Super Bowl LI kicked off, Lady Gaga posted another Instagram confirming that no one would be joining her on stage at halftime.
The photo's caption explains the performer's exact reasoning for this decision, and it's pretty hard to argue with.
"I want to say thank you to my fans for cheering me on all these years. There will not be any guest performers tonight, I'm doing these 13 minutes solo! I dedicate every second to the love, diversity, compassion, and wild spirit of our fan base. To that kid who felt unwanted, or the grown up who remembers how hard it was to find acceptance. This is for you. It is also for those whose hearts and minds have opened to our message. Thank you for believing in us so we could be here today little monsters this is YOUR stage. And I'm gonna leave my heart on it so you never forget it. Let's do this. Xoxo Love, Gaga p.s I LOVE YOU SO MUCH ❤❤❤❤❤❤❤🏈"
Lady Gaga is performing alone because she wants the focus to be on her fans so that she can send a message of acceptance. As exciting as it would've been to see Gaga and Beyoncé share the stage, considering the importance of that sentiment — especially within the current political climate — I think she made the right decision.