This 'Atomic Blonde' News Will Make Action Fans Freak Out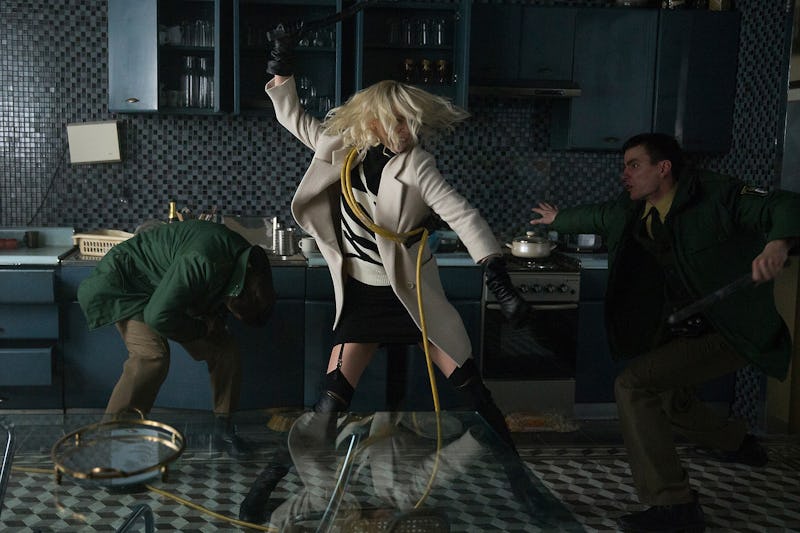 Focus Features
Blondes may or may not have more fun, but in Atomic Blonde, they certainly kick more ass. The Charlize Theron-starring spy thriller is full of action and destined to be a summer hit. Assuming the box office comes through, it seems pretty clear that Atomic Blonde will get a sequel, but nothing is truly certain in Hollywood until the studio has spoken. As far as Theron goes, however, the idea of an Atomic Blonde sequel isn't a question of if, it's a question of when.
"We're actively talking to everybody and we are actively moving forward in doing it," Theron tells Bustle. In Atomic Blonde, the actor plays Lorraine Broughton, a British super spy brought into a mess in Berlin during the Cold War. Caught in a complicated web between the KGB, CIA, and MI6. "I would love it, I love this character," she says. "I love the amount of work that we've put into this, so I would love to keep going with it." Theron also acted as a producer on the film, which means if anybody knows about a possible sequel, it's her. So, if Theron says she's working on an Atomic Blonde sequel, then I'm willing to bet that it will happen.
One person Theron won't have to convince to come back for a sequel is Atomic Blonde director David Leitch. "The will [for a sequel] is there on our side," Leitch said in an interview with ScreenRant. "I think all of the creatives involved on Atomic Blonde want to do future films." Leitch knows, however, that filmmakers cannot finance a sequel on passion alone. To get a sequel, first Atomic Blonde has to bring in money at the theater. The director added that he has hope that Atomic Blonde will live up to studio box office expectations, noting the success of Wonder Woman, another female-driven action film currently dominating the international box office.
As for what a possible Atomic Blonde sequel could be about, well, the film leaves writers with any number of possibilities. Without going into spoilers, it's safe to say that Lorraine has many more stories left in her — be it in sequel or prequel form. The character is kept so mysterious (she is a spy, after all) that Lorraine could really do anything. "Because when we went so bare with her backstory, the world is our oyster. We can do anything," says Theron. "We didn't really build any walls for ourselves that we have to live by." In other words: whatever Lorraine does next is anybody's guess. The one thing we know is, should we see her again, she'll be up to no good and doing it well.