This 'Outlander' Cliffhanger Could Mean Brianna Is In SERIOUS Danger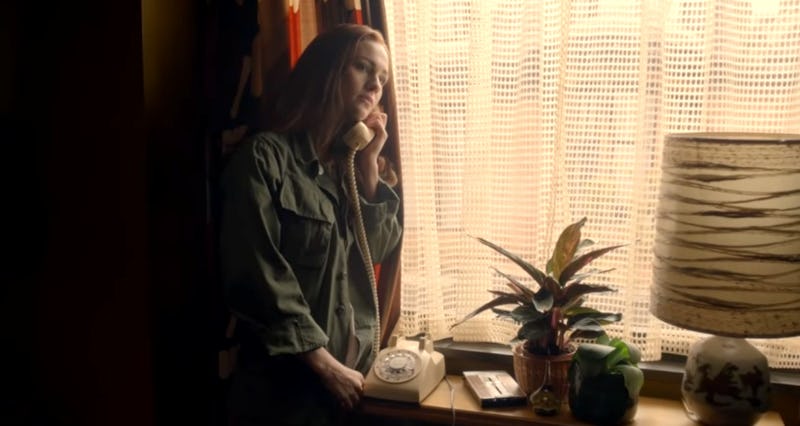 Starz
Spoilers ahead for Outlander Season 4, Episode 4. Outlander fans have suspected for some time that Brianna will go through the stones in Season 4, and the show may have just revealed what inspires her to take the leap. If Brianna finds out how Claire and Jamie die on Outlander, she might try to see if she can save them, or at the very least have a chance to finally meet her father and say goodbye. Because even if she doesn't know about Claire and Jamie's tragic fate, it seems that Brianna may be time traveling her way to them anyway.
Although Brianna and Roger didn't end "The False Bride" on the greatest of terms, they reconnect in the Nov. 25 episode, "Common Ground." Roger reaches out to her when he finds documents that confirm Claire found Jamie in the 1700s and moved to North Carolina with him. Later, Fiona, who knows all about the time traveling that goes down at Craigh Na Dun, reveals far less happy information to Roger. Her grandmother had helped Reverend Wakefield with his historical research and a newspaper clipping they had reveals the fate of Jamie and Claire: An obituary from The Wilmington Gazette states they both died in a house fire at their settlement in Fraser's Ridge. The full date is smudged, but the paper was printed on Jan. 21, sometime in the 1770s.
Roger knows Jamie and Claire received the North Carolina land on which they built their home in 1768, so the couple didn't get to live their American dream for very long. Yet, Roger hesitates to tell Brianna and reasons that Claire has already been dead for 200 years. (This is unfortunately another strike against Roger after how he treated Brianna in "The False Bride.") But when he finally musters the courage to tell the truth to Brianna, he discovers she already left for Scotland weeks ago to visit her mother. While her roommate Gayle doesn't understand what that really means, Roger knows Brianna is going to try to travel through the stones at Craigh Na Dun to the past.
If Brianna is successful in time traveling (and let's be real — she kind of has to be, right?), then she still needs to get to the American colonies from Scotland, which will be far from an easy journey in the 1770s. It's still unclear if she, too, found out about Claire and Jamie's deaths and that's why she traveled through the stones, or if she's still in the dark. If it's the latter, she could end up dying in the very same fire as her parents — if it hasn't already happened. As she went on her time traveling mission weeks ago, it seems unlikely that Roger will be able to pass on this deadly news to her now. Unless, of course, Roger is also capable of time traveling.
As Claire discovered in Season 2, Roger is a descendant of Dougal MacKenzie and Geillis Duncan. If you can get over that this bit of information means that Brianna and Roger are distantly related (maybe it really is time to stop shipping this pair), the more relevant meaning is that Roger could have the ability to time travel like his relative Geillis, just without the human sacrifice. And if he can do that, then maybe he can get to Brianna — and even Claire and Jamie — before the fire at Fraser's Ridge happens.
Of course, Roger warning Brianna in time will require lots of travel, both geographically and through time, and the whole situation is further complicated by the fact that Roger doesn't know the year of the fire. But if he loves Brianna as much as he claims he does, he'll have to give it a shot.