Her Docuseries May Be Ending, But Rose McGowan Is Staying In The Public Eye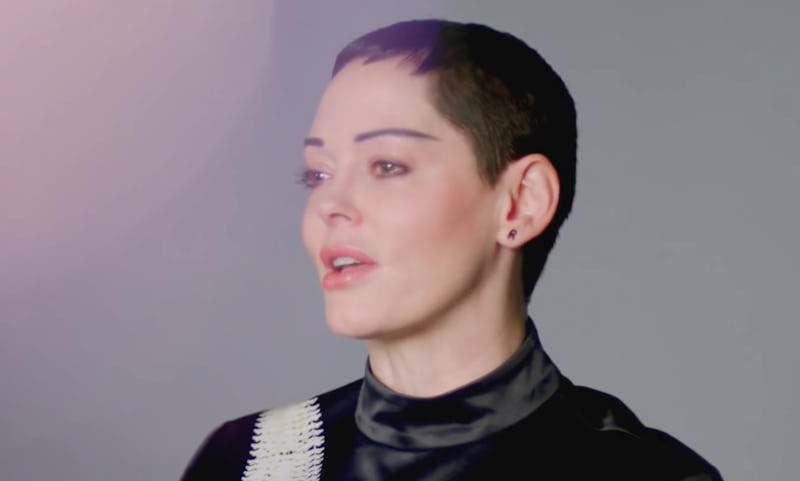 E! Entertainment
Actor and activist Rose McGowan's life has become an open book with her E! docuseries Citizen Rose, which made its debut in January 2018. The season finale episode will air on May 31, and it's not likely that Citizen Rose will return for Season 2. According to Deadline, the documentary was designed as a five-part limited series. But it doesn't seem that McGowan will be stepping out of the public eye anytime soon.
Warning: This article contains information about sexual assault, which some may find triggering.
Citizen Rose started following McGowan's life in the latter half of 2017 after she came forward on Twitter with her claim that Hollywood megaproducer Harvey Weinstein raped her. People reported that McGowan's memoir Brave details her claim. She refers to Weinstein as "The Monster" in the book, and writes that they met in a hotel room in 1997 at the Sundance Film Festival to talk about her career. She claims that the producer instead pulled her into a room with a jacuzzi, took her clothes off, and assaulted her.
Attorney Ben Brafman, who represents Weinstein, released a statement to in response to her allegations. Via People, the statement reads:
"Mr. Weinstein denies Rose McGowan's allegations of non-consensual sexual contact and it is erroneous and irresponsible to conflate claims of inappropriate behavior and consensual sexual contact later regretted with an untrue claim of rape."
Weinstein turned himself in to the New York City Police Department on May 25 on separate charges of rape, involving two different women. He was arrested and indicted, and pleaded Not Guilty to the charges. Weinstein was released on bail. His legal representation provided the following two statements to Bustle:
"Mr. Weinstein has always maintained that he has never engaged in non-consensual sexual behavior with anyone. Nothing about today's proceedings changes Mr. Weinstein's position. He has entered a plea of Not Guilty and fully expects to be exonerated."
"Mr. Weinstein's attorney Ben Brafman further explained that he intends to file a Motion to Dismiss the charges as being legally flawed and not supported by credible evidence."
Through a representative, McGowan issued a statement to Variety ahead of Weinstein's arrest, which reads:
"I, and so many of Harvey Weinstein's survivors, had given up hope that our rapist would be held accountable by law. Twenty years ago, I swore that I would right this wrong. Today we are one step closer to justice. We were young women who were assaulted by Weinstein and later terrorized by his vast network of complicity. I stand with my fellow survivors. May this give hope to all victims and survivors everywhere that are telling their truths."
McGowan's vocal stance against sexual misconduct perpetrated against women has made her a major force in the #MeToo movement. She has also started her own offshoot movement called #RoseArmy. In the series, she calls it a metaphor for all the disenfranchised women who are like roses that grow through cracks in the sidewalks. The #RoseArmy hashtag is often used by McGowan on Twitter when she is tweeting about advocacy for other women and her reach has gone global as evidenced when she met a few Rose Army supporters in a deleted Citizen Rose scene.
McGowan's activism is a major topic in the documentary, but Citizen Rose also shows how the actor's life has changed on a personal level since she came forward. In the documentary, McGowan reveals she has sold her home to help with court costs related to her accusations. In the clip below, she mourns the loss of her home and expresses her fears of going out into a "scary world."
She cancels press engagements and travel in the episode "Trauma" to enter therapy as she tries to juggle activism with her own personal healing. McGowan has also coped with her personal struggles by diving into her passion for music. She debuted a new song "Now You're Here" on Citizen Rose, which is from her upcoming punk rock album Planet 9, due in November 2018.
The final episode of the docuseries, which is called "Cult," will give viewers their deepest look yet into McGowan's life pre-fame. In a recent clip, Rose returns to the Italian compound for Children of God (now known as The Family International), a religious group she calls a cult during the documentary. According to People, McGowan spent her early years in the organization; she claims that she suffered physical abuse from members of the church. Her own family left the church in 1978 when they allegedly discovered that sexual relationships between adults and children were encouraged by the group. According to The Guardian, the FBI and Interpol investigated Children Of God for claims of kidnapping, incest, and sexual abuse, but the investigation ended when founder David Berg died in 1994.
Citizen Rose pulled back the curtain on the extreme ups and downs of McGowan's life. The documentary along with her Brave book have been her tools to tell her side of the story and fight back against people who want her to be silent. The docuseries may be coming to an end, but McGowan's fight to be heard will continue on.
If you or someone you know has been sexually assaulted, call the National Sexual Assault Telephone Hotline at 800-656-HOPE (4673) or visit online.rainn.org.