Harvey Weinstein Was Arrested After Turning Himself In To The Police — REPORT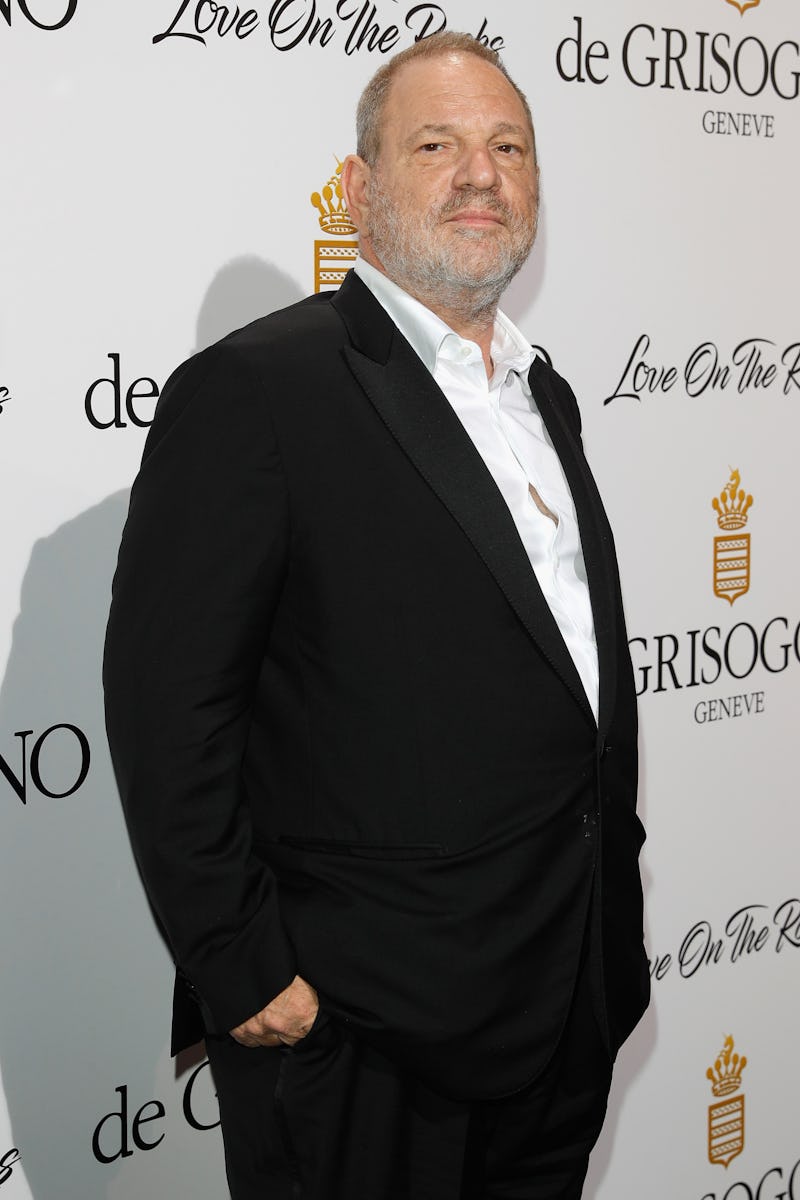 Andreas Rentz/Getty Images Entertainment/Getty Images
After news broke on Thursday that this was expected to happen, Harvey Weinstein was arrested on rape charges after turning himself in to New York authorities on Friday, May 25, CNN reported. According to The Hollywood Reporter, who confirmed the news with the NYPD, Weinstein is expected to be charged and arraigned later on Friday. (Bustle reached out to Weinstein's rep and attorney for comment, but did not receive an immediate response. Through a spokesperson, he has previously denied all claims of nonconsensual sex.)
UPDATE 1: According to CBS News, Weinstein entered a plea of not guilty on Friday morning. He also reportedly agreed to the $1 million cash bail, as well as wearing a monitoring device.
UPDATE 2: Bustle received the following statement from Weinstein's attorney, Ben Brafman:
"Mr. Weinstein has always maintained that he has never engaged in non-consensual sexual behavior with anyone. Nothing about today's proceedings changes Mr. Weinstein's position. He has entered a plea of Not Guilty and fully expects to be exonerated."
UPDATE 3: Bustle received an additional statement, which read: "Mr. Weinstein's attorney Ben Brafman further explained that he intends to file a Motion to Dismiss the charges as being legally flawed and not supported by credible evidence."
UPDATE 4: On Tuesday, June 5, Weinstein pleaded not guilty to felony charges of rape and criminal sex act, according to Page Six. This news comes after Weinstein was indicted on these charges by a grand jury last week, according to CNN.
EARLIER: The NYPD's Office of the Deputy Commissioner, Public Information released the following statement to Bustle on Friday morning:
"Today, at the NYPD's 1st Precinct, Harvey Weinstein was arrested, processed and charged with Rape, Criminal Sex Act, Sex Abuse and Sexual Misconduct for incidents involving two separate women. The NYPD thanks these brave survivors for their courage to come forward and seek justice. The arrest and ensuing charges are the result of a joint investigation between the NYPD and the Manhattan District Attorney's Office. Additional information will be provided as it becomes available."
According to The New York Times' report on Thursday, Weinstein's bail package was negotiated in advance, where he will reportedly pay $1 million in cash and have to wear a monitoring device. He also will be restricted in traveling, as well as having to hand over his passport, per the Times. Meanwhile, CNN reported that the bond is expected to be $2 million, citing a source.
Back in October, the New York Times published an in-depth report, surfacing decades' worth of allegations against Weinstein, with claims including sexual harassment and sexual assault from women who worked with him over the years. At the time, the movie producer released a statement to The Times, which read, in part: "I appreciate the way I've behaved with colleagues in the past has caused a lot of pain, and I sincerely apologize for it." His lawyer at the time, Lisa Bloom, denied many of the claims on his behalf.
Soon after the Times report, the New Yorker released their own Weinstein story, featuring allegations from even more women. To date, more than 80 women have come forward with allegations against Weinstein, per USA Today. And it was these allegations that became a sort of tipping point in the industry, where women and men have continued to come forward with claims against major figures in Hollywood and beyond, spurring widespread support for the #MeToo movement (originally started by Tarana Burke more than a decade before) and the Time's Up initiative.
Following the outpouring of allegations against him, Weinstein was fired from The Weinstein Company in early October 2017. He also was kicked out of the Academy of Motion Picture Arts and Sciences after being voted out by a majority of members. According to reports from TMZ at the time, Weinstein sought treatment in Arizona, where he reportedly completed a one-week outpatient program and then decided to stay to avoid distractions.
Rose McGowan, one of Weinstein's most vocal accusers, released a statement to The Hollywood Reporter ahead of his arrest. Through a rep, she told THR on Thursday:
"I, and so many of Harvey Weinstein's survivors, had given up hope that our rapist would be held accountable by law. Twenty years ago, I swore that I would right this wrong. Today we are one step closer to justice. We were young women who were assaulted by Weinstein and later terrorized by his vast network of complicity. I stand with my fellow survivors. May this give hope to all victims and survivors everywhere that are telling their truths."
Per the Times initial report in October, McGowan received a $100,000 settlement after an alleged incident in a hotel room at Sundance in the late '90s. A legal doc obtained by the Times stated this money was "not to be construed as an admission," but intended to "avoid litigation and buy peace." Later, more details came out as McGowan recalled the alleged encounter with Weinstein in her memoir Brave, where she refers to him as "The Monster." (Weinstein denied McGowan's rape claim, as recently as January.)
As of now, Weinstein has not released any official statement about his arrest or what will happen next.
If you or someone you know has been sexually assaulted, call the National Sexual Assault Telephone Hotline at 800-656-HOPE (4673) or visit online.rainn.org.