Danny Dyer's 'Love Island' Cameo Looks Almost Certain Judging By These Hints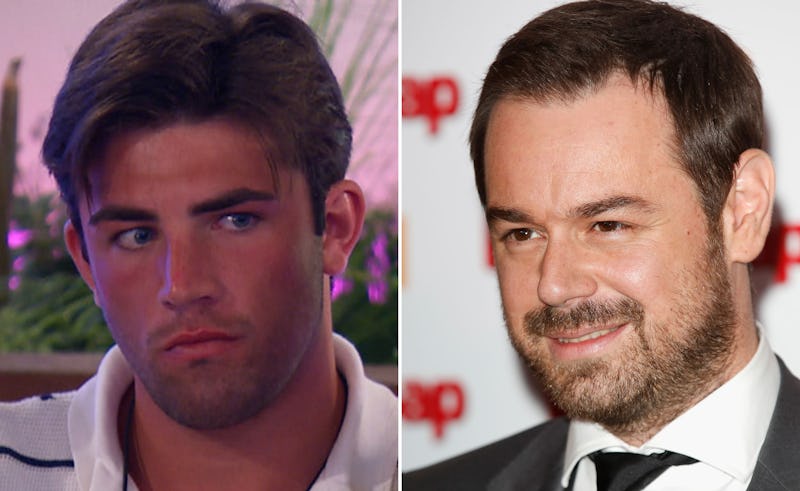 ITV/Tim P. Whitby/Getty Images Entertainment/Getty Images
The relationship between Love Island's Dani Dyer and Jack Fincham has consistently proved to be one of the strongest on the show. After coupling up soon after arriving in the villa, the pair made it official three weeks in, and they've since confessed their love to each other. But there's been something looming over their partnership since the beginning: Dani's dad, Danny Dyer, who's issued some pretty direct warnings to his daughter's boyfriend. But will Danny Dyer go on Love Island and confront Jack in person? Well, will he? Fear not, dear readers: though poor Jack, sequestered within the villa grounds, will likely be left quaking in fear until the very last moment, there are signs that it's going to happen.
If previous series are anything to go by, there's likely to be a meet the parents episode towards the end of this year's run (must we think about it ending so soon?) However, earlier this month, the Sun reported that Danny Dyer would be forced to miss his first opportunity to size Jack up in person, thanks to prior commitments.
An unnamed source told the newspaper that the Eastenders star "had booked time off work long before his daughter Dani had any inkling she would be going on Love Island," adding, "he has things already lined up during his time off, but there is a chance he could do a U-turn and change his mind to support Dani. The show has really grown on him." All sounds frustratingly ambiguous so far, doesn't it?
Then, a development. As visible above, Danny tweeted, "Right...I'm off to the villa...to sign my future son in laws canvas....lovely" on July 5. He's referring, if you missed it, to the uncomfortable discovery that Jack has a canvas (it's not a poster, alright?) of his girlfriend's dad in his bedroom. Honestly? Points to Jack for not dissolving into a deep pool of shame after that revelation. Though the tweet sounds like a confirmation from Danny, it's entirely possible it was just a joke at Jack's expense. But who knows?
On Friday night's episode, Dani discovered the real number of women Jack had slept with (which, by the way, seems a pretty retrograde thing for us to be worrying about in 2018). Dani ultimately told Jack she didn't care — but, as the Express recaps, she did, tell him: "You're going to have to confront my dad about it." Could this be a confirmation that Danny will be appearing on the show? Or is Dani just referring to the meet the parents milestone most couples encounter?
If/when Jack and Danny finally do meet, how will the two get on? Canvas related mortification aside, it seems like Danny will approve — after all, despite the best efforts of the producers during Jack's stay in Casa Amor, Jack and Dani's relationship has remained a committed one. At the end of June, Danny issued a tongue-in-cheek Instagram threat towards Jack, warning him not to join the "Do Bits Society" (another note: Dani's an adult woman with sexual agency too, Danny). But his wife — and Dani's mother —Joanna Mas has since revealed that both parents are pretty big fans of Jack.
Mas told Holly Willoughby and Philip Schofield on This Morning that all jokes aside, "Danny really likes Jack. I think Danny when he does meet Jack — big Danny — he'll probably cry, like 'You've took my child away from me.' He's really possessive. Or, he could be making out he's this big hard man, just sitting there."
All in all, there's probably not a lot for Jack to worry about should Danny enter the villa — except for eleven solid hours of jokes about a certain canvas, of course. So will Dani's dad actually make an appearance on Love Island? Looks like we'll have to keep watching — not a hard task, admittedly — to find out.